YouGov's latest research suggests Jeremy Corbyn is pulling further ahead of his rivals for the Labour leadership
For Peter Kellner's analysis click HERE
The final results for the Labour leadership election will be announced a month from today, at a special conference on September 12. Wednesday is the last day for those who want a vote to register, either as a full member, as a member of an affiliated organisation or as a supporter, and ballots will be sent out on Friday.
There is plenty of time for minds to be changed - so far, not a single vote has been cast - but stated preferences from the Labour selectorate at this stage indicate Jeremy Corbyn enjoying a broad and widening lead ahead of his opponents. If the results were as indicated in today's poll, Mr Corbyn would win already at the first stage.
According to Labour party rules, if none of the candidates wins 50% or more of the votes straight away, then the last placed candidate is eliminated and their second preferences are reallocated until someone reaches the 50% threshold. Theoretically, on current figures, the rounds would play out as below: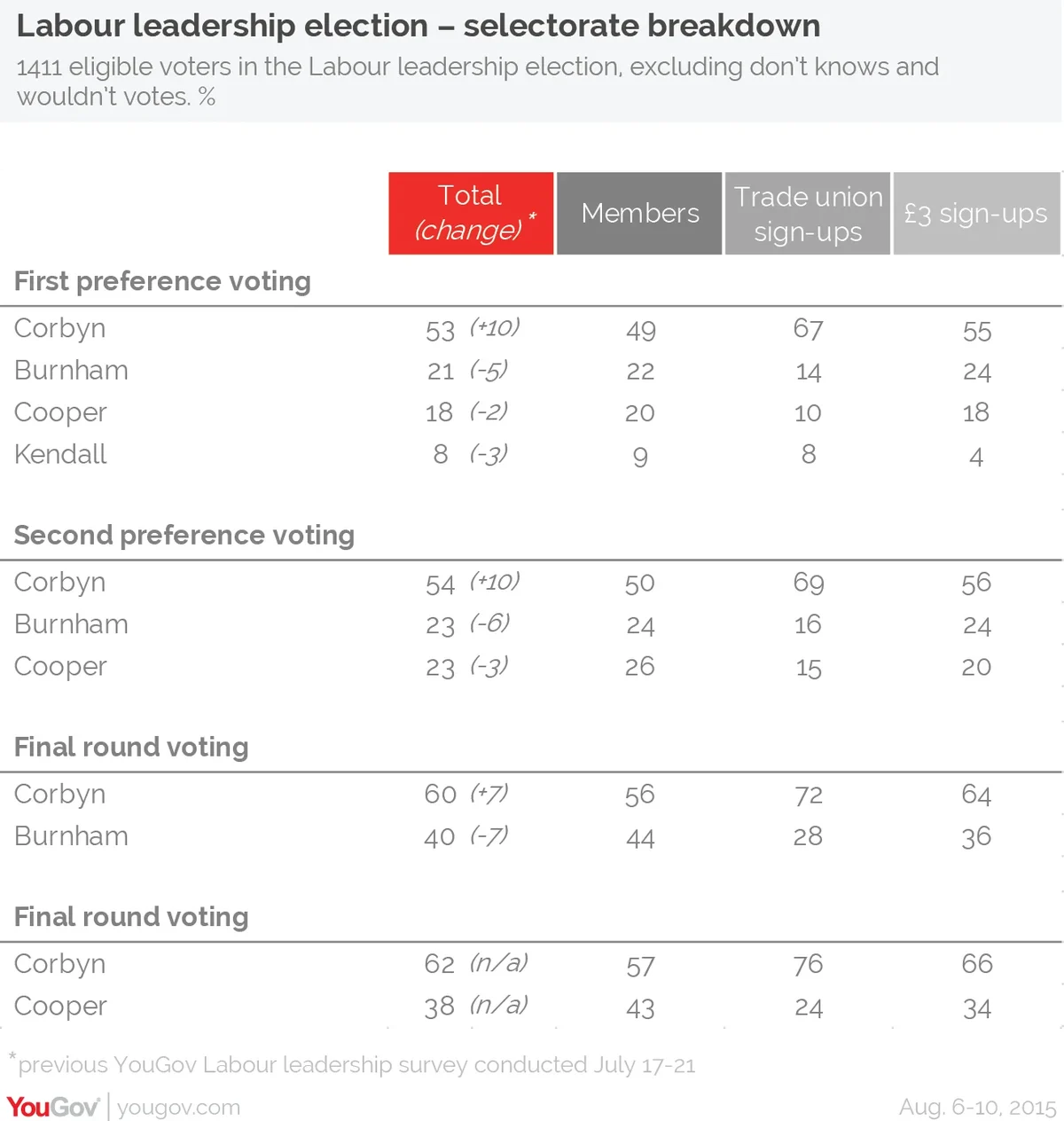 Andy Burnham is a distant second (21% of first preferences) and Yvette Cooper close behind in third (18%). In the second preference round the two are tied, and in a theoretical final run-offs against Corbyn Burnham does slightly better (trailing Corbyn by 12 points compared to Cooper's deficit of 14).
There is some noticeable variation in preference by selectorate type and length of membership. Among full members, who pay a monthly fee, Jeremy Corbyn's support is slightly weaker, (49% of first preferences compared to 67% for trade union affiliates and 55% of £3 sign-ups).
Corbyn's support is weakest among full members who joined before Ed Miliband became leade. Those who joined as members after Labour's loss in May are strongly supportive of Corbyn (63% give him their first preference vote).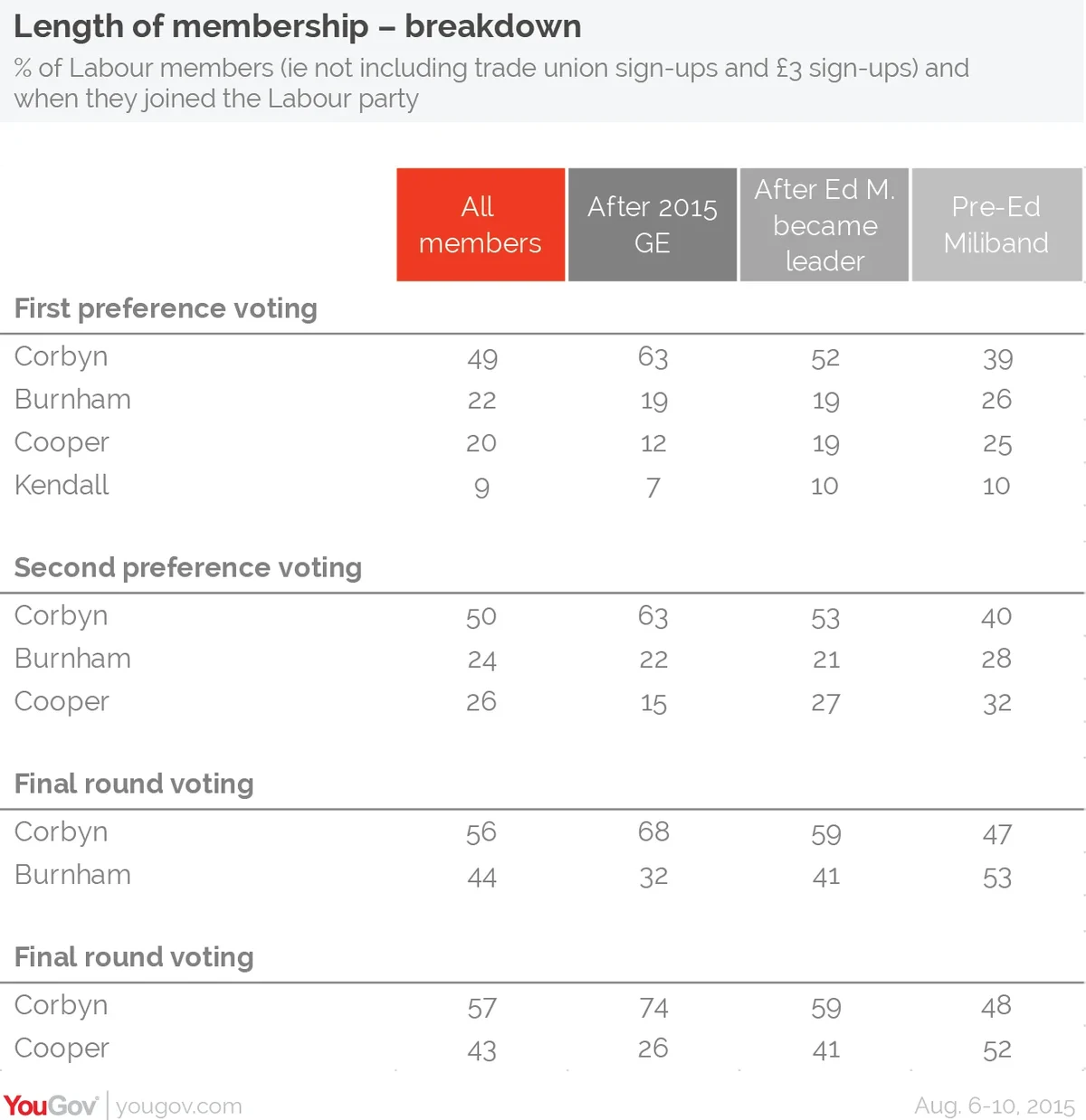 Women who are eligible to vote are dramatically more likely to vote for Corbyn than men in the first stage (61% compared to 48% respectively). Andy Burnham does better among men (24% compared to 17% of women).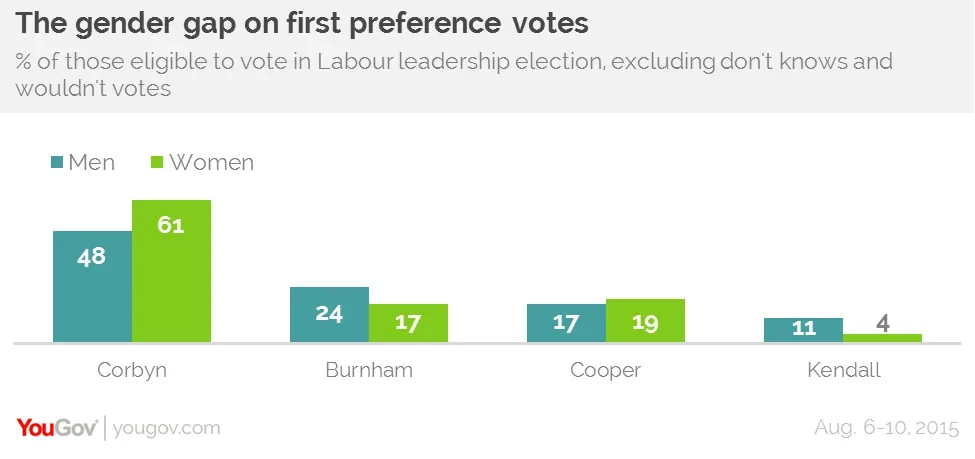 Interestingly, the same sample tends to think both Andy Burnham and Yvette Cooper are more likely to win in 2020 than Jeremy Corbyn. Andy Burnham is considered by the largest part of the selectorate to have a good chance of winning the next general election, and is the only candidate with a net positive score (+14). Yvette Cooper is also slightly ahead of Corbyn in terms of expected winning potential (45% say she could do it), while eligible voters tend slightly to say the odds are against Corbyn (42% likely, 47% unlikely). Liz Kendall is considered to have very little chance – only 19% say she could win.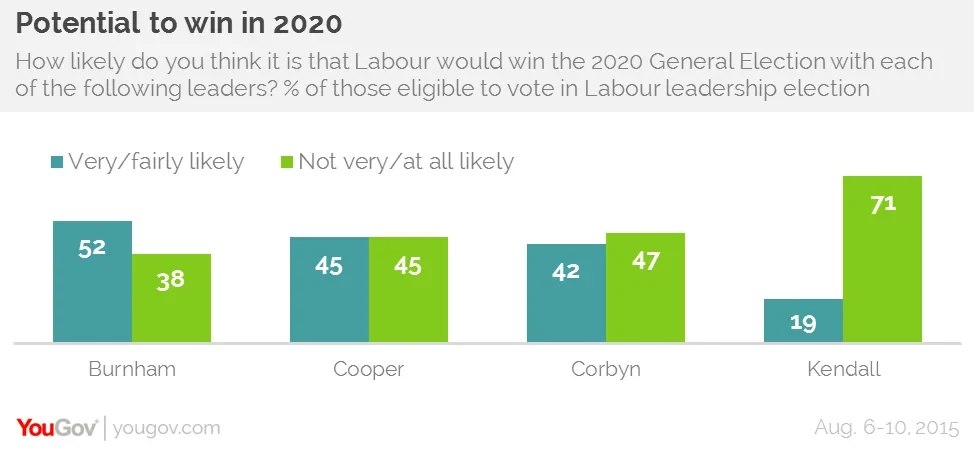 Looking at how supporters of the different candidates rate their favourite's chances, Corbyn's supporters are in total the least certain that their chosen candidate could actually win in 2020 (a net score of +51). Andy Burnham voters say their favourite has a +74 chance, while Cooper voters give her a score of +70 and Kendall supporters give her a +54 chance of winning.