Conservative and Labour voters would both like weekend NHS services, but they are split on whether it would need additional resources
A key component of the government's proposed NHS reforms is a pledge to introduce a seven-day service. The plans, announced earlier this month by Health Secretary Jeremy Hunt, would involve new requirements for hospital doctors to work on the weekend and could potentially boost outcomes for patients admitted on Saturday or Sunday. Critics argue that without considerable new funding and resources the changes would put too much pressure on already struggling GP services.
According to a new YouGov survey the changes are in one sense broadly popular. Large majorities think GP surgeries should be required to offer appointments seven days a week (61% in favour) and that hospitals should be required to offer routine, non-emergency services through the weekend (63%) in favour. This includes support from majorities of Conservative and Labour voters alike, though the support is strongest among Conservatives.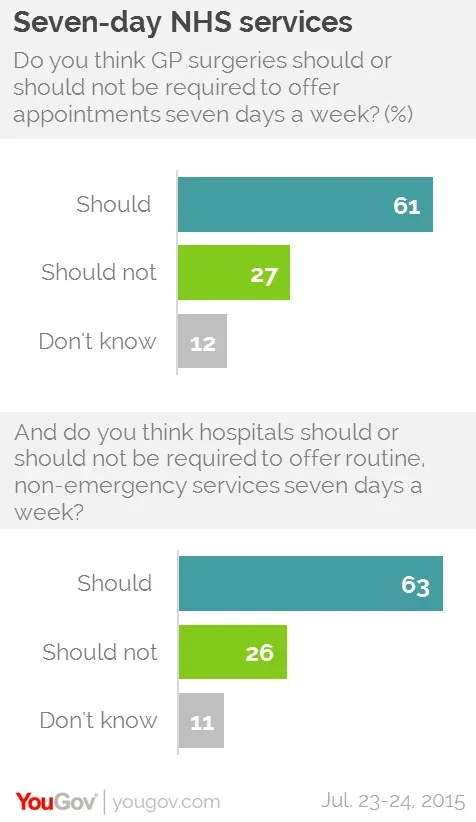 There is even greater agreement on whether it is "important" that the NHS offers the same level of service at the weekend as during the week. 87% of Conservatives think this is important, along with 81% of Labour voters, 82% of Lib Dems and 89% of UKIP voters.
However, while there is a consensus that seven-day NHS services would be a good thing, when asked whether it is possible for the NHS to offer such services without additional staff and money, voters fall into more predictable groups.
Overall the country is almost evenly divided on this question. 42% believe it is possible to have a seven-day NHS by reallocating current resources, and 48% disagree.
Looking at 2015 vote, 55% of Tory voters say it's possible – and 59% of Labour voters say it is not. Liberal Democrats say it is not possible by two-to-one (62% to 30%) and UKIP voters are divided (45% to 48%).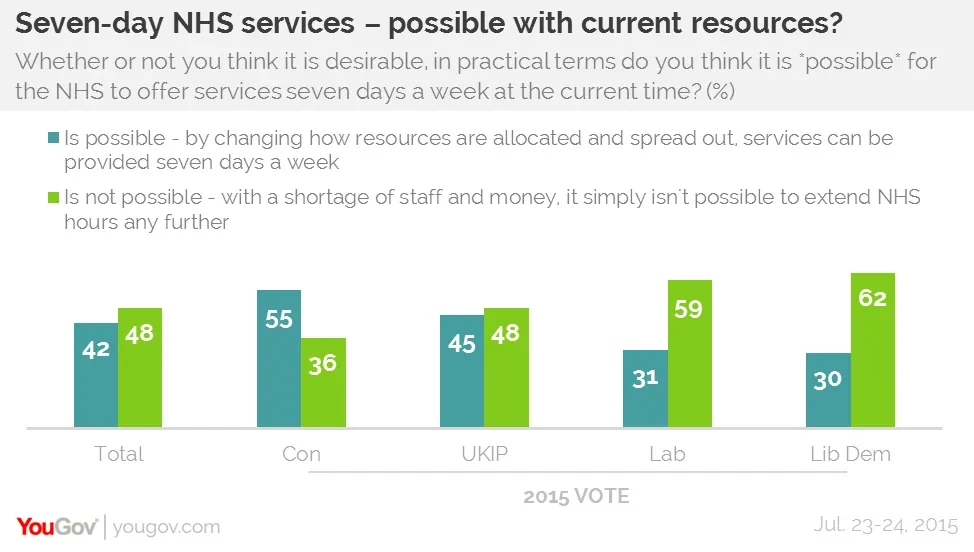 Voters are also conflicted about paying doctors more to work on the weekend. 37% favour paying senior hospital doctors more for weekend work while 49% are against it. The split is almost identical for GPs (38% for, 49% against).
PA image