Over a third of Londoners say the city isn't really worth the effort and expense
The most recent Office for National Statistics data shows that in the year to June 2013 58,220 people in their thirties left London – the highest outflow recorded and a 10% increase on 2010. Being an estimate based on analysis of NHS registers, the figures are likely to understate the level of migration. But the trend is clear: there is a small exodus of people looking to start a family and get on the housing ladder.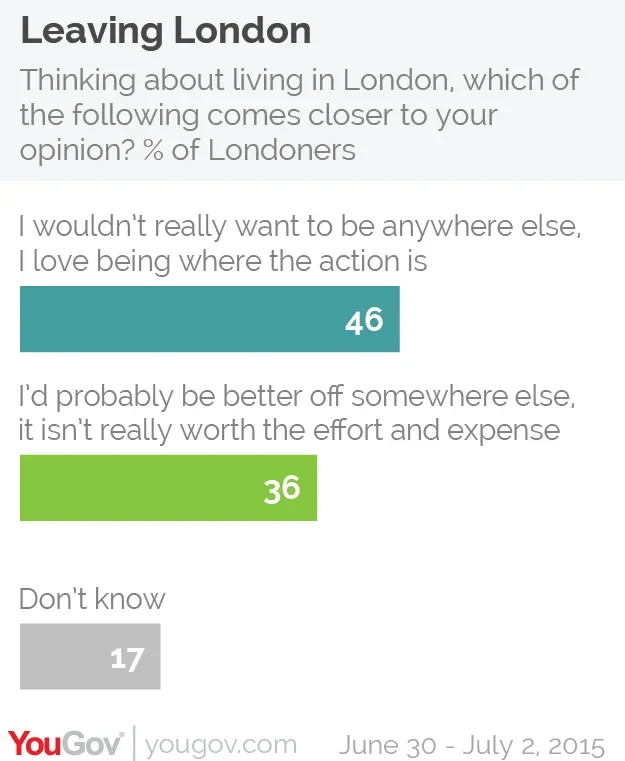 New YouGov research reveals that a much larger proportion of Londoners have doubts about living in the capital.
Over a third (36%) say they'd 'probably be better off somewhere else – London isn't really worth the effort and expense', while fewer than half (46%) say they 'wouldn't really want to be anywhere else – I love being where the action is'.
The feeling is reflected in a tendency to reject the headline of a recently successful Telegraph article, 'I'd rather be skint in London than rich in Hull'. 44% of Londoners disagree with the statement while 31% agree.
However for young 18-24 year-olds, perhaps not yet concerned with settling down and still energised by the excitement, the Capital evokes less distaste. They are least likely to disagree with the 'poor in London, rich in Hull' view, and also to say they'd probably be better off elsewhere.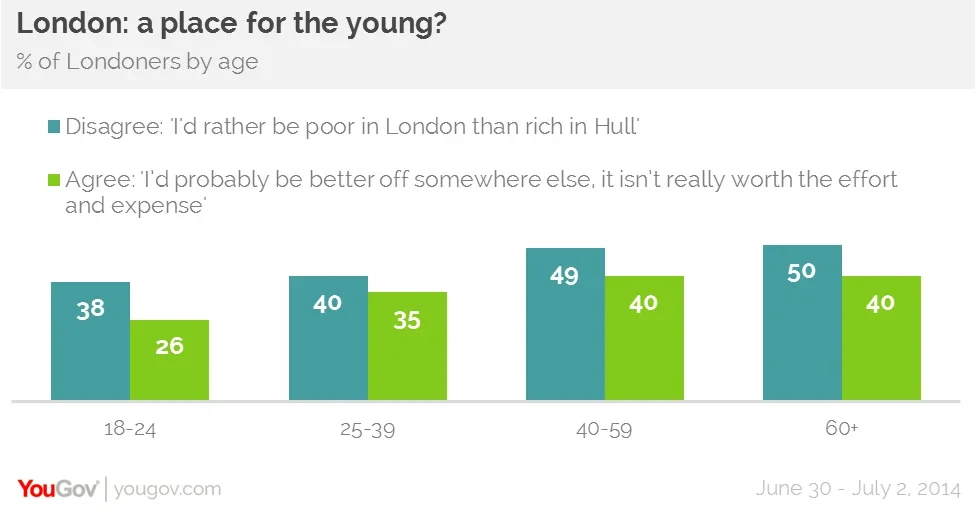 The attraction to leaving London will be mainly due to expense (48% find it very expensive), but also stress (52% find it stressful). However this doesn't stop most Londoners (53%) from saying it's a good place to bring up children, or to feel proud of living there (73%).
People in their thirties aren't the only group to be leaving London of late. The BBC famously moved much of its operation to Salford in 2011 as part of efficiency improvements and an effort to increase representation outside of the Capital (for the first time it now has more staff outside of London than in), while websites like Escape the City have sprung up to offer disillusioned City workers fulfilment in far flung places and unconventional jobs.
PA image