New research from YouGov Reports shows that unsolicited approach from claims advisers are still high - but are they effective?
The Personal Injury 2015 report finds that over the last three years, the percentage of adults who are being approached with unsolicited personal injury marketing messages in a bid to make a claim for compensation is still high. Six in ten adults (62%) claim to have been contacted by personal injury companies; however, this proportion has fallen since 2012 (67%).
There are various approaches used by personal injury companies in order to spread their messages for claims. For the third year running, unsolicited phone calls remains to be the popular marketing activity, with almost half of the population being contacted in this manner (49%). The other way in which personal injury companies make contact is via text message (35%) – which has been on the decline since 2012. Meanwhile, emails have risen again this year (25%) after between 2012 and 2014.
So how effective are these unsolicited approaches? YouGov Reports research shows that only a small percentage of adults have been persuaded to make a claim as a result of unsolicited marketing. A vast majority of adults (94%) claim to not have been persuaded by the companies that have made contact. Unsolicited phone calls appears to be the most effect approach; although not by much. 3% of adults claim to have been persuaded by a phone call compared to text message and email (both 2%).
The research found that almost half of adults making a claim (48%) had originally intended not to do so but changed their minds (Combination of adults in the national representative sample and boost sample). Three in 10 (31%) adults changed their minds of their own free will, while 17% were contacted directly by an adviser who persuaded them to make a claim.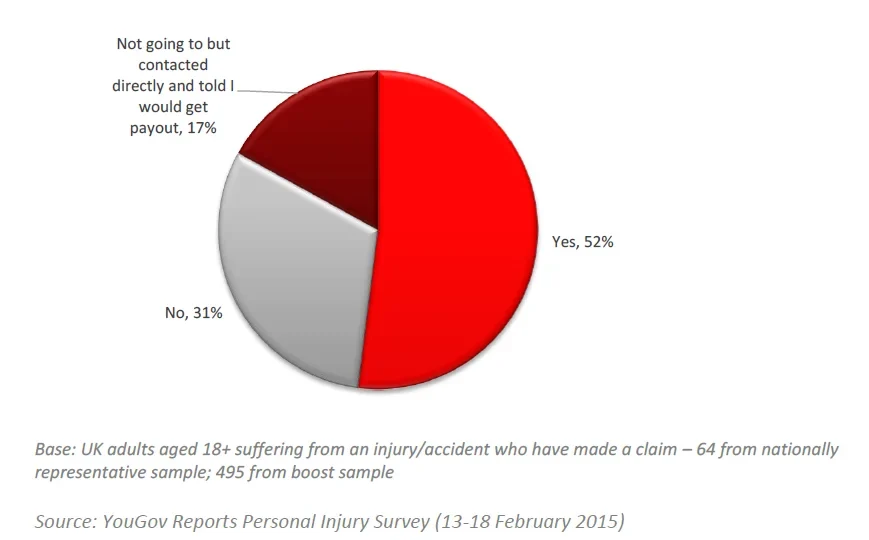 James McCoy, Research Director for YouGov Reports, commented: "Research has shown that personal injury companies have not been able to convince a vast majority of adults to make a claim for compensation. Compared to other approaches taken by these companies, telemarketing remains to be most effective in drawing in new customers, mainly because of the opportunity of making each call personal and unique to each potential claimer."