Many people in Europe are open to allowing Britain to accept fewer migrants and asylum seekers than rest of Europe, but many also think this is unfair
Overnight on Thursday EU leaders agreed to relocate 40,000 migrants who have arrived in Greece and Italy over the past two years, with what Italy's PM Matteo Renzi angrily called a "modest" plan to deal with a growing crisis. The UK, Hungary and Bulgaria have been given exemptions to a proposed quota scheme, which aims to redistribute the migrants and asylum seekers across the EU more equitably.
This special treatment couldn't be more divisive among Britain's EU neighbours, according to the latest YouGov EuroTrack survey. Though large numbers in the six EU countries surveyed think it is fair for Britain to accept fewer of these migrants and asylum seekers than the average of other EU countries, in most cases equal numbers say Britain should accept the same number – or more.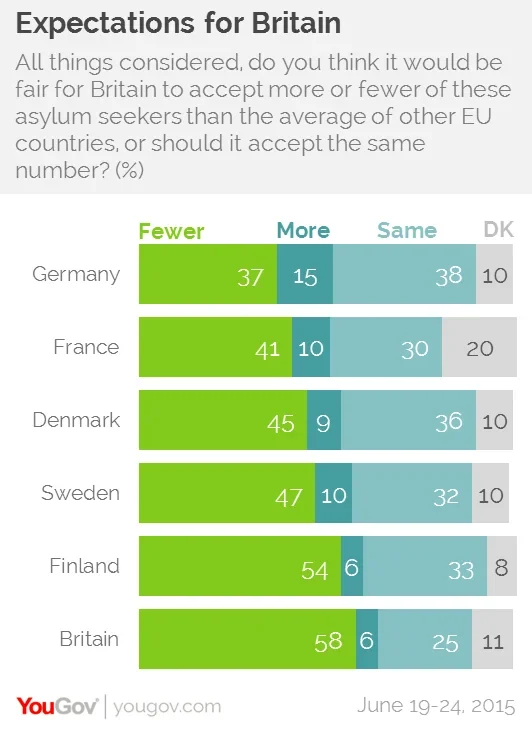 Germans, whose country has accepted a disproportionate number of asylum seekers, are especially sceptical of giving Britain an opt-out. Only 37% think it is fair for Britain to accept fewer migrants than other EU countries do, against a combined 53% who think it would only be fair if Britain accept the same number (38%) or more than the average (15%). The French are more evenly divided.
The Nordics are more sympathetic. 47% of Swedes and 54% of Finns say it's fair for Britain to accept fewer migrants.
Even a third (31%) of British voters think it would be fair to treat Britain the same as other states or expect more. 58% say Britain should have a smaller burden.
Britain's opt-out on immigration and asylum policies was reaffirmed in the EU Lisbon Treaty.
The survey also finds that there is wide agreement that the system from relocating migrants and asylum seekers should distribute them across EU states proportionally to a state's population size, rather than distribute them in equal numbers to each EU state.
PA image