Compared to the left-wing ground Ed Miliband was seen as occupying, most people think Labour should now move closer to the centre
Attention has moved to Labour's leadership contest following a defeat last Thursday which left Labour with its lowest seat share since 1987. The bookies' odds favour Andy Burnham as the top contender – he has the most established campaign and is considered to have the unions' blessing – but there is a sense that Labour should abandon the core vote strategy of Ed Miliband. 'Aspiration' has become the new buzz word, and the candidates who have so far announced are pitching to 'middle England' and 'John Lewis shoppers'.
The mood is echoed by the British public, as revealed by a new YouGov survey for the Sunday Times.
In a question that directly asks where the next leader should take Labour, 40% say closer to the centre and only 21% say further to the left. Labour voters are unsure – 30% choose the left, 35% the centre and 10% where they are now.
The public's view of where the Labour party itself should be is quite a way away from where they perceive Ed Miliband to have stood.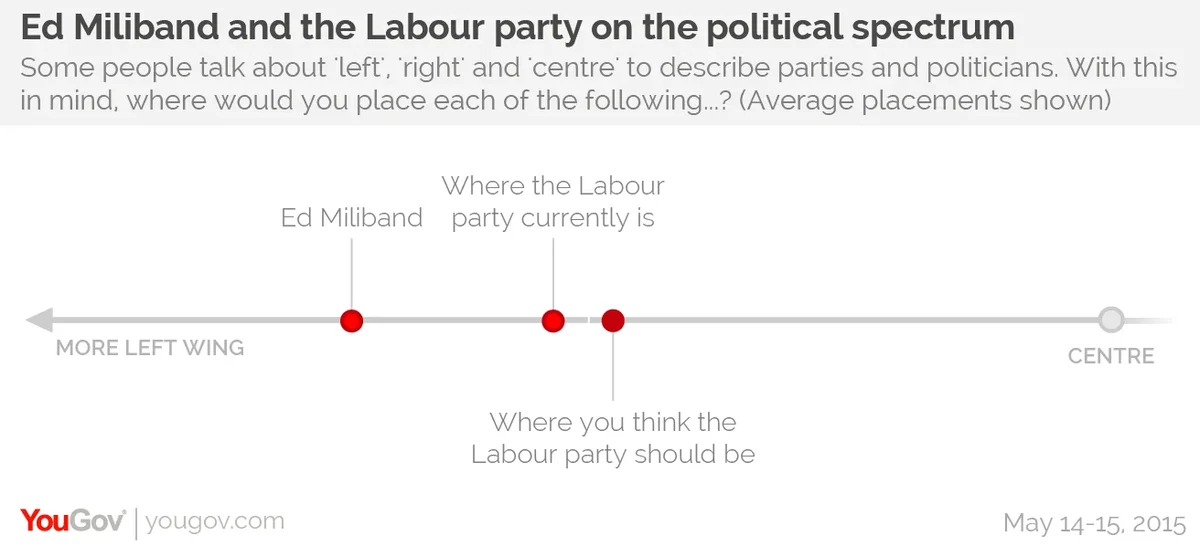 YouGov regularly tracks the left-right spectrum of how voters see leaders, calculating a score based on 'very left-wing' (negative numbers) to 'very right-wing' (positive numbers). Ed Miliband's score is -48 (David Cameron's was 46 in March), while the average view of where Labour should be is -31.
A compromise between a short and long leadership contest has now been met. The candidates will be announced on June 15, votes will be cast until September 10 and the announcement will take place at a special conference on September 12. Ed Miliband changed the procedure for the contest last year, replacing the bloc-based system whereby MPs, party members and union and socialist societies have a third of the vote each with a one member one vote system.
PA images