Europeans want to help, but many also worry search and rescue will worsen the problem
In April European Union leaders committed to tripling funding for search and rescue operations in the Mediterranean following the death of over 750 migrants travelling from Libya by boat. A new YouGov EuroTrack survey, conducted across seven European countries, suggests there is public support from the move, but many also worry that search and rescue operations will encourage more of the immigration at the heart of the crisis.
Funding for search and rescue operations is most widely supported in Norway (60%), Germany (54%) and Sweden (52%) out of the countries polled. People in Britain and Denmark also tend to favour the move. However, in France and Finland opinion is divided.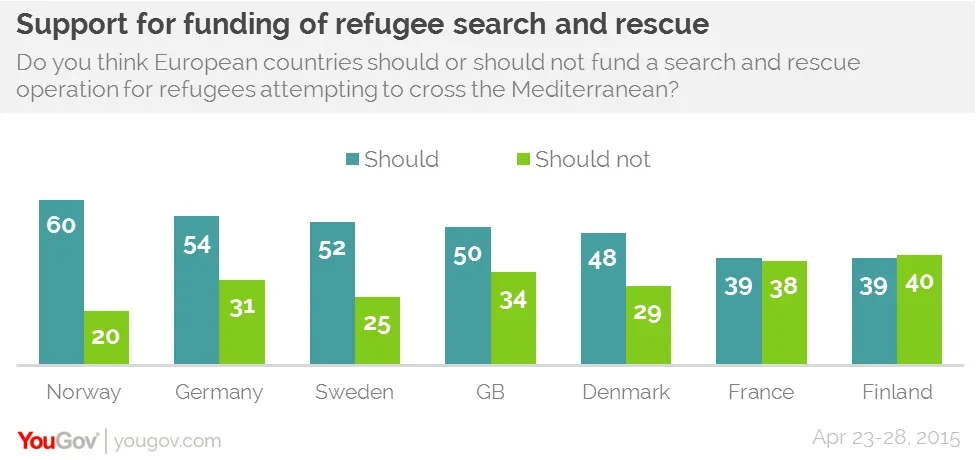 Notably, Norway is not a member of the European Union.
People in France and Finland are also the only groups surveyed who tend to deny that European countries who helped overthrow the Gaddafi regime have a duty to help Libyan refugees.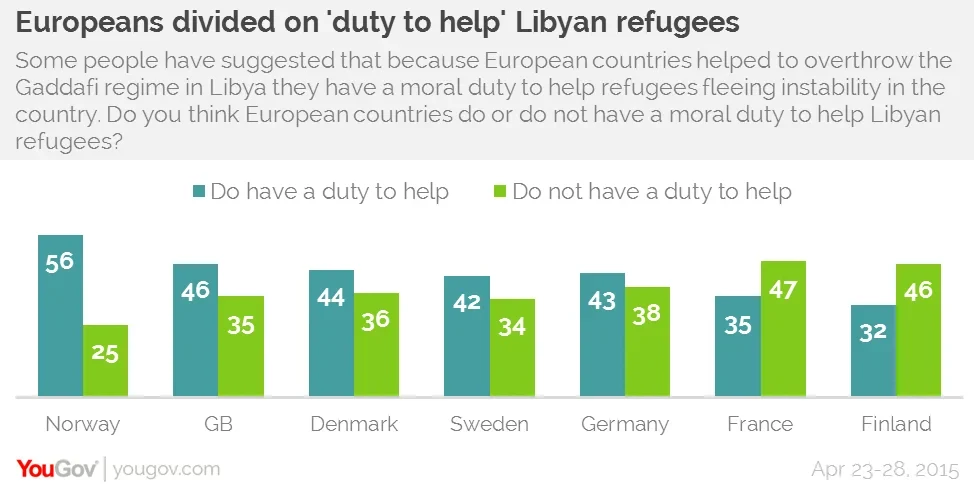 Nicolas Sarkozy, French President at the time of the 2011 intervention, had been an early advocate of removing Gaddafi from power. David Cameron was also a strong supporter of Western involvement, and British people back the idea that Europe has a duty to help Libyans by 46% to 35%.
While most of the migrants likely originated outside Libya, the instability following Gaddafi's fall is believed to have allowed migrant traffickers to gain a foothold there.
Even so, the majority of British people also believe funding search and rescue in the Mediterranean will only encourage more immigrants to come to Europe. This is a popular analysis across Europe, according to the survey.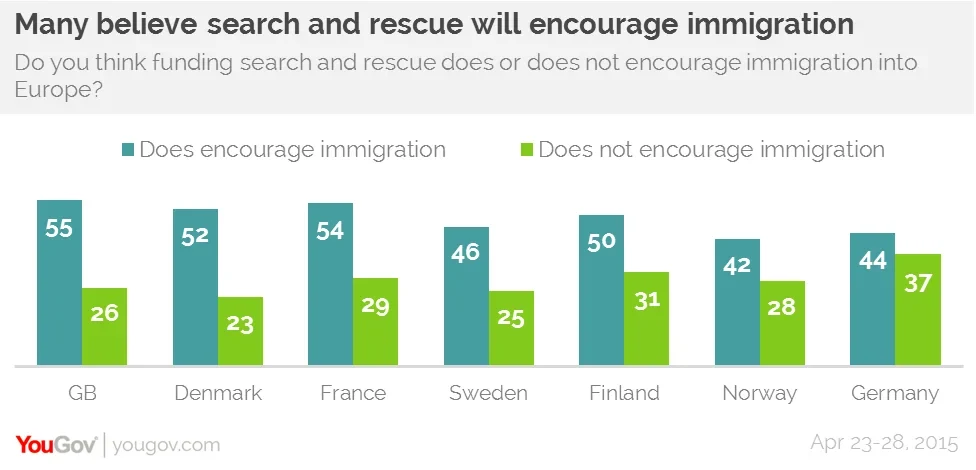 Past polling has shown anxiety about immigration to be a widespread phenomenon in Europe. Nearly half of Germans said in a recent YouGov poll that there were too many asylum-seekers in the country, which has taken in more migrants of this kind than any other EU member state.
The latest survey also comes as the European Commission announces a controversial proposal for the resettlement of refugees and other migrants seeking asylum in the EU. The plans would introduce a mandatory quota system aimed at sharing responsibility for immigration more evenly among member states.
PA image