Ed Miliband's attractiveness rating among women has actually fallen since last year – and Nick Clegg is still the overall winner in attractiveness
A number of recent events have suggested an unexpected rise in female attraction to Ed Miliband. Starting with the first leaders debate, when the Labour leader's down-the-barrel-of-a-gun speeches to the camera set Twitter alight, Times columnist Caitlin Moran then noted her friends were 'perving' over Ed Miliband. He was even mobbed by a hen do in Chester last weekend, and more recently a fanbase of besotted teenage girls united themselves around the phrase 'Milifandom'.
YouGov finds no evidence that more women now think Ed Miliband is attractive – in fact overall perceptions of his looks have fallen from 3.7 out of 10 in July 2o14 to 3.3 today.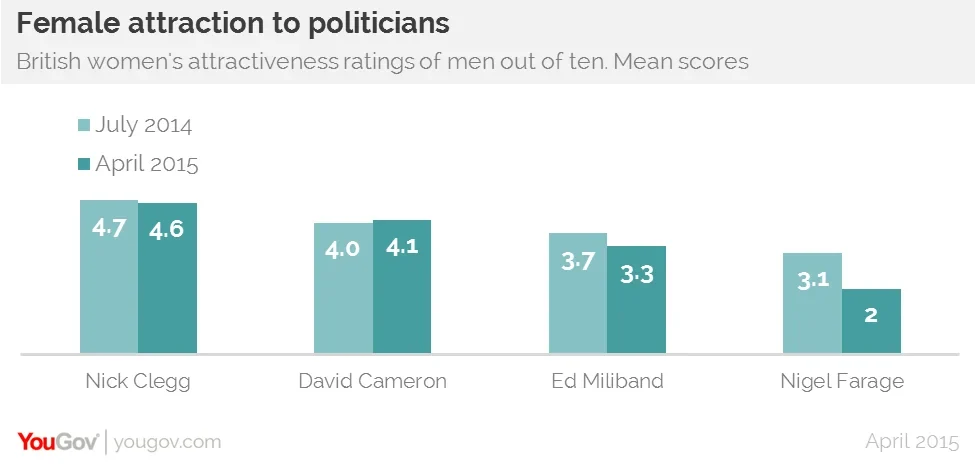 A rival fanbase later emerged to counter attraction to Ed Miliband, calling themselves 'Cameronettes'. It appears the group was started by a 21 year-old male economics student and Conservative supporter, but this should not detract from the fact that women do find David Cameron more attractive. He scores 4.1 out of ten, compared to Nick Clegg's 4.6.

Overall (among men and women) on personal, non-political factors David Cameron scores the highest out of the other three main party leaders, winning on trustworthiness (4.3) and being good to go for a drink with (4). Apart from being tied with Nick Clegg on his pub rating, Nigel Farage loses on all fronts, and has fallen more than a point in attractiveness among women since last year.