Latest leadership approval ratings April 18th (net) - David Cameron 0, Ed Miliband -18, Nick Clegg -36, Nigel Farage +6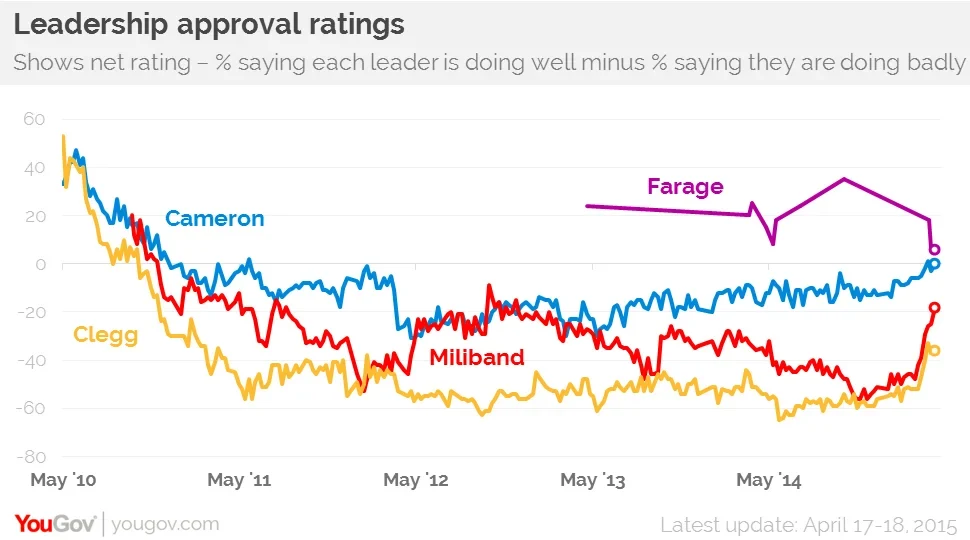 36% of British adults say Ed Miliband is doing well as leader of the Labour party, while 54% say he is doing badly. 36% is his highest positive rating since December 2012 and -18 is his best net rating since the same time.
47% say Nigel Farage is doing well at UKIP leader, and 41% say badly, the best overall ratings of any leader (though 47% say David Cameron is doing well as PM). However, the +6 rating ties with the previous week as the lowest YouGov has recorded for Farage out of 11 times the question has been asked about him since April 2013. Farage received a net +35 rating in October 2014.
| | | | |
| --- | --- | --- | --- |
| | Well | Badly | Don't know |
| | % | % | % |
| David Cameron | 47 | 47 | 6 |
| Ed Miliband | 36 | 54 | 9 |
| Nick Clegg | 27 | 63 | 10 |
| Nigel Farage | 47 | 41 | 11 |
| | | | |