New research from YouGov Reports shows that a majority of consumers have used a solicitor or law firm in their lifetime.
The Legal Services 2015 report finds that most adults (62%) have used a law firm or solicitor at some point in their lifetime; this remains the same as the previous report in December 2013. Adults who fall in the ABC1 social grade are more likely to have used a solicitor (70%) compared to adults in the C2DE grade (53%).
Additionally, the report shows that usage of legal services increases with age. 85% of the over 55's have used them compared with 12% of young adults aged 16-24.
The research found that conveyancing and making a will and probate are the main areas of legal advice among adults who have used a law firm or solicitor in the last three years. 34% of consumers who have used a solicitor in the last three years, used them for will writing and probate services; this is followed by those who used a law firm for legal advice relating to residential conveyancing (24%). The third most popular area for legal advice is personal injury/accidents/medical negligence matters (11%).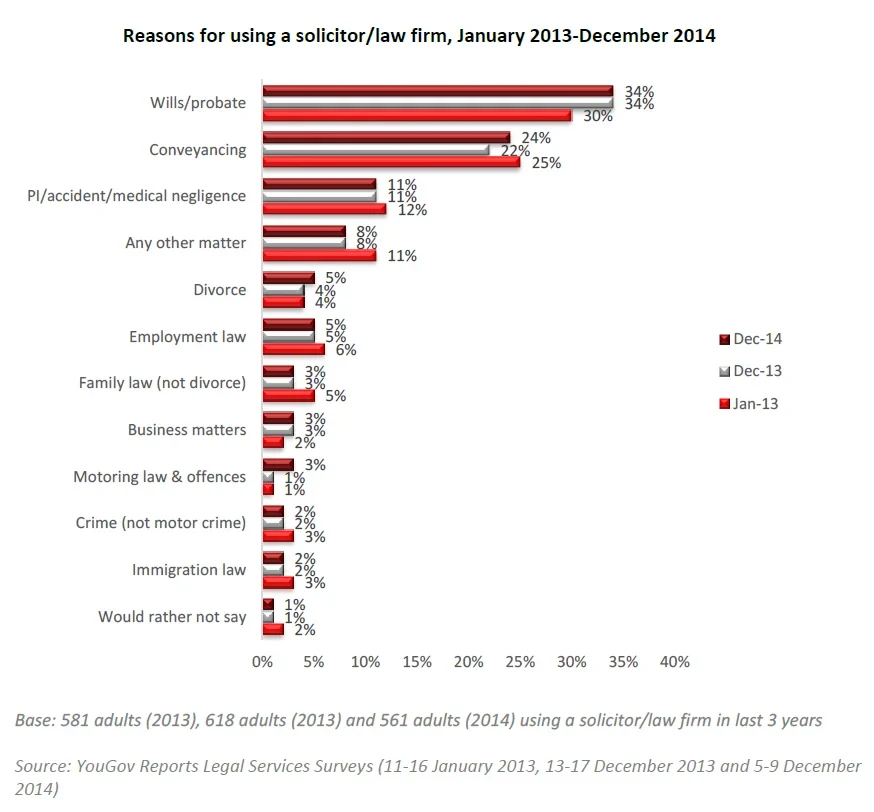 Cost of services is now considered the most important factor when searching for a legal representative. Three quarters of consumers (75%) reported cost as an influence when choosing a legal representative, up by 6 percentage points on the December 2013 survey. Cost has now surpassed experience and reputation of legal advisors as a factor, which is now the second most important factor (74%).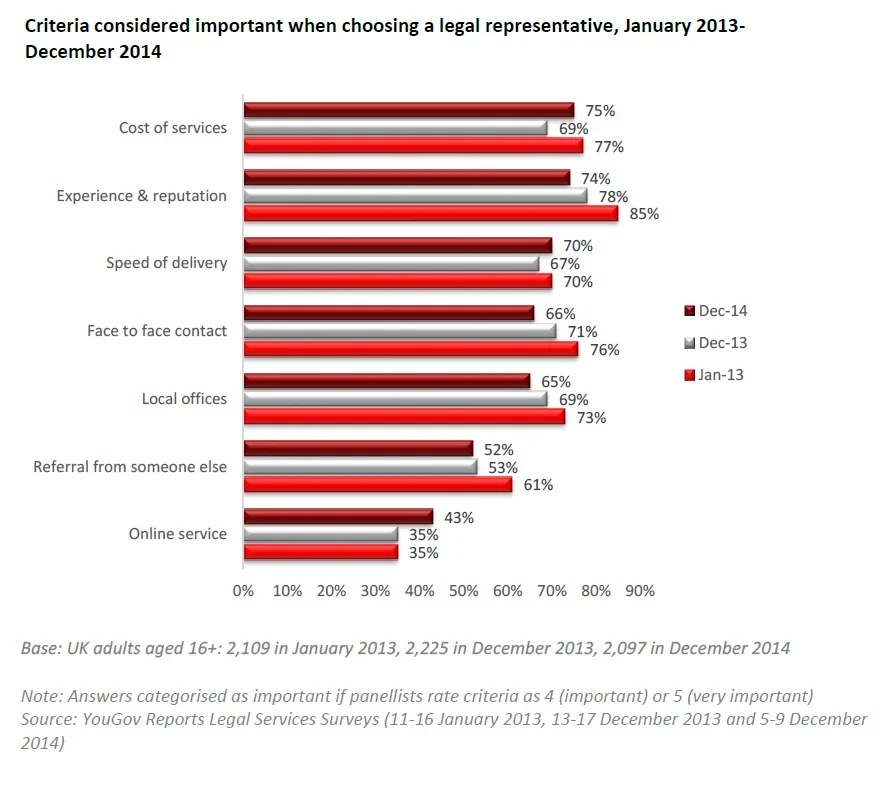 The idea of solicitors charging for legal consultation the minute a consumer walks through the door is not popular among adults who have used a solicitor/law firm in the last three years. A majority of adults (57%) expected to receive free advice or information about their legal issues; only 7% did not receive this. Meanwhile, 29% of the adults who did not expect to receive any free legal consultation from their solicitors (43%) did not receive any. In total, 64% of adults report to have received free legal advice in the last three years – up by 6 percentage points on the December 2013 survey.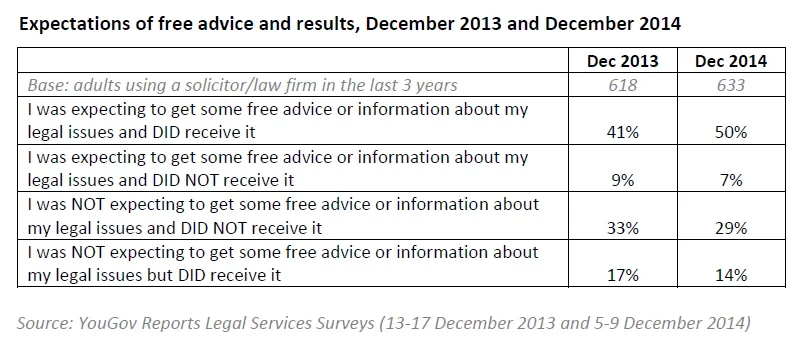 In the last 18 months, one in ten adults (10%) contemplated on paying for some legal advice but changed their mind. The main reasons for deciding against the idea was because they could not afford it (4%), it seemed complicated (3%), and they did not want to pay for further advice after initially receiving some free legal advice (3%).
James McCoy, Research Director of YouGov Reports, commented on the findings: "Costs of services and fee charges now play a much bigger role for most adults using legal services.
"There has also been an increase in the proportion of consumers who now receive free legal advice – whether expected or not - suggesting that legal representatives are becoming more open to the idea of providing free consultation."