27% expect household financial situation to be better in 12 months' time – highest level since March 2010
First time on record that more people expect household finances to get better than expect them to get worse
Overall consumer confidence at six-month high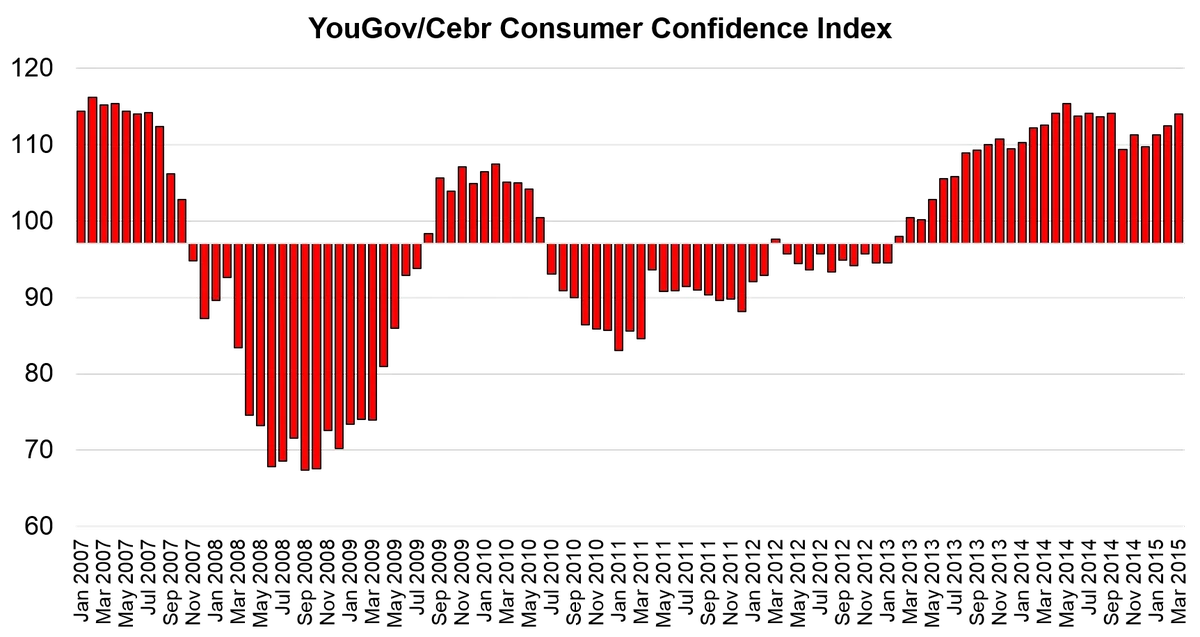 Source: YouGov/Cebr HEAT data, March 2015
Notes: Axis value of 97.1 represents the average YouGov/Cebr Consumer Confidence Index score since the data set began in 2007.100 represents a neutral score.
The YouGov/Cebr Consumer Confidence Index for March shows that economic optimism in the UK is at its highest level since September last year. The Consumer Confidence Index stands at 114.5, an increase of 1.5 points from February.
YouGov's data shows that 27% of consumers expect their household financial situations to improve over the next 12 months. This is the highest level it has been at since March 2010, two months' before that year's general election, when 28% believed they would get better. Significantly, for the first time since YouGov started measuring this metric in early 2009, more people believe their financial situation will be better in12 months' time than fear it will get worse (27% versus 25%).
YouGov's data shows there has been a further decline in the number of people who feel their household finances have worsened over the previous month. In March, 17% think their household finances have got worse over the previous 30 days, down from 18% in February. However, the number who believe their situations have got better remains stalled at 11%.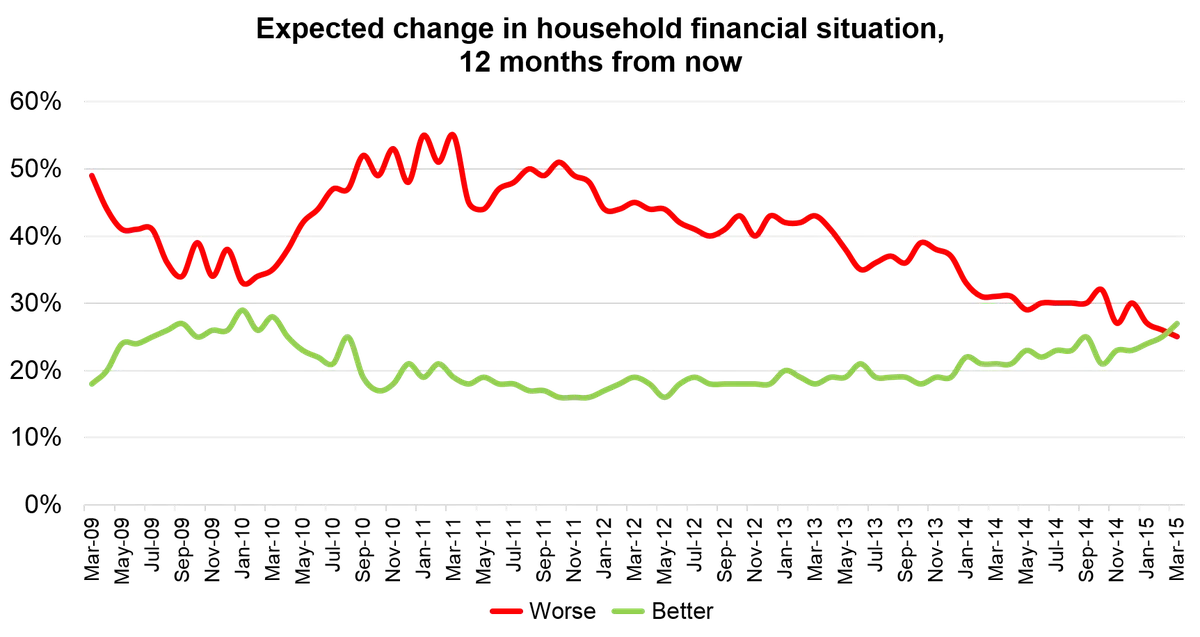 Source: YouGov/Cebr HEAT data, March 2015
Stephen Harmston, Head of YouGov Reports: 'It has been a long time coming but people's expectations of their household finances are finally in the black with more people thinking they will get better than get worse. It is a milestone that seems to have come at the right time for the government, being so close to polling day. However, it should be noted that the last time this many people expected their household finances to improve was two months before the previous election and that did not end well for the then incumbent government. Additionally, there is a cloud to this silver lining in that more people currently still think they are getting worse off than think they are getting worse off so there is some way to go before household finances are fully repaired.'
Scott Corfe, Associate Director at the Centre for Economics and Business Research: 'It seems that wage increases and low inflation have finally lifted some of the pessimism that many households have about the economic recovery. With more consumers believing their lot will improve over the next 12 months, there should be further growth in household spending this year. However, the recent improvements in household finances come after years of weak wage growth and squeezed benefits – for many, "better" does not mean a return to prosperity.'
Find out more information about the Household Economic Activity Tracker
Image from PA