Nick Clegg, Ed Miliband and David Cameron have all seen their ratings improve since this week's debate
The Conservatives are on 34% in the latest YouGov voting intention poll for the Sunday Times, one point ahead of Labour. The poll, conducted from Friday to Saturday, was conducted entirely after Thursday's debate between the seven party leaders.
YouGov's snap post-debate poll found SNP leader Nicola Sturgeon to be the winner of the debate, but none of the other leaders seem to have taken a ratings hit for their performances.
The prime minister passed through an important symbolic threshold, with more approving of his job performance than disapproving. 47% say David Cameron is doing well, and 46% say badly.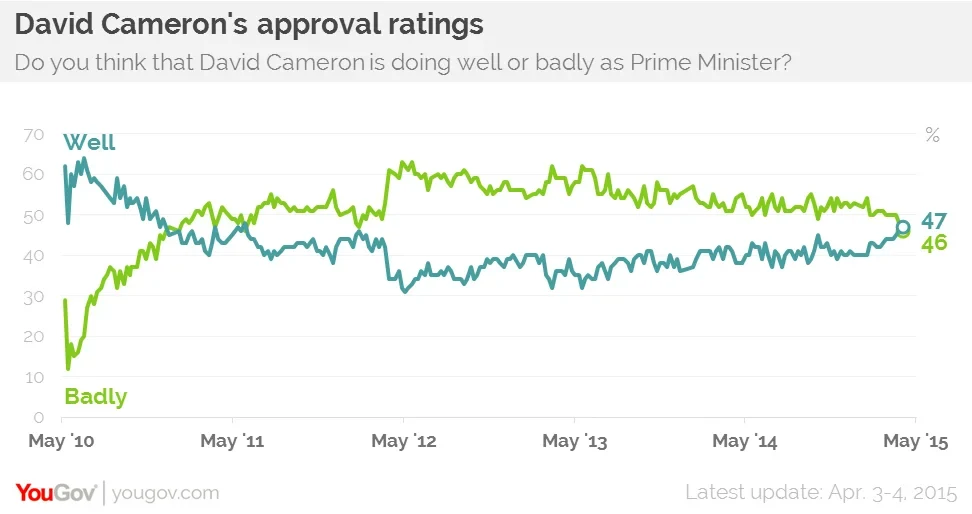 The last time David Cameron's job approval was a net positive was May 2011, and it has not been regularly in this territory since the Conservative's post-election honeymoon period ended earlier that year.
33% of voters say Ed Miliband is doing his job as Labour leader well, up from 30%, while the number disapproving is steady at 59%.
Liberal Democrat leader Nick Clegg's ratings have also been on the up in recent weeks placing him nearly level with Miliband. 29% now rate him positively, a marked improvement from his all time low. Clegg's party are on 10% in the same poll, a feat not achieved in YouGov's daily voting intention tracker since August 2014.
Nigel Farage, meanwhile, continues to be rated much more highly than the other leaders (53% say he is leading UKIP well, 35% say badly), though this is technically a worse rating than when YouGov last asked about Farage in October.
PA images