Few remember the 2011 intervention in Libya positively, but most British people back would new military action there against ISIS
A video showing militants aligned with Islamic State beheading 21 Egyptian Christians in Libya has drawn attention to a new battleground in the war against ISIS. Following the video's release the Egyptian president ordered airstrikes against ISIS in Libya and called on the UN to authorise an international intervention there. The North African country has been in turmoil since 2011, when Col. Muammar Gaddafi fell from power amid a civil war and a Nato-led intervention spearheaded by David Cameron.
A new YouGov poll finds a firm majority of the public would have Britain go back – this time to bomb ISIS.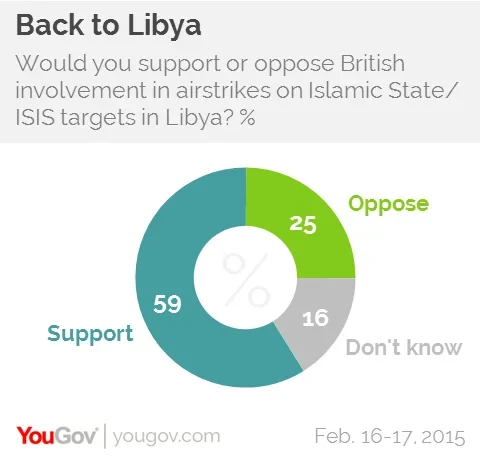 59% would support British involvement in airstrikes on ISIS targets in Libya, more than double the 25% who would oppose action.
This puts support for involvement in Libya nearly on par with public support for the ongoing air campaign against ISIS, which reached a new high of 63% earlier in February.
It also contrasts with assessments of the 2011 intervention, in which Britain joined the United States, France and other countries in enforcing a no-fly zone over Libya and limited air strikes on Libyan military targets. Only 30% now say it was the right thing to do and 33% say it was wrong. More, 37%, don't know whether the intervention was right or wrong.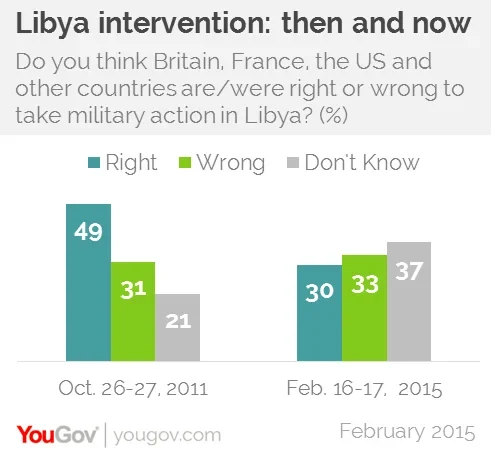 This is a marked change from the days following the death of Gaddafi, when 49% said Britain and her allies made the right decision to intervene, and 31% said it was wrong. NATO ended its operations in Libya days later.
30% of the public believe Britain should have maintained a presence in the country to help Libya rebuild, according to the new survey. In comparison, 32% believe Britain should never have gotten involved in the first place, and 13% think Britain was right to intervene and then leave when it did.
PA image