The British public tends to oppose providing military equipment to the Ukrainian government, preferring to escalate sanctions on Russia
With pro-Russian rebels gaining ground and a September ceasefire agreement in tatters, leaders from France and Germany are spearheading fresh talks to put a stop to hostilities in eastern Ukraine. Some voices in the West, particularly the United States, are arguing that sanctions may have proved insufficient in pushing Moscow towards an agreement, and have called for the provision of "lethal defensive weapons" such as anti-tank missiles to the Ukrainian army.
According to YouGov's latest polling, there is little appetite in Britain for equipping the Ukrainian army. With just 26% in favour, support for sending "large-scale military equipment" is actually four points below where it was last September, though opposition is also down five points to 34%. Four in ten don't have an opinion, suggesting opinions may still be "soft" on the idea, which hasn't been as vigorously debated as the sanctions regime.
Sanctions, aimed at members of Russian President Vladimir Putin's inner circle and several sectors of the Russian economy, remain broadly popular. 65% favour keeping the current regime in place, while only 11% oppose it. This is roughly the same level of support for sanctions seen since July, when pro-Russian separatists were accused of shooting down a passenger jet in Ukraine.
Britons would also largely support imposing additional sanctions on Russia, the latest poll finds, with 54% in favour to 15% opposed. A third (32%) don't know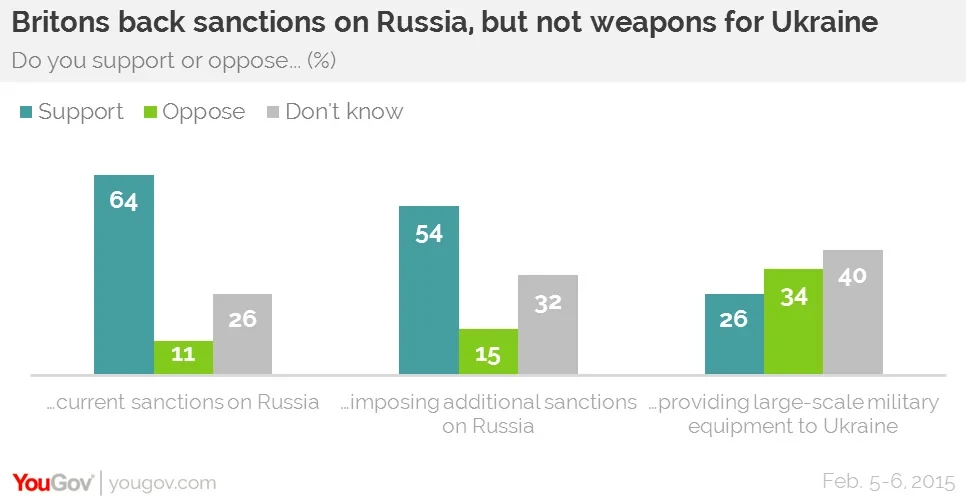 .
The latest survey was conducted from 5-6 February.
Lower profile
Despite evidence of support for a somewhat tougher line with Russia, British public engagement with the situation in Ukraine has fallen since the MH17 crash, which killed many Dutch citizens and raised the stakes of the conflict for the western allies. During late July, as many as 74% of British adults were following the story about the crash fairly or very closely. Fewer than half as many (33%) report giving equal attention to the recent intensification of fighting.
Expectations that the conflict will escalate have also fallen. In September, 42% thought it was likely that war would break out between NATO and Russia in the next 5 years. Now, only 26% think so.
PA image