British people tend to say the government was wrong to fly the union flag at half-mast to mark the death of King Abdullah of Saudi Arabia
Whitehall faced criticism on Friday after the Department for Culture, Media and Sport asked government buildings to fly the union flag at half-mast for 12 hours to mark the death of King Abdullah of Saudi Arabia. Protocol says this is an appropriate response following the death of a foreign monarch, and Saudi Arabia is an ally of the UK, but its deplorable human rights record, including the recent sentencing of a Saudi blogger to 10 years in jail and 1,000 lashes, has made the move look like poor judgment to some.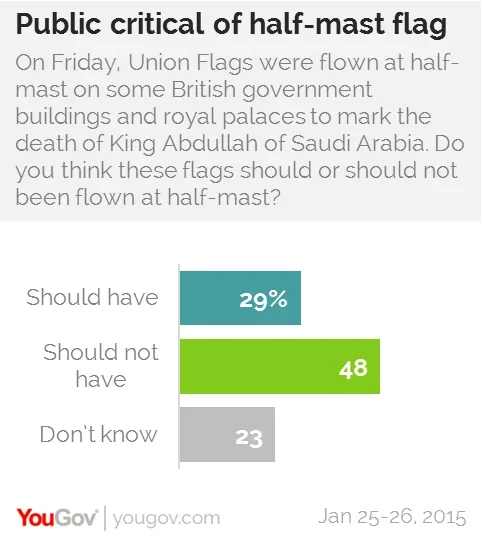 New YouGov research finds that British people tend to condemn the government's decision, with 48% saying the flag should not have been flown half-mast to 29% who say it should have been.
David Cameron and Prince Charles flew to Saudi Arabia on Saturday to offer their condolences for the death of the king. David Cameron said he was "deeply saddened" by the death. Conservative voters tend to say flying the flag at half-mast was the right decision, by 43-37%.
The US president Barack Obama also flew to Saudi Arabia today, after a three day visit to India. Some have been critical of the trip, however, noting that Mr Obama failed to attend a ceremony in Paris commemorating the deaths of 12 people in terrorist attacks centring on the satirical magazine Charlie Hebdo.