British people are more likely to have a negative view of Islam than Christianity – but are less likely to feel comfortable criticising it
The massacre of ten journalists and two police officers in Paris over cartoons of the Prophet Muhammed, printed by satirical French newspaper Charlie Hebdo, has forced the world to confront, in the harshest of ways, the issue of criticising religion. France has a long and venerable tradition of satire, going back to the scandal sheets that denounced Marie-Antoinette prior to the French Revolution, but this week's events have made journalists weigh freedom of speech against terror.
Only a handful of newspapers have printed the Charlie Hebdo Muhammed cartoons, and commentators have questioned whether reluctance to criticise Islam has left the few who do more vulnerable to attack.
New YouGov research finds that British people are less likely to feel comfortable criticising Islam than Christianity, despite feeling significantly more negative about it.
54% have a positive view of Christianity, even if they have some criticisms, while 31% view it negatively. In contrast, 25% have a positive view of Islam, compared to 61% who see it negatively. But while a majority (57%) feel comfortable criticising Islam, this is 18% fewer than the 75% who are at ease criticising Christianity.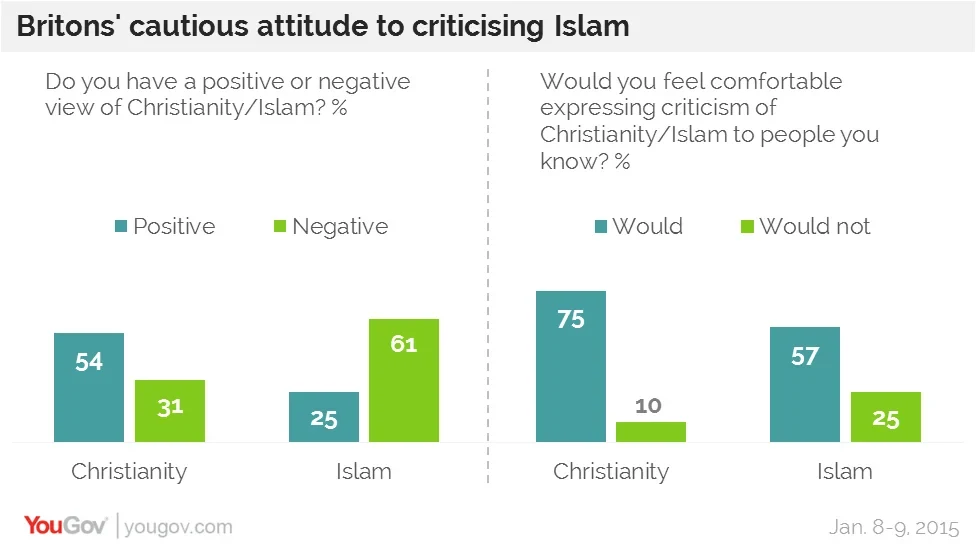 There is also a tendency to see the media as more willing to criticise Christianity than Islam (34%), rather than vice versa (15%).
Over 48 hours after the shooting in Paris, French police have stormed two hostage sites, reportedly leaving the hostage-takers dead. Two of the suspects in the Charlie Hebdo magazine shootings had been holding one hostage at a warehouse in the north of the city, where explosions were heard earlier today. Several hostages were also seen leaving a siege in a supermarket in Paris itself.