December's consumer confidence figure is second-lowest of 2014 as economy shows signs of slowing
Decline in people's household financial situations over last month
Job security over last 30 days falls to lowest level since April 2013
Five of eight consumer confidence measures fall in December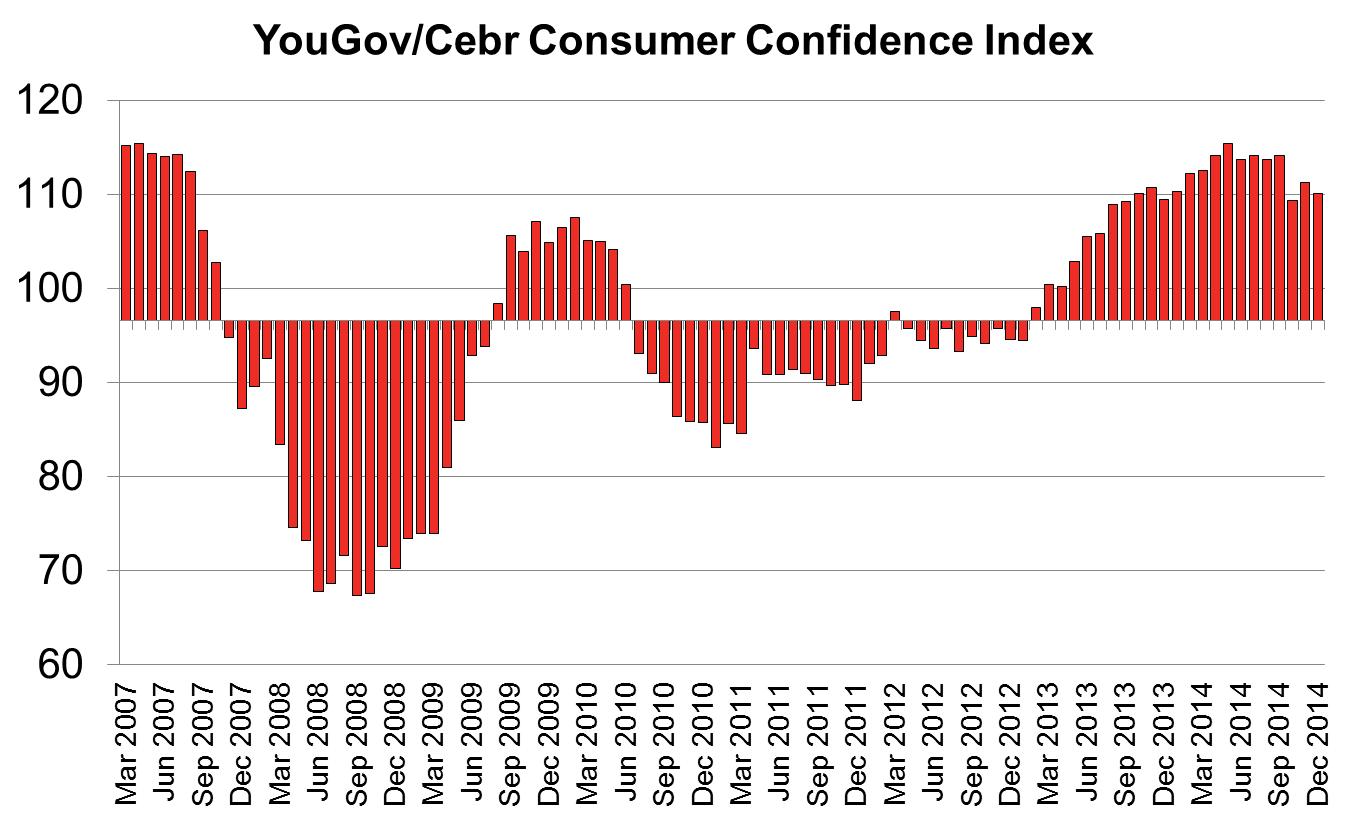 Source: YouGov/Cebr HEAT data, December 2014
Notes: Axis value of 96.6 represents the average YouGov/Cebr Consumer Confidence Index score since the data set began in 2007.
Consumer confidence has fallen in December, dropping back 1.2 points to 110.1. This is its second lowest figure of 2014 and was only lower in October when it sunk to 109.4.
With Christmas approaching, consumers' experiences of and expectations for their household finances have dropped off slightly. The household financial situation over the past 30 days measure fell by 1.8 points while the household finances over the coming 12 months figure dropped by 3.5 points.
The data from YouGov's Household Economic Activity Tracker also show that workers are less certain about their employment prospects. People's job security over the last month fell to its lowest level since April 2013. They have also become more worried about work over the coming year, with job security over the next 12 months sinking to its lowest level since February.
Of the eight measures that shape the Consumer Confidence Index, five have fallen this month with only business activity over the last month and both the forward and backward-looking house price measures improving.
Stephen Harmston, Head of YouGov Reports: 'The stuttering consumer confidence we have seen over the last few months continues as we approach Christmas. People feel less certain about their household finances in the run-up to the festive period which could hamper spending, and our recent figures point to households' Christmas outlay flat-lining this year. However, the real concern that over the longer term is people becoming less secure in their jobs. If this trend continues over the next few months it could become part of the political narrative in the run-up to the election.'
Charles Davis, Director at the Centre for Economics and Business Research: 'The recent slip in consumer confidence has for the most part been driven by a slump in job security. While the headline unemployment rate has dropped rapidly over the last year or so plenty of people are unsure about where their next pay cheque is coming from. Self-employment stands at 4.5 million and there are over 8 million Britons working part-time, so for many the economic recovery is not yet secure. Although real incomes on average will rise in 2015, plenty of households are still feeling the strain. The downturn in sentiment we are seeing could mean consumers control their spending at Christmas and in the sales. We continue to expect slower growth in in the first half of 2015.'
Look here for more information about the Household Economic Activity Tracker
Image from PA