YouGov has tracked which parties voters see as 'sleazy and disreputable' since 2002. For the first time, we asked about UKIP
YouGov conducts an occasional "sleaze tracker", measuring perceptions of the sleaziness of the three main parties. We ran it in January and for Red Box again yesterday.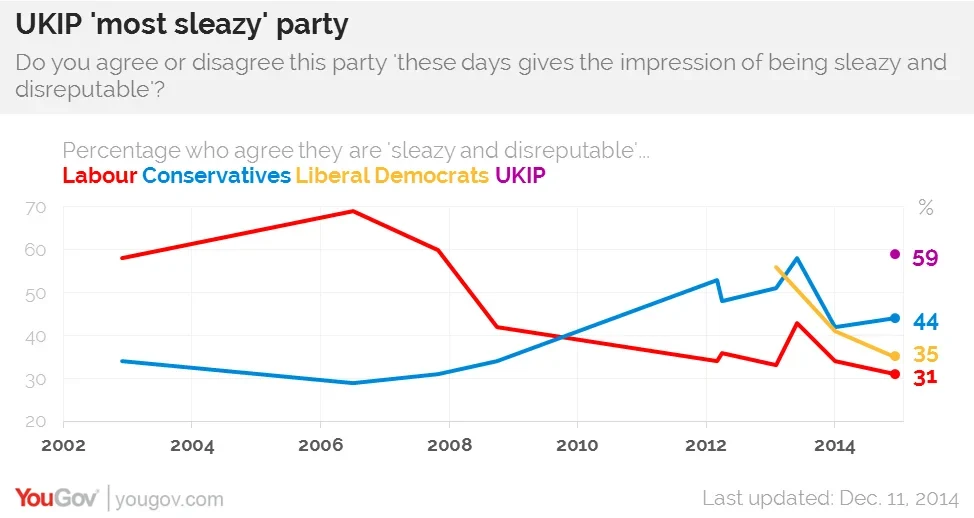 We invited people to agree or disagree with the statement, "the Conservatives / Labour / the Liberal Democrats these days give the impression of being very sleazy and disreputable".
44% agree it applies to the Conservatives
31% agree it applies to Labour
35% agree it applies to the Lib Dems.
The change is interesting – in January the Conservatives were on 42 per cent, so they have worsened by two points, Labour were on 34%, so have improved by three (to their lowest level ever), and the Lib Dems were on 41 per cent, thus improving by 6 per cent.
For the first time we also included UKIP in the tracker. They now occupy the position of being seen as the "most sleazy" party, with 59% agreeing that the statement applies to them.
See the latest sleaze tracker results