British people say that Russia deserves to go into recession next year – but are less sure ordinary Russians should suffer
Vladimir Puting delivers his state of the nation address today, after it was announced that Russia's economy will sink into recession next year as a result of Western sanctions and falling oil prices. Russia's economic development ministry estimated that the economy would contract 0.8%, and household disposable income would decline by up to 2.8%, a day after the Rouble suffered its biggest one-day fall since the Russian debt default of 1998. The price of oil has fallen almost 40% since the summer because of increased supply due to fracking in America. Russia is particularly sensitive to such movements due to its reliance on tax revenue from the industry.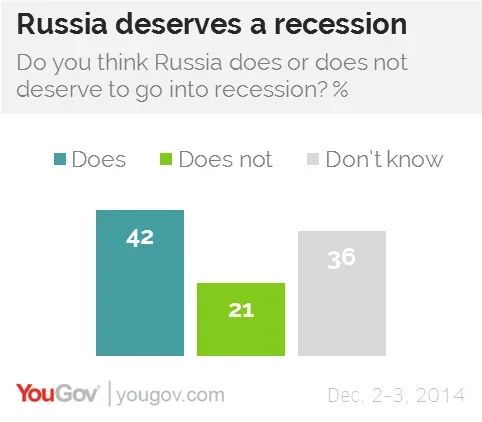 YouGov has been monitoring public opinion on Western responses to Russia's actions in Ukraine since the downing of Malaysia Airlines flight MH17 in Ukraine, consistently finding support for economic sanctions.
In light of the bad economic news for Russia, British people even tend to say that it deserves to go into recession, by 42-21%. 36% are unsure.
Support for sanctions has dipped slightly, however, from a high of 65% shortly after the passenger plane was shot down by Russian separatists in Ukraine. Now, 54% support and 14% oppose sanctioning Russia.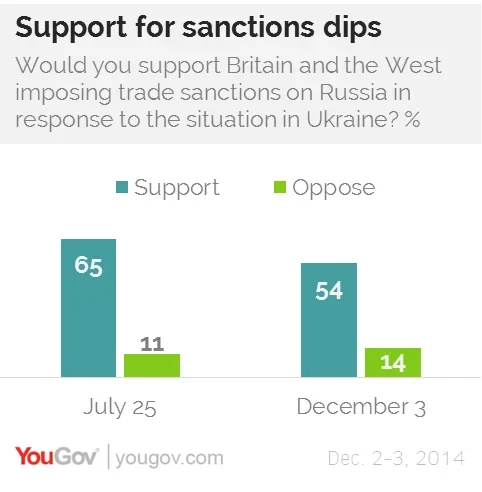 British people are divided over what is more important – punishing Russia for its military aggression (38%), or the living standards of ordinary Russian people (39%). Women tend to think the living standards of Russians are more important, while men tend to think punishment takes priority.
European Union sanctions announced on September 12 exclude banks from raising long-term loans in the EU, ban EU exports of technology used in the oil industry to Russia and impose asset freezes on individual bank accounts. In response to falling oil prices, Opec has met to discuss a possible cut in oil production, however no agreement has been reached.