Almost half of the population do not buy or read magazines.
The most recent "Magazine Consumption report" shows that just over 4 in 10 adults currently do not read nor buy magazines (44%). From this group, more than half (55%) say they've never been regular readers of magazines, while 39% were once readers, but stopped. Given that women are more attuned than men to reading magazines, they are more likely to be lapsed consumers (46% compared with 33%); conversely, men are more likely to have never read them (59% compared with 50%).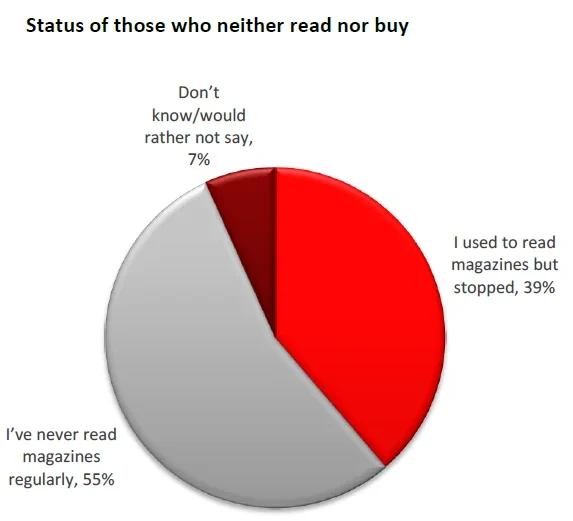 The report has also found that under-25s are less likely than their elders to read or purchase magazines. Half of 16-24 year olds (50%) read or buy magazines compared to an average of 58% of over-25s. However, younger people are more likely than older readers to read magazine content on digital websites. Almost a quarter of 16-24 year olds (22%) say they read magazines on websites, followed by 13% of 25-39 year olds, 9% of 40-54 year olds and 6% of over 55s.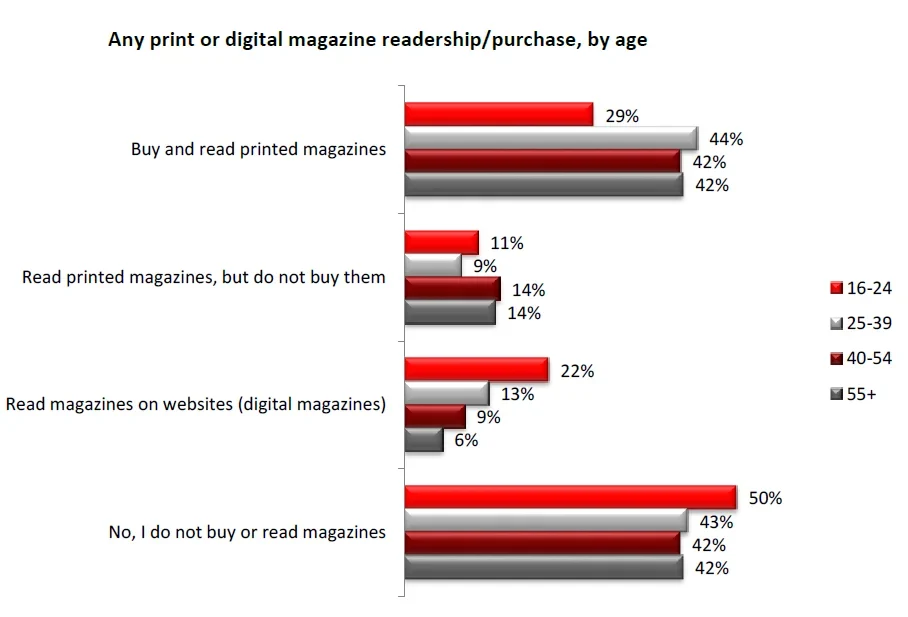 The majority of adults who neither read nor buy magazines attribute this to lack of attention-grabbing content (45%) and being able to find everything they need from TV or newspapers (30%). 22% of non-readers say they can't afford to buy magazines. At 46%, affordability is the third important factor readers look for in a magazine, just before relevance (58%) and good up-to-date coverage (49%).
There is also an increase in the proportion of people who gave up reading magazines more than five years ago. 36% of ex-readers stopped reading magazines more than five years ago compared to a steady 28% - 29% from surveys undertaken between December 2013 and May 2014. Six in ten ex-readers (61%) say they stopped because it's expensive, while nearly four in ten (36%) say they lost interest in their favourite magazines. More than a quarter of former readers (27%) say they gave up on magazines because they can now obtain the same information online.
James McCoy, Research Director at YouGov Reports, commented "Former readers have cited cost – or at least perceived affordability – as a key reason for giving up magazines. Clearly when pressures are on budgets, magazines are not seen as essential. While publishers may initially consider cutting prices to attract lapsed readers back to the fold, more success may be found in persuading ex-readers of the value that a magazine represents."
Image PA