Six in ten voters now say the UKIP leader is doing well, but only 11% think he would make the best Prime Minister out of the main party leaders
Nigel Farage has promised victory for Tory defector Mark Reckless in his upcoming by-election in Rochester and Strood, following a week of electoral success for his party. Fellow defector Douglas Carswell won a 35-point majority in Clacton, while the UKIP candidate in Heywood and Middleton came within 617 votes of the Labour candidate there.
YouGov's latest poll for the Sunday Times should also give Farage a boost: his leadership approval ratings have soared to their highest mark yet. Following his party's by-election win, 61% of the public say the UKIP leader is doing his job well. Overall, 26% in Britain say Farage is doing badly. 13% don't know.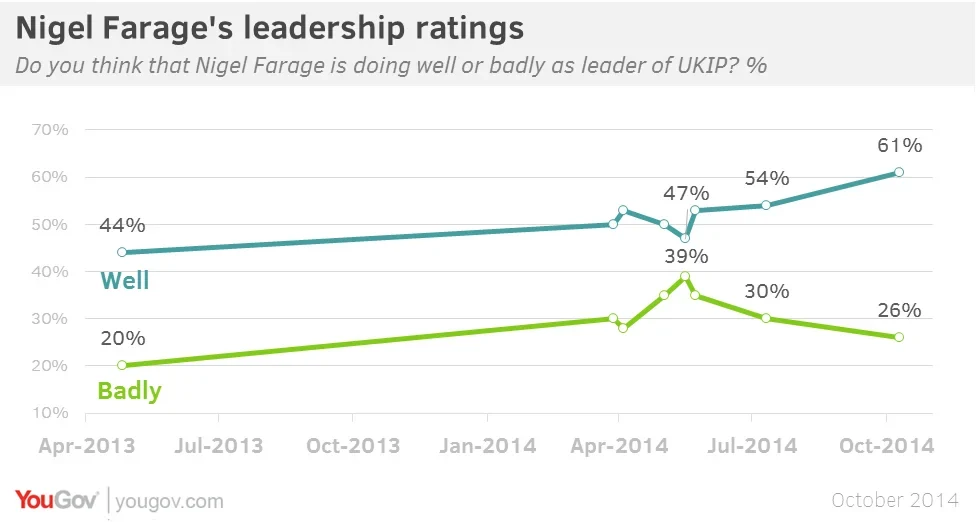 Much of the fieldwork for the survey was conducted before the results of that day's by-elections were made clear.
The historical data reveals an 18-month upward trend for Farage, but also stumbles along the way. Last May, following a series of controversial comments and tough interviews, his ratings briefly dipped below 50%. Farage's previous best rating was 54% to 30%, achieved after UKIP's first place finish at the European elections.
It's also worth noting that, just because people think he is "doing well", doesn't necessarily mean people like him personally or would vote for his party. UKIP is at 16% in voting intentions in the same poll, which is near the party's best showing, but well below the numbers who think Farage is doing well. In the survey released this Sunday, just 11% of voters say Farage would make the best Prime Minister out of the main party leaders – including just 60% of UKIP voters. By contrast, David Cameron gets a net -10 rating on his job as Prime Minister, but 33% say he is best for he job (including 15% of UKIP supporters).
There is also the cautionary tale of Nick Clegg – whose ratings are at -54 this week, the lowest of the four leaders. Clegg received even better ratings than Farage does today following the Liberal Democrats' electoral triumphs in May 2010, only to watch them plummet down to earth within months of his party entering government.
The Rochester and Strood by-election is scheduled for the 20th of November.
Image: PA
Update: An earlier version of this article stated the date of the Rochester and Strood by-election as 6 November. The correct date for the by-election is 20 November.