The latest YouGov/Cebr Consumer Confidence Index shows that consumer confidence remains stable, increasing by +0.4 points in September after a small fall in August.
The data, from YouGov's Household Economic Activity Tracker (HEAT), suggest that the levelling-off in consumer confidence comes as increasing numbers of homeowners think their properties have not risen in value in the past month. The analysis suggests that the more muted view of the housing market is not confined to London, with the rest of the UK experiencing a similar drop-off in the past couple of months as well. The steady trend in overall consumer confidence comes as the recent rise in the number of people expecting their household finances to improve has been checked, both in the capital and the rest of the UK.
Stephen Harmston, Head of Syndicated Research at YouGov: "Overall consumer confidence has been steady over the last few months with the rise in September balancing out August's fall. Several of our measures have levelled-off, most notably around house prices and household finances – whether this signifies a general steadiness in economic outlook among consumers or a stalling of confidence remains to be seen."
Charles Davis, Director at the Centre for Economics and Business Research: "The surge in consumer confidence we saw throughout most of 2013 and through into 2014 has plateaued. Clearly, growth in house prices could not continue forever, and it is evident that many homeowners think that the market has reached its peak. What is interesting in these data is that the cooling off is not just happening in London, but also throughout the rest of the United Kingdom. The slight fall off in optimism around household finances in the capital could be a sign that London's rampant recovery is starting to slow as the rising cost of living continues to outstrip wage growth."
YouGov/Cebr Consumer Confidence Index
The YouGov/Cebr Consumer Confidence Index increased by +0.4 points in in September to 114.2. The Index has been remarkably steady in recent months, consistetly being between 113.8 and 114.4 since May.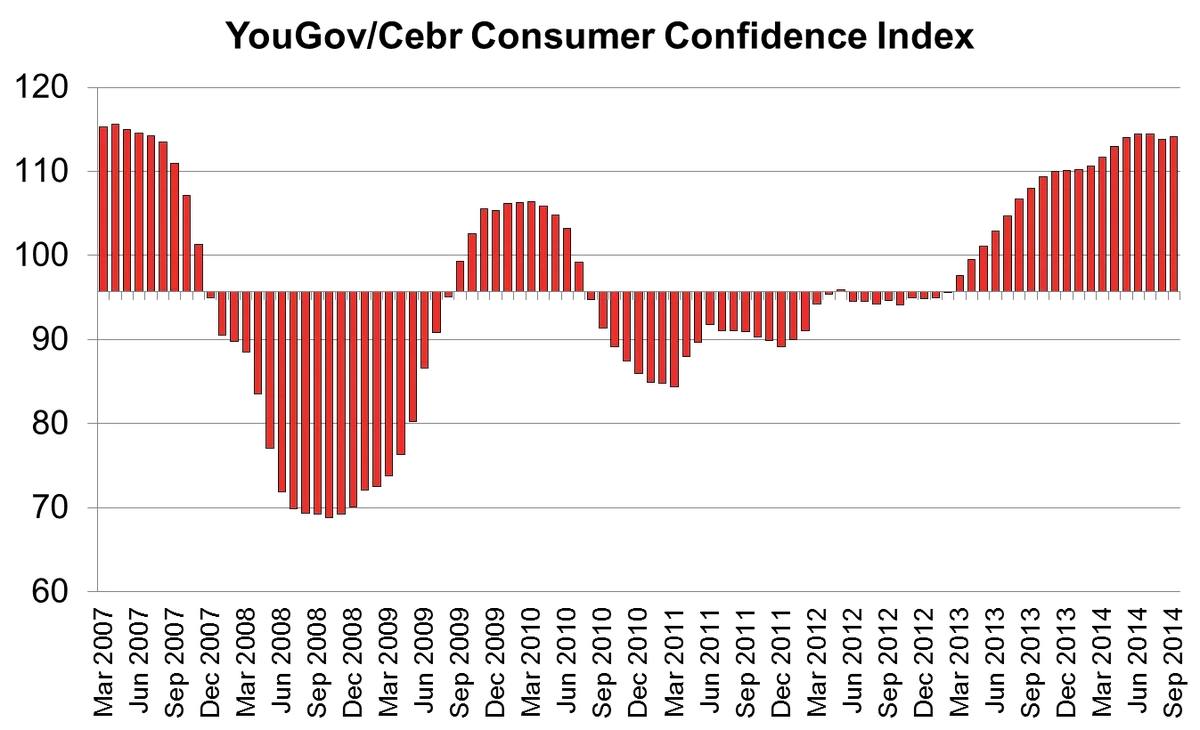 Source: YouGov/Cebr HEAT data, September 2014, using a three-month rolling average.
Notes: Axis value of 95.7 represents the average HEAT Consumer Confidence measure since the data set began in 2007.
House prices level off in London and rest of UK
London homeowners' started noting that price increases were being checked late last year and, in the last two months, the rest of the UK's property owners have followed suit. In June, 29% of London property owners did not think the price of their property has increased in the past month, a figure that has increased to 39% in September. The same picture is emerging across the rest of the United Kingdom, albeit on a more gentle scale. In June, 62% said their didn't think their property had increased in value but in September this number has increased to 66%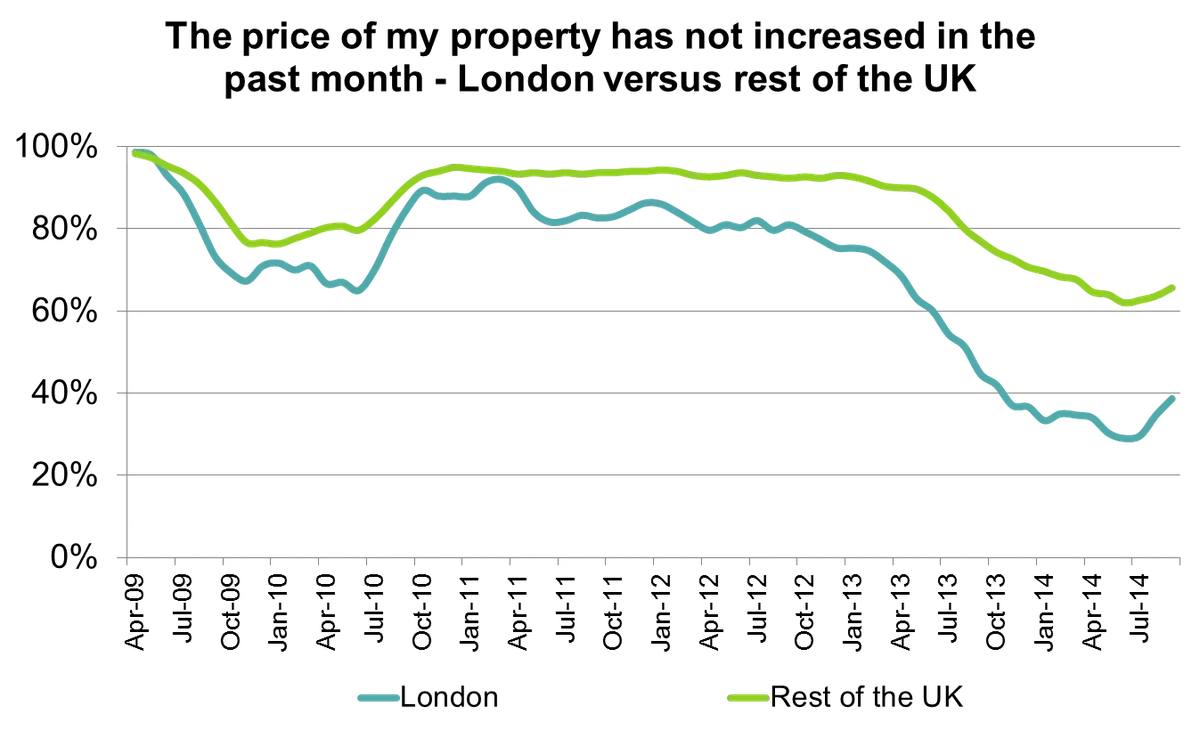 Source: YouGov/Cebr HEAT data, September 2014, using a three-month rolling average
Household financial situations fall in London and level in rest of UK
While overall optimism around household finances has levelled-off, YouGov's HEAT data suggest that among Londoners it has fallen slightly in the past few months. In May, 87% had not seen their financial situations improve recently, a number that increased to 89% in September. In the same period across the rest of the UK consumers' household financial situations have remained pretty much static, with 90% seeing no month-on-month improvement in May and 91% doing so in September.