English and Welsh people now tend to say a vote for Scottish independence is likely – a shift of 15 percentage points since last Friday
Over the weekend YouGov reported a lead for Scottish independence for the first time since polling began on the referendum, which takes place on September 18th. The news shocked the financial community, and with other polling companies now reporting the same trend, English and Welsh people no longer see the continuation of the Union as a given.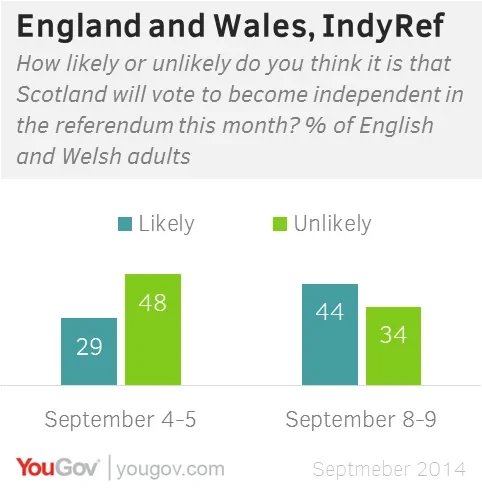 As English MPs head to Scotland in a last-minute effort to convince voters to support the Better Together campaign, the latest YouGov research finds that English and Welsh people have changed their minds on the result of the referendum.
Last Friday, English and Welsh voters tended to think it was unlikely that Scotland would vote for independence, by 48-29%.
Now, however, 44% of English and Welsh people expect the Union to break apart, compared to 34% who think this is unlikely.
Scottish people already saw independence as likely, however there has been a three point shift towards expecting independence, from 48% to 51%.
Devolution
Yesterday Gordon Brown set out a timetable for devolving more powers to the Scottish Parliament if Scotland rejects independence, backed by the three main political parties. A YouGov poll for the Times Red Box finds that English and Welsh people are divided over further devolution, with 33% in favour and 36% opposed. While a third of Scottish people (33%) do think the offer will make independence less likely, 33% also think it will make no difference and 18% even say it will encourage independence.
Royal baby conspiracy
On a lighter note, although conspiracy theories have emerged claiming that Kate Middleton's pregnancy has been staged, or arranged, to boost pride in the Union, another YouGov poll finds that few Scottish people think the news will have much, if any, impact. 76% think it will make no difference, and 10% say it will make people more likely to vote for independence. Only 4% think the pregnancy announcement would make people less likely to vote for independence.
At Prime Minister's Questions today, William Hague will stand in for David Cameron and Harriet Harman for Mr Miliband as the party leaders head north to tell Scottish people "the United Kingdom is better together"; a move Alex Salmond has said looks like panic. The Scottish flag, the Saltire, has been raised over Downing Street, and will continue to fly until the referendum on September 18th.
Image: PA
See the full referendum expectation results
See the full Times Red Box results