The largest group of British people say that neither Israel nor Hamas gained in the long term from their recent conflict
A long-term ceasefire in Gaza ended seven weeks of fighting and halted the 2,200 death toll from rising last week. Both sides have proclaimed victory: Israel's prime minister Benjamin Netanyahu has stopped Hamas from firing rockets at Israel and destroyed their cross-border tunnels; Hamas has proved it can weather a surprisingly long campaign.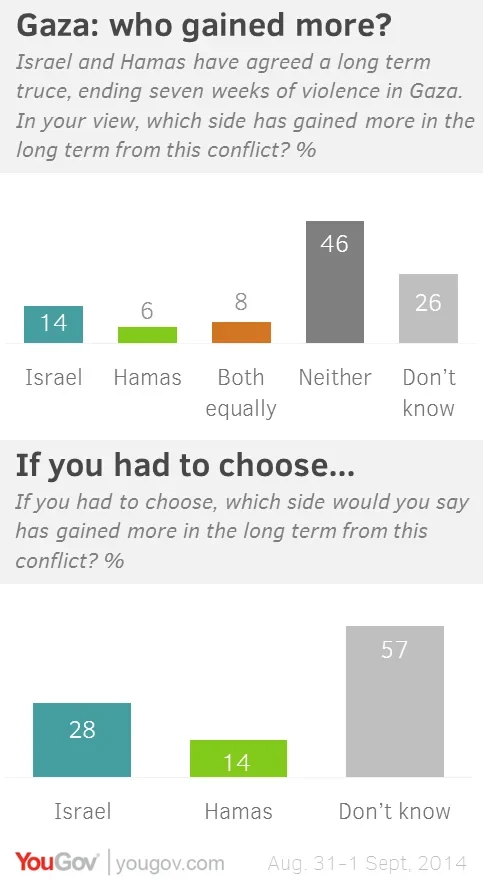 But a new YouGov poll for the Times Red Box finds that in the eyes of the British public there have been no winners in the latest war in Gaza.
Either people are unsure (26%), or they say that neither Israel nor Hamas has gained more in the long term from the conflict (46%).
Even when people are forced to choose, most (57%) are unable to call a victor. A greater number say that Israel gained more than Hamas (28-14%) with the 'Neither' option removed than with it included (14-6%), however.
YouGov has found that Americans are much more sympathetic to the Israeli cause than British people, but even among the US public only a minority are willing to pick a winner. Among those who do say one side has gained more, Americans are more likely than British people to choose Israel, but the difference is minor.
Since 2003 and throughout the campaign YouGov has found a steady, if slight, tendency among British people to sympathise more with Palestine than Israel (30-16% as of August 7-8). While Israel's offensive did nothing to improve its favour in the world, Hamas's ineffective rocket attacks brought heavy destruction into Gaza, reinforcing the view that neither side has emerged stronger.
Image: PA