Around two thirds of British people trust the authors of Wikipedia entries to tell the truth, many more than trust newspaper journalists
Wikimania, the annual conference for Wikipedia devotees is in London for the first time. Attendees will discuss a range of issues important to the free online encyclopaedia, including the expansion of foreign language versions and the underrepresentation of women amongst its contributors.
New YouGov research reveals over half (52%) of British people have used Wikipedia for research, and the majority of the public trust its authors to tell the truth.
This is despite the fact that anyone can technically write an entry on Wikipedia, which is edited by an army of so-called "Wikipedians", internet users from around the world who commit to auditing content posted on the website for no compensation (Wikipedia is a non-profit enterprise, funded by donations).
It's also a much higher level of trust than the British people give to people who are trained – and paid – to reveal the truth about the workings of the world: journalists. Overall, 64% trust the authors of Wikipedia entries at least "a fair amount" to tell the truth.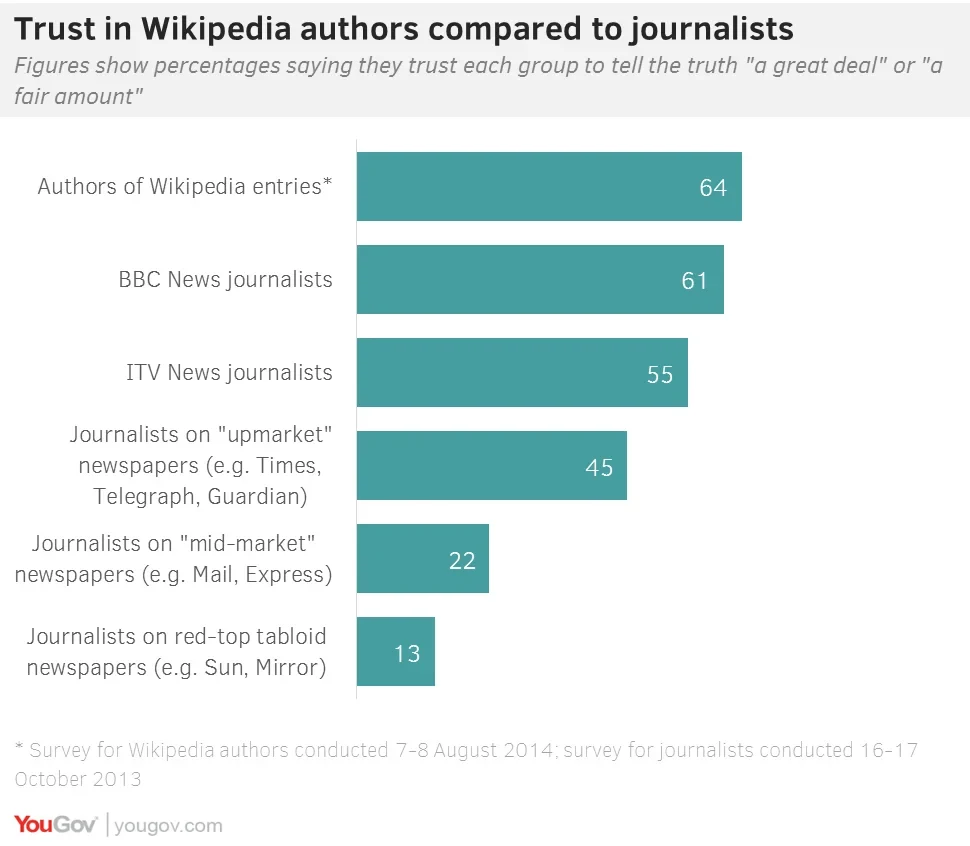 YouGov has long tracked trust in a range of other groups in Britain using a form of the same question. The question was last asked in October, following developments related to the Andrew Mitchell 'Plebgate' scandal. Of the journalists asked about, BBC journalists were the most-trusted, with at least "a fair amount" of trust from 61% of the public; journalists working at ITV are close behind with 55%. Both fall narrowly behind "authors of Wikipedia entries" (though the difference from BBC journalists is insignificant). Lower down on the list? Journalists on "upmarket" newspapers (45%), "midmarket" newspapers (22%) or red-top tabloid newspapers (13%).
However, when it comes to trust in Wikipedia's overall accuracy, it does lag significantly behind one of the world's most well-known traditional encyclopaedias, Encyclopædia Britannica. 83% have at least a fair amount of trust in the information in Encyclopædia Britannica to be accurate, including 38% who have "a great deal" of trust. In comparison 67% trust Wikipedia's overall accuracy, and only 7% trust it a great deal.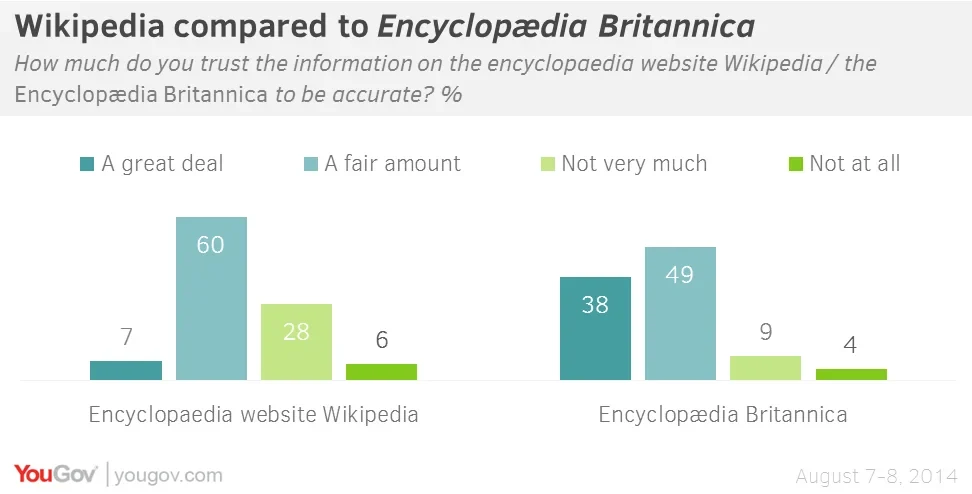 A similarly small group of people trust Wikipedia enough to plagiarise its content. 5% of British adult say they have "directly copied" text from Wikipedia to use in professional or academic work – without citing Wikipedia as a source. Among under-40s, nearly one in ten (9%) have copied from Wikipedia without citation.