New YouGov CityBus research conducted among residents of 10 leading UK cities reveals that it is those living on the south coast in Brighton that are proudest of where they live.
Over nine in ten (91%) of Brighton residents said they were either very or fairly proud, closely followed by Edinburgh (90%). The lowest performing cities were Nottingham (62% proud, 32% not proud) and Leeds (69% vs. 27%). Around eight in ten (81%) of Londoners said they are proud of the city, compared to 16% who aren't.
The local culture (84%), the local people (70%), the restaurants (66%) and good transport links (63%) were among the aspects that Brightonians love about their city. In London, 79% love the historic landmarks, but only 39% have similar feelings about the local people. In Leeds, 10% could not find anything at all that they loved about the city.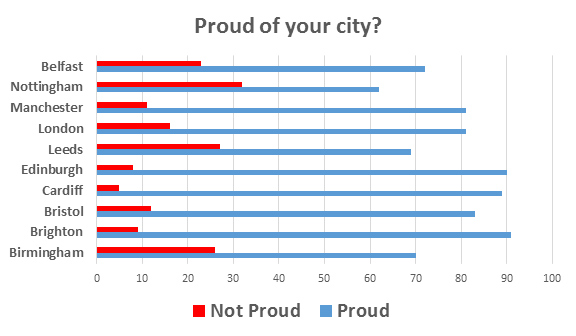 Negative stereotypes can seriously damage perceptions of a city. Those in Birmingham most dislike the stereotypes about the people who live there. 59% dislike the labels their city receives, only 14% like them. Belfast is the next on the list with 39% disliking the view of their city. Again, Brighton residents had the most positive view, with 44% approving of the stereotypes of the city.
So where do individual city's residents see themselves in the future? Only in London and Nottingham do a majority say they are more likely to leave their current city than remain there (48% compared to 46% in the capital, 45%/41% in Nottingham). Conversely, those in Cardiff are most likely to stay, 61% believe they are unlikely to move away against 31% who are likely.
Mary Wheeler, Senior Research Executive, YouGov CityBus said: "whether it is the sea air and iconic beaches, lovely locals or a diverse cultural landscape, it is clear those in Brighton have a good deal to be rightly proud of. More generally, the results suggest that the majority of those in the cities surveyed are proud to live where they do, and will defend them against negative stereotypes that do abound.''