Those who say they would refuse a vaccine are twice as likely to distrust health officials over the coronavirus
Typically, the creation and rigorous testing of a vaccine can take up to 15 years. However, since January academics and pharmaceutical companies have been working around the clock to complete a COVID vaccine in record time and some Brits are wary of the end result.
When we asked Brits on October 2nd, 66% of adults said they would get a vaccine when one becomes available, with 15% opting not to. Nearly a fifth (19%) of Brits were unsure of whether they would or not.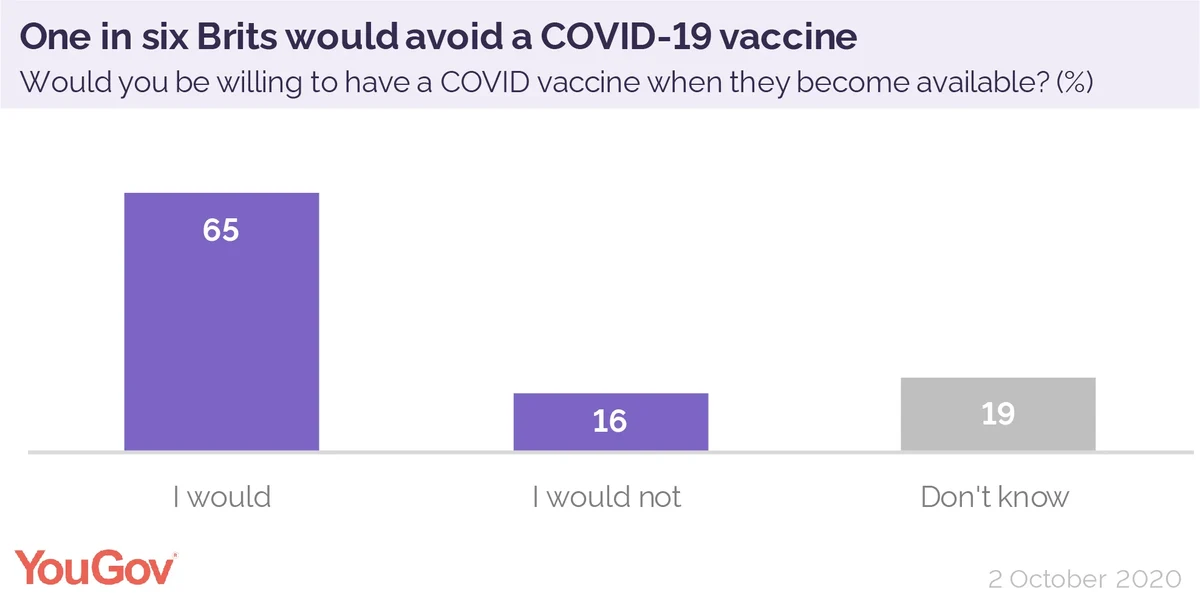 YouGov Profiles lets us take a deeper look at the demographics of those Brits who say they would refuse a COVID-19 vaccine, as well as their thoughts on coronavirus and more.
Demographics – who are they?
Looking across the younger age groups, the difference between the percentage of men and women who would opt out of a vaccine are initially marginal, but increase with respondent age. For example, among 18 to 24-year olds, 17% of males would not get a COVID vaccine compared to 20% of women.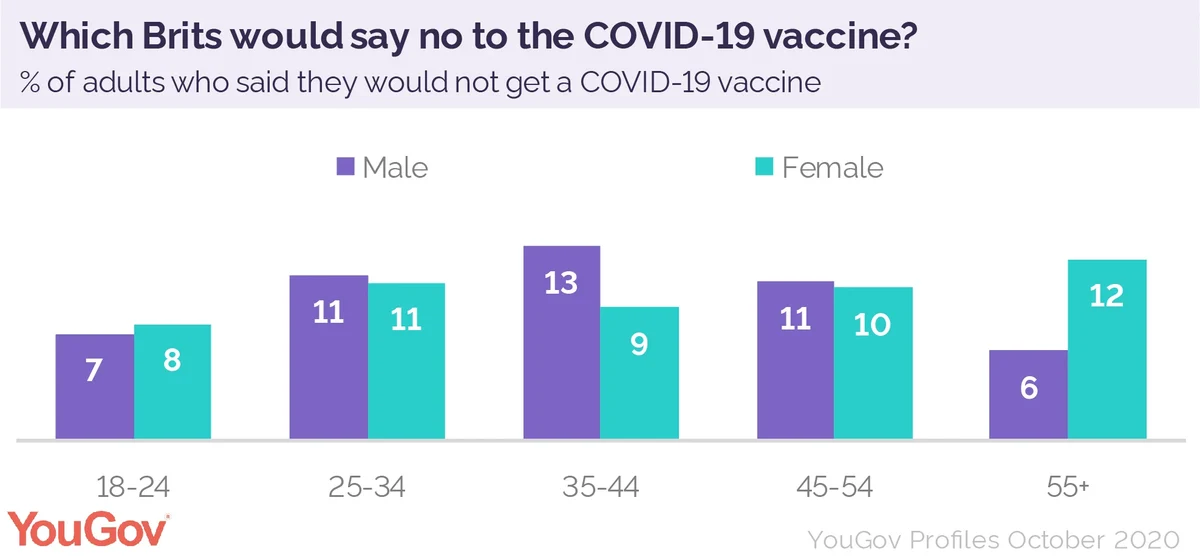 The largest gap between the genders occurs among the 35 to 44-year-old, and 45 to 54-year-old age brackets, which both see women 7 percentage points more likely to say to they would refuse a COVID-19 vaccine than their make counterparts.
There are also stark differences between the generations, with one in five (20%) millennials (1982 – 1999) saying they would not get the COVID vaccine, compared to 11% of Boomers (1946-1964) who say the same.
How do they feel about lockdown measures?
While they are united in opposition to a taking a COVID-19 vaccine, this group of adults is split over new lockdown measures. Overall, 50% would support the introduction of a two-week circuit breaker style lockdown, with 27% strongly supporting the idea.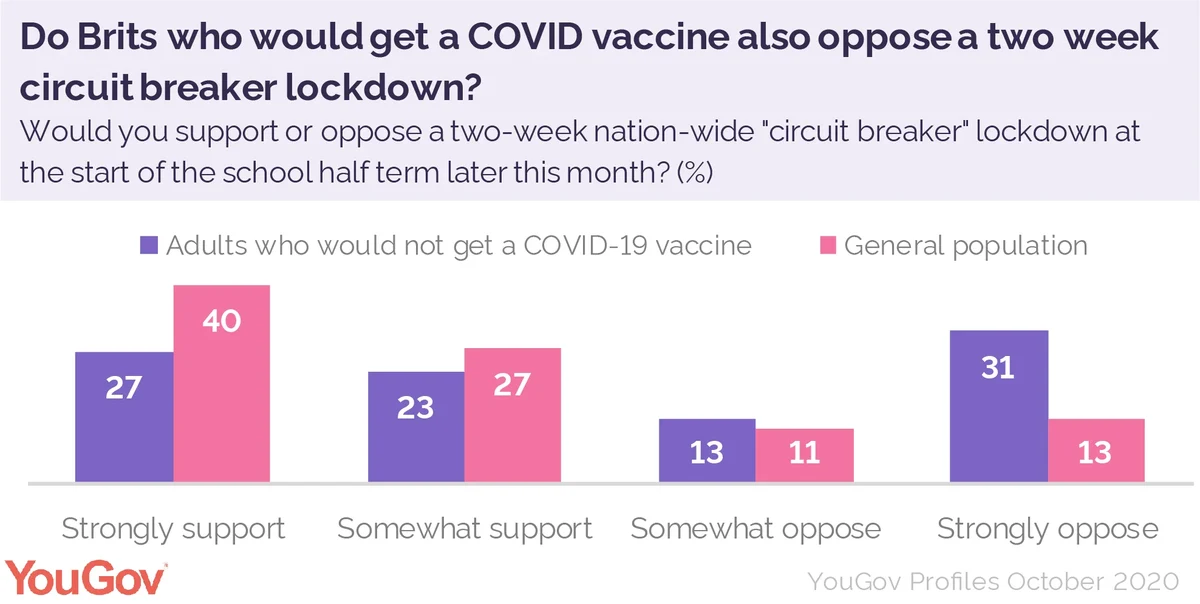 However, 44% are opposed, and 31% are strongly opposed to the idea of another national lockdown – over two times higher than the general population of whom 13% are strongly opposed.
Adults opposed to taking a COVID vaccine are also more likely to doubt the effectiveness of more lockdowns, 47% think a second national lockdown would not be as effective as the one that took place in March and April compared to 20% of the general public who think the same.
However, despite this scepticism, adults who would not get a COVID vaccine have similar feelings about the impact COVID-19 will have on the UK economy. Over half (56%) say they think the UK is headed for a recession in the next 12 months, an opinion on par with the general public (61%).
Those wanting to avoid a vaccine are more distrustful of media, government, and healthcare professionals
YouGov Profiles also shows us that adults who would turn down a potential COVID vaccine are more distrustful of authority when it comes to COVID.
The group are more likely to distrust what both the media (76% versus 65% of the general population) and the government (61% versus 48% of the general population) have to say about COVID-19.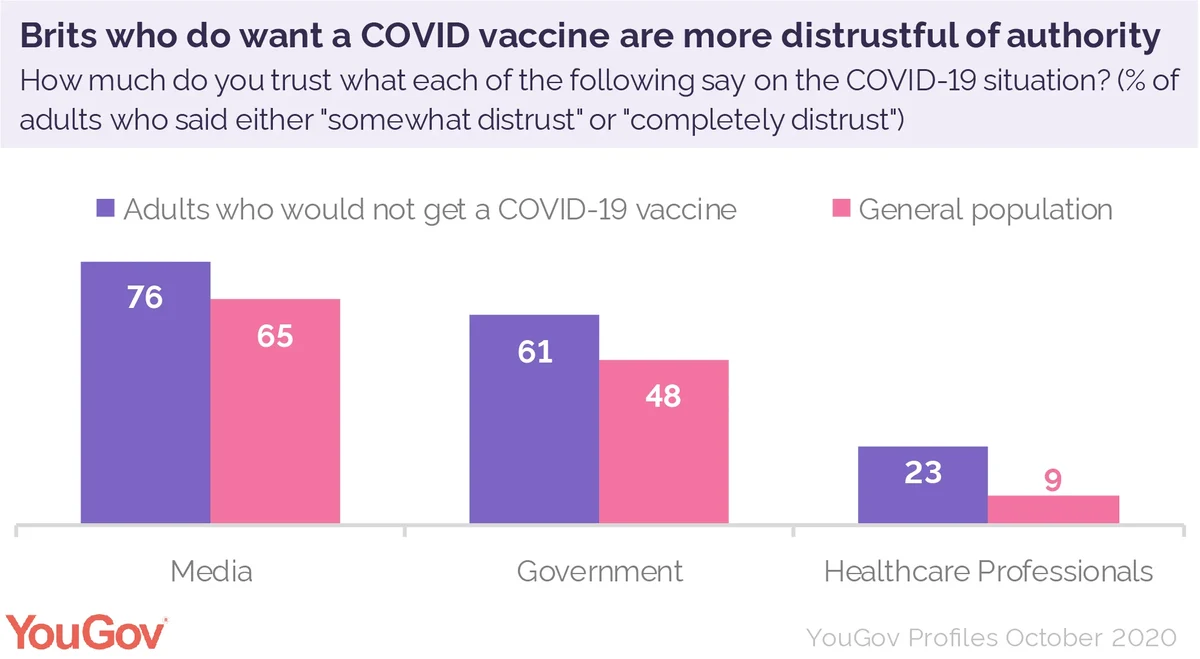 Further to this, these adults are over as twice as likely (23%) as the general public (9%) not to trust healthcare professionals over their messaging relating to COVID.
This general sense of scepticism continues in other areas, with adults who would refuse a COVID vaccine also more likely to say that climate change is not caused by human activity (30% versus 21% of the general population), and are also 12 percentage points less likely to say that climate change is the biggest threat to civilisation (38% versus 26% of the general population).