First Minister also seen positively with 7 in 10 Scots confident in her decisions surrounding the crisis
With the lockdown now in its fifth week, new YouGov research finds that the Scottish Government has overwhelming support when it comes to its handling of the coronavirus. Three quarters (74%) of Scots think the Holyrood-based institution is doing well, with just one in five (19%) saying they're doing a bad job. The devolved Government also has cross-party support, with 70% of both Labour and Conservative voters supporting their handling of the crisis.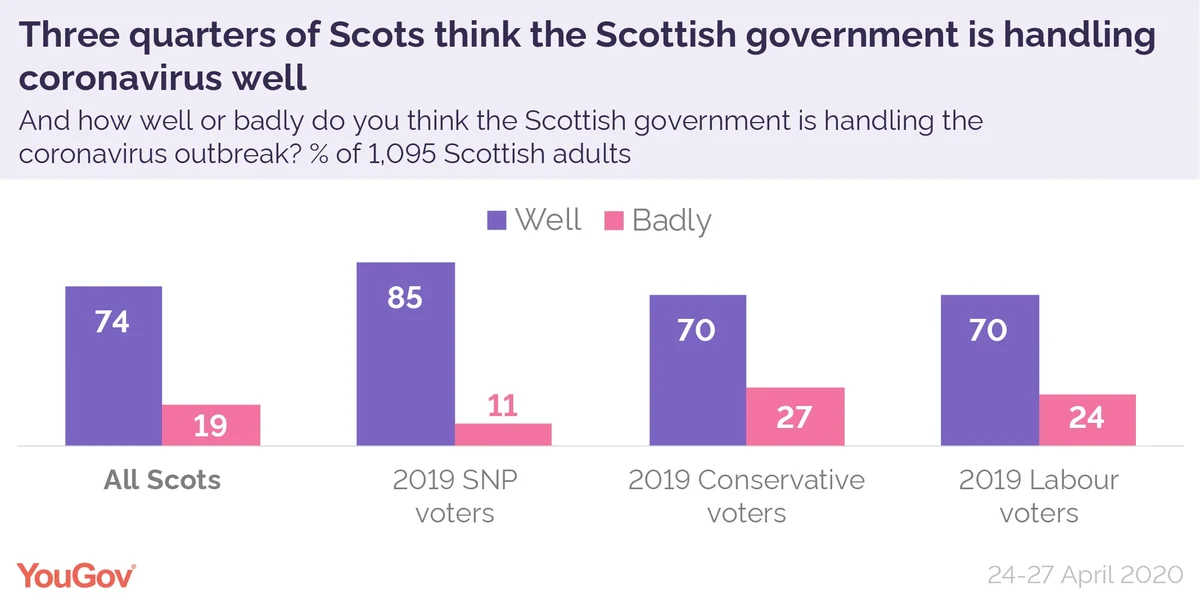 When it comes to the UK Government's handling of the coronavirus crisis, Scots are split, with 47% saying they're handling it well vs 48% badly. This is notably more pessimistic than their Southern neighbours, with 59% of English adults saying the Government is handling the crisis well, compared to only 35% who think it is handling it badly.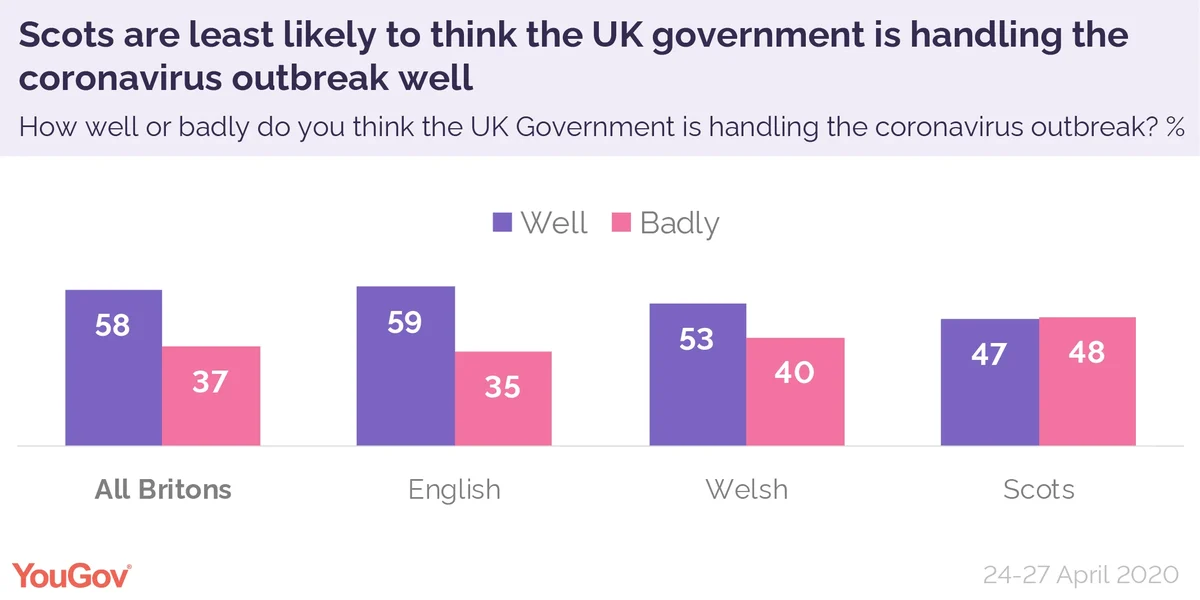 Scots' approval of their government also transfers to Nicola Sturgeon, with 71% of Scots having confidence in her making the right decisions around the coronavirus outbreak. This compares to just 40% of Scots who say the same of Boris Johnson. Partisanship plays a part here, with 85% of Conservative voters having confidence in the PM, while just 16% of SNP voters feel the same.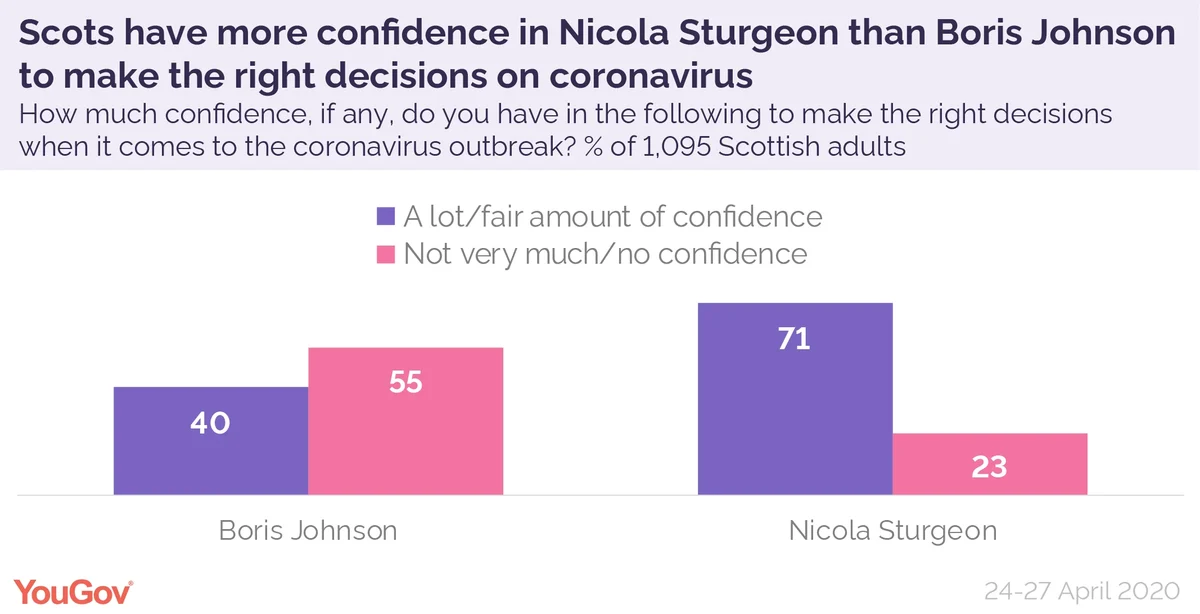 Time to ease the lockdown?
There has been some speculation around whether Scotland could ease lockdown measures before the rest of the UK, and Scots appear to be at least somewhat open to such measures. By 50% to 37%, Scottish adults think easing of lockdown measures should happen in some areas ahead of others if they are further ahead when it comes to reducing the virus. Across Britain overall, the public are more split, with 44% in favour of this and 41% saying easing of lockdown measures should happen at the same rate across the UK.
Regardless of whether easing happens at different times across areas, Scottish adults are as cautious as the rest of Britain when it comes to when these should happen. Four in ten (42%) say easing should not take place until death numbers have fallen, with the vast majority of this group saying deaths would need to fall substantially. Another 15% say measures should be relaxed when there are no new cases and 14% say not until testing is easily available. Just 4% of Scots say it should happen immediately.
Voting intention for the SNP is up
While the Conservatives have seen a voting intention boost in Britain as a whole as a result of the coronavirus crisis, in Scotland it is the SNP who appear to be the biggest beneficiaries of any "rallying to the flag". Our latest figures find that if there was a general election tomorrow the SNP would get just over half of all votes (51%), six points higher than they achieved in the election last December. The Conservatives are on 25%, while Labour are in third on 15%.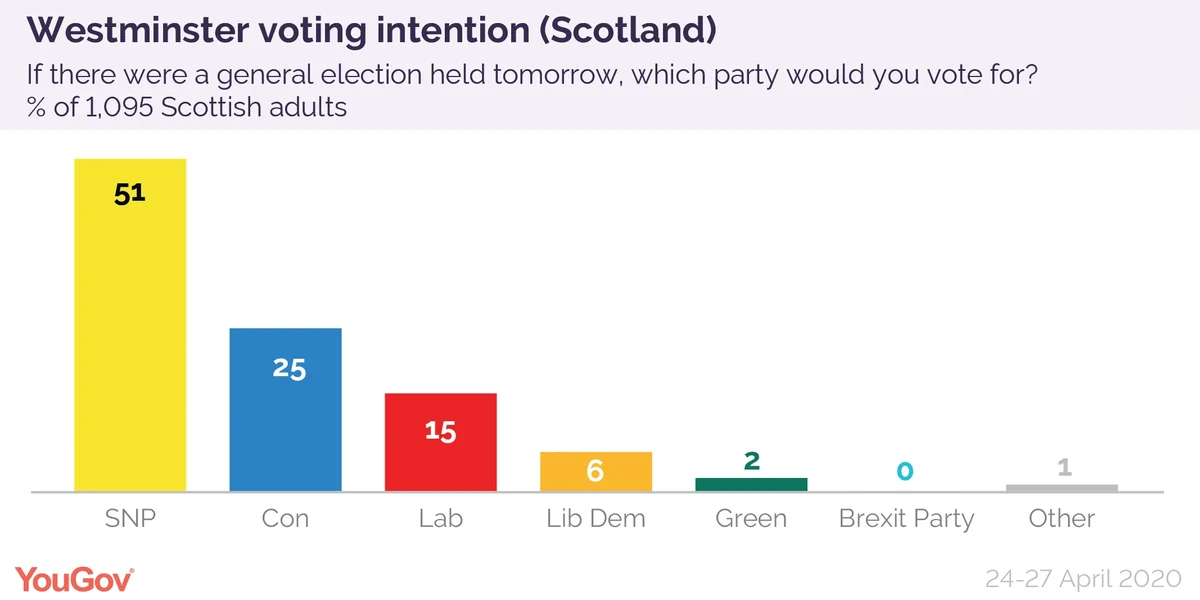 With elections scheduled for next year, current vote shares for next year's Scottish Parliament election are perhaps more interesting. In the constituency vote, the SNP are on 54%, almost double the Conservatives on 23%, and way above Labour with just 12% of the vote share. For the regional vote the SNP are again well above their main competition with Conservatives on 23%, and Labour 12%. If such a result were to happen next May this would likely return a majority to the Scottish National Party in Holyrood.
The Scottish Greens, who have supported the SNP a number of times over the past four years, are currently in fourth place on 8%, ahead of the Lib Dems 7%.
Of course, voting intention should always be viewed cautiously outside of an election campaign, advice that is even more pertinent during times of crisis. That being said, these figures put the SNP in a strong position a year out.