Prescription fees were controversial ever since they were first introduced in 1952. Currently, prescriptions in England are free for children under 16 and people over 60, those in full time education, pregnant women or women who have just given birth, low income individuals, and people with certain medical conditions.
Now, YouGov research shows that six in ten (61%) healthcare workers oppose the current £9 prescription charge with one in three opposing strongly (31%). Just one third are in favour of the current charges (33%).
Healthcare workers are more likely to oppose the charges if they are non-patient facing than in contact with patients every day (67% versus 60%).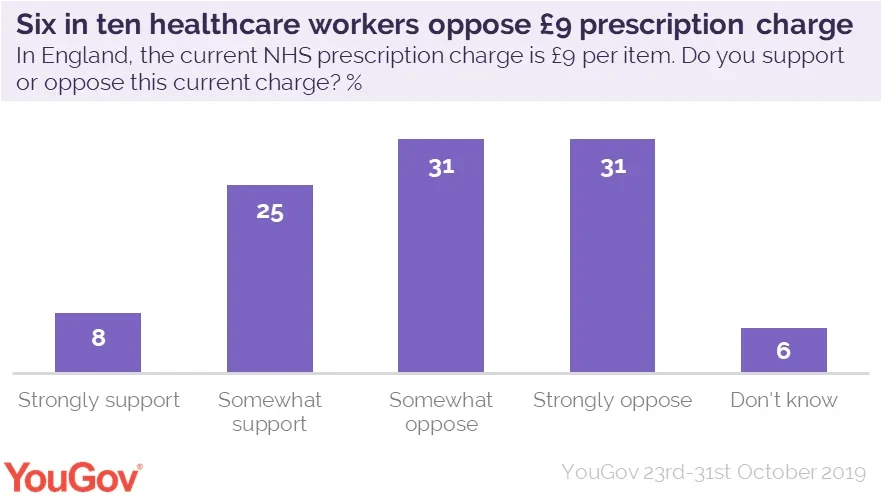 Not only do most healthcare workers oppose the charge, but the majority (54%) also believe that there are medical conditions that should also be exempt from paying charges that aren't. Currently, those who have a specified medical condition, such as epilepsy, are exempt from the prescription fee. Just 13% of healthcare professionals think that the current list of exempt conditions is correct, while 8% think that everyone should pay regardless of condition.
These opinions don't change either between NHS and private sector workers, however registered nurses and midwives (63%), and those who work in care homes (62%) and mental health trusts and services (60%) are more likely to think that there are conditions which should be added.
Of those who think there are medical conditions missing from the exempt list, chronic neurological conditions (72%), chronic respiratory conditions (66) and mental disorders (60%) are the most commonly selected conditions to be exempt from prescription charges. This include conditions such as multiple sclerosis, asthma and depression.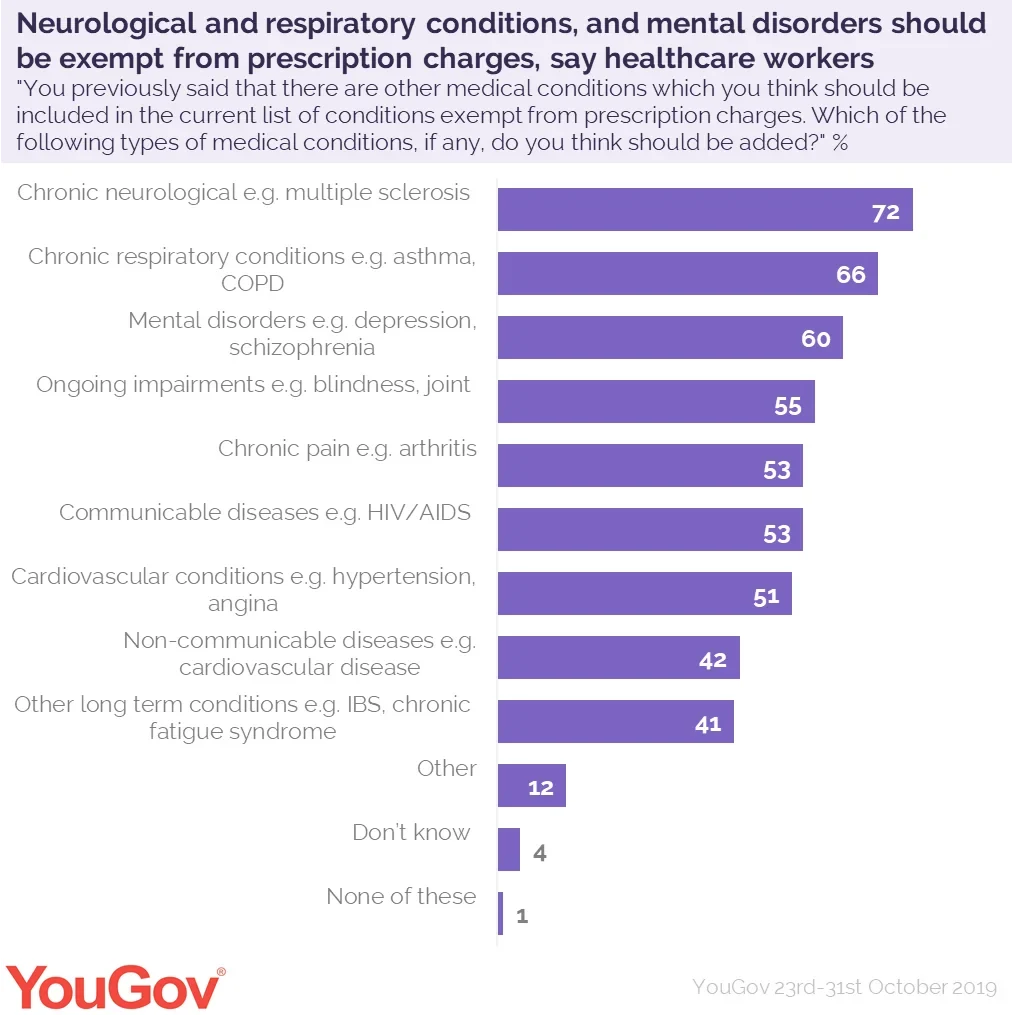 Private sector workers are more likely to say chronic pain conditions (60% versus 51%) and other long term conditions such as IBS (46% versus 39%) should be on the exempt list than those who work in the public sector.
Whilst seven in ten (70%) healthcare professionals think that all patients with long-term conditions shouldn't have to pay for their prescriptions, less think that prescription charges should be abolished outright. Only three in ten (31%) think a complete ban would have a positive impact on the NHS. Instead, 45% think that an end to prescription fees, which would bring England in line with Scottish and Welsh prescription policies, would have a negative impact, while one in ten think there would be no impact (11%).
Image: Getty