Old and new villains top the list, along with some classic Halloween movie characters
As All Hallows' Eve approaches, which iconic horror villains give Brits the biggest fright? We put a list of 18 seasonal movie monsters and madmen to the public and asked them to choose the three that they find most terrifying.
Topping the list is Antony Hopkin's iconic performance as the psychiatrist-turned-cannibal Doctor Hannibal Lecter from 1991's Silence of the Lambs, chosen by 19% of Brits. Tied for the top spot is a much more recent character, Pennywise the Clown, from the 2017 movie adaptation of Stephen King's It, which sends chills down the spines of another 19% of Brits.
Classic horror villain Freddy Kruger, first seen in The Nightmare on Elm Street, comes third with 17% listing the dream-invading killer as a top terror.
Beyond the top three, 12% of Brits listed the reincarnated serial killer doll Chucky from Child's Play among their scariest characters. Another 11% said the same for Damien, the child antichrist from The Omen.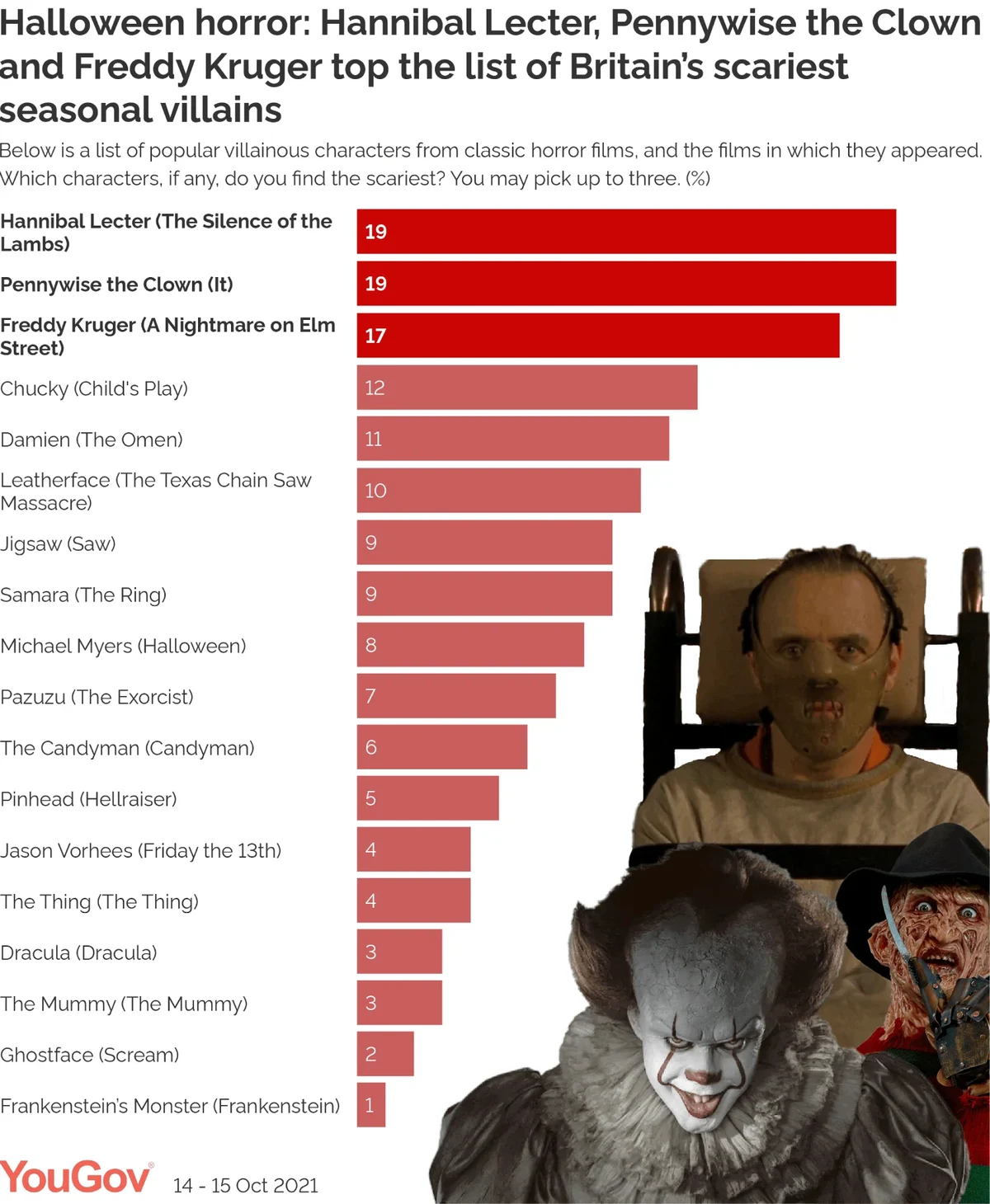 Another staple horror character, Leatherface from 1971's The Texas Chainsaw Massacre, was picked as among the top three most frightful characters by 10% of Brits. Some 9% picked Jigsaw from the Saw series and Samara from The Ring as being among of the scariest.
Michael Myers from the Halloween series was only picked as being among the most hair-raising characters by 8% of Brits – despite the Halloween films being widely credited as the inspiration for the wider "slasher" genre.
There are significant generational differences in which characters give Brits the shivers. For example, Hannibal was listed as among the scariest characters by nearly three in ten (29%) of those aged 65 and over, but only 16% of those aged between 18 and 24.
Topping the list among these young adults is Pennywise (19%) – however, it is people aged 25-49 who are most likely to have the dancing cosmic clown as one of their sinister villains (26%).
See full results here