And yes, Never Say Never Again IS a proper Bond movie
After an agonising wait for Bond fans, No Time to Die has finally premiered on the silver screen. Most fans won't have been on the red carpet to see Daniel Craig's final outing as the iconic spy, so YouGov asked fans of the films to rate the classics – from 1962's Dr. No to 2015's Spectre.
Daniel Craig's films take two of the top slots as best Bond films, according to fans
Craig's final performance has met with rave five-star reviews with critics. As for his previous films. YouGov's polling of self-described James Bond fans shows they are considered some of the best in the franchise. Some 34% list Skyfall as in their top three Bond films, and another 24% say the same of Casino Royale, giving him two of three top slots.
Goldfinger, starring Sean Connery and released in 1964, comes in close third, with 19% of fans choosing it among their top three.
Spectre, until this week the most recent Bond film, was picked as among the best by 16% of fans.
Roger Moore's highest-ranked Bond performance is Live and Let Die – among the best Bond films according to 13% of fans.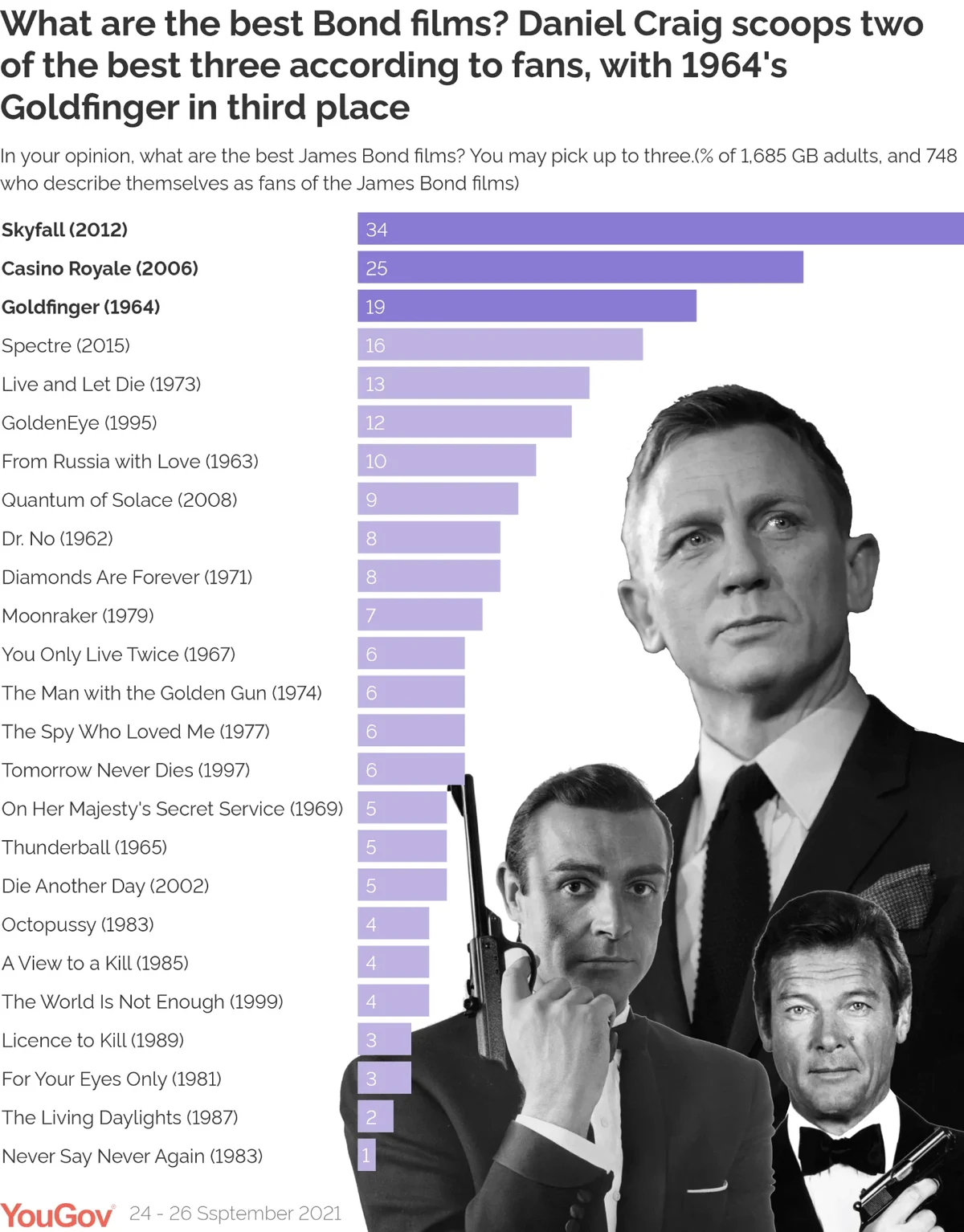 GoldenEye (12%) is Pierce Brosnan's most liked appearance in the role, and comes in sixth place overall but does beat out Quantum of Solace (9%) and the first main Bond film, Dr. No (8%) which comes ninth.
On Her Majesty's Secret Service, the single appearance of George Lazenby as Bond, is touted as among the best by 5% of fans.
Timothy Dalton, who was supposed to have three turns as 007 but only ended up starring in two, comes close to the bottom with A License to Kill (3%) and The Living Daylights (2%).
Sean Connery's films take pride of place as among the top choices for best Bond films, but also the very bottom. His 1983 appearance in Never Say Never Again is listed as among the best films by a mere 1% of fans.
Yes, Never Say Never Again is a proper Bond film
As well as being the least likely to be listed among the top Bond films, Never Say Never Again is controversial. The film is one of only two made under a different production company than Eon, who have made nearly all the other James Bond films.
The 1983 adaptation of the original Thunderball novel film stars Sean Connery as James Bond – despite him previously starring in the 1965 Thunderball film. As such, some consider it not to be part of the main James Bond continuity.
However, our polling of fans finds that over half (57%) say it is a 'proper' James Bond film, with only 15% thinking it is not.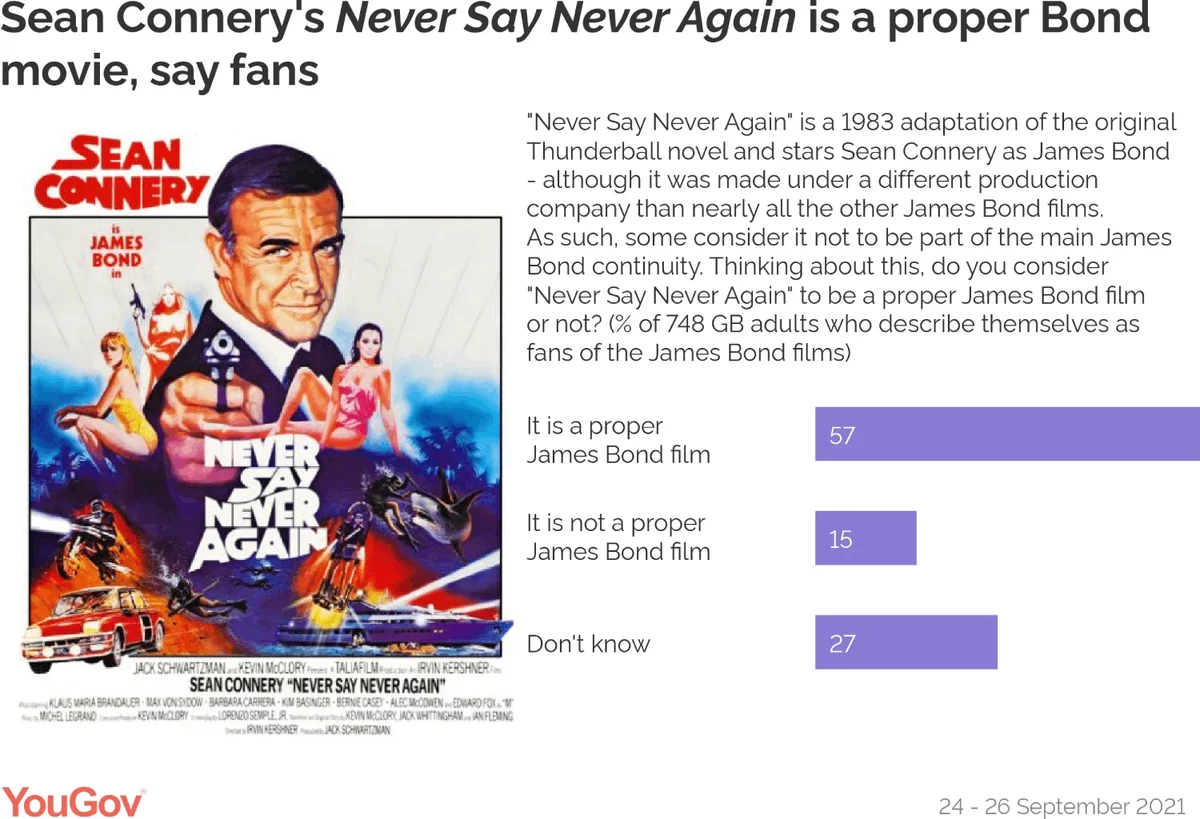 Among fans, Connery and Craig vie for best Bond
Rumours abound over who might next take up the license to kill as the next James Bond. Of the character's current incarnations, there are two clear front runners for best Bond. Some 31% of fans say Connery is their favourite and another 31% prefer Craig, meaning a successful reception for No Time to Die may well push Daniel Craig into the lead.
Around one in six (14%) prefer Roger Moore's take on the character, and 9% say Pierce Brosnan is their favourite. Timothy Dalton and George Lazenby bring up the rear with 2% and 1% of the fan vote respectively.