The current artwork is set to be replaced in September 2022
Once upon a time the northwest plinth of Trafalgar Square was destined for an equestrian statue of William IV, but a lack of funds meant the statue never materialised.
Since 1999 the plinth, now commonly called "The Fourth Plinth", has played host to a succession of temporary works. Previously featured works include a giant thumb, a rooster, and a ship in a bottle. The current artwork is set to be removed in September 2022, with the shortlist of six replacements announced earlier this year.
A new YouGov RealTime survey that showed Londoners images of the shortlisted artworks, along with their titles and authors' names, reveals two clear favourites. Around half of Londoners (53%) like "Antelope" by Samson Kambalu – which features statues of Baptist preacher and pan-Africanist John Chilembwe and European missionary John Chorley.
However, a similar number (51%) also like "On Hunger and Farming in the Skies of the Past 1957-1966" by Ibrahim Mahama which recreates a vertical grain silo from Ghana in the early 1960s filled with living plants.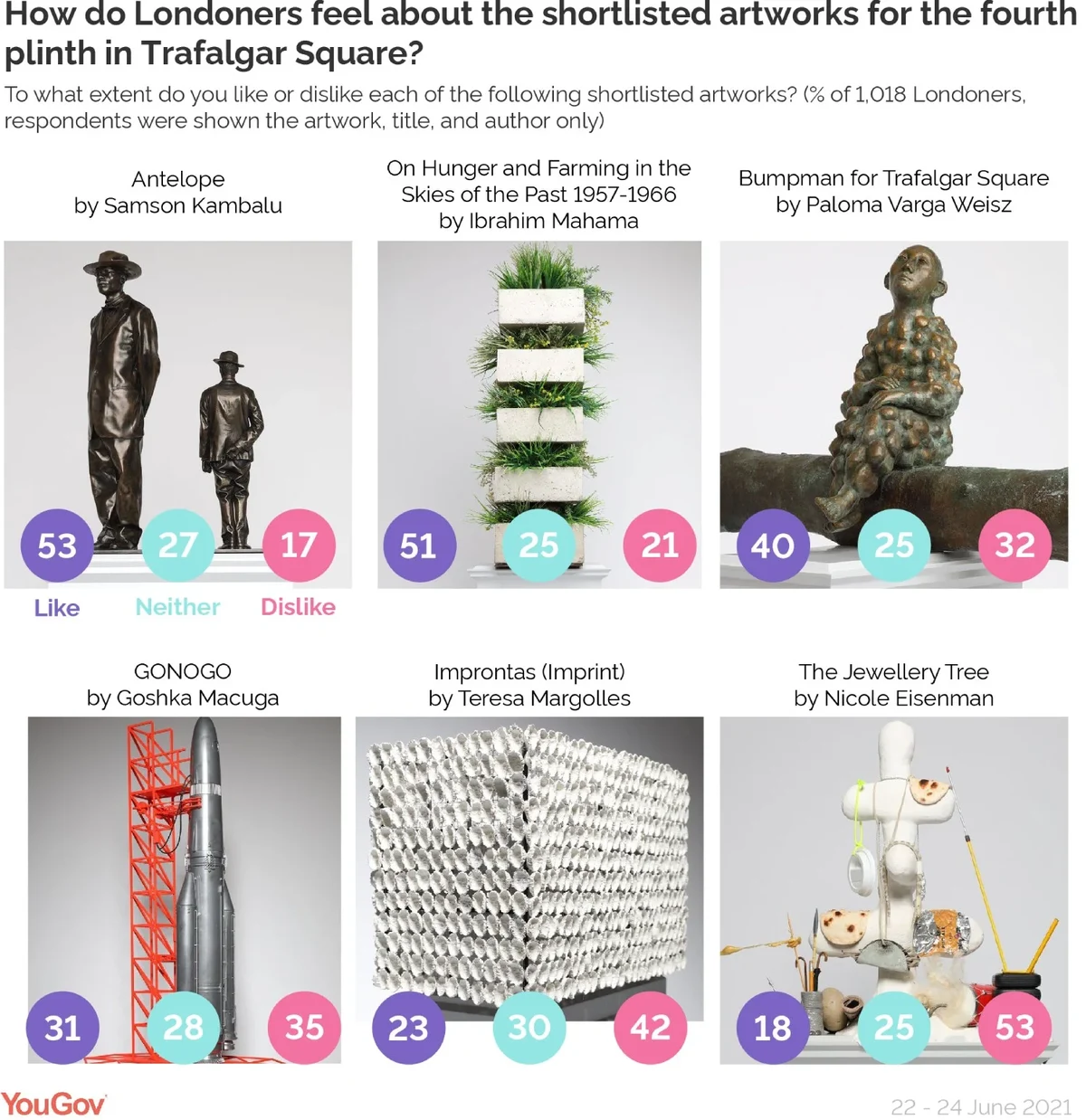 Two in five Londoners (40%) like "Bumpman for Trafalgar Square" by Paloma Varga Weisz, a work inspired by German Wundergestalt tradition and the spirit of German folklore. While 31% like Goshka Macuga's "GONOGO", which depicts a giant rocket, a similar number (35%) dislike it.
Based on the title, author and image alone, just under a quarter of people in London like "Improntas" by Teresa Margolles, which features casts of 850 trans people, however two in five people (42%) dislike this work.
Finally, only 18% of people like Nicole Eisenman's "The Jewellery Tree", with half of Londoners (53%) disliking the piece which recreates everyday objects on a huge scale.
But which shortlisted artwork is London's favourite?
When asked to pick the artwork they liked the most, Londoners are again torn, with 26% picking "On Hunger and Farming" and 25% choosing "Antelope". Some 14% picked "Bumpman" as the favourite, while 11% choose "GONOGO".
Only 5% like "Improntas" the most, compared to 4% who like "The Jewellery Tree". One in nine Londoners (11%) do not seem to like any of the proposed artworks, choosing "none of the above".
Amongst Londoners aged 18 to 24, "On Hunger and Farming" is the clear favourite at 28%, compared to 19% who opted for "Antelope". London's 25-34-year olds who are the biggest fans of Mahama's vertical grain silo piece at 37%.
Of Londoners aged 55 and over, 34% prefer "Antelope" as their single favourite compared to 19% who liked "On Hunger and Farming" the most. Nearly one in five of this oldest group (18%) did not like any of the artworks, the highest of all the age groups.
This research was previously featured in the Evening Standard
See full results here