Are Brits a bit Monica, akin to Ross, or more Joey?
Jennifer Aniston, Courteney Cox, Lisa Kudrow, Matt LeBlanc, Matthew Perry and David Schwimmer are reuniting after 16 years apart for a special episode of the beloved sitcom Friends.
Previous YouGov research found that two thirds of Brits (67%) had watched at least a few episodes of Friends in 2018, but now we ask Britons: of the famous six, which are they most like?
While many Britons (36%) don't see themselves as similar to any of the famous line, those that do are split: 8% pick Monica as the character they see themselves are most alike, with the same proportion thinking of the same of Chandler - who was previously found to be the best Friend by Brits.
Some 6% see themselves as a bit more of a quirky Phoebe and another 5% think they are like Ross or Rachel, while 4% eye themselves as most like joker Joey.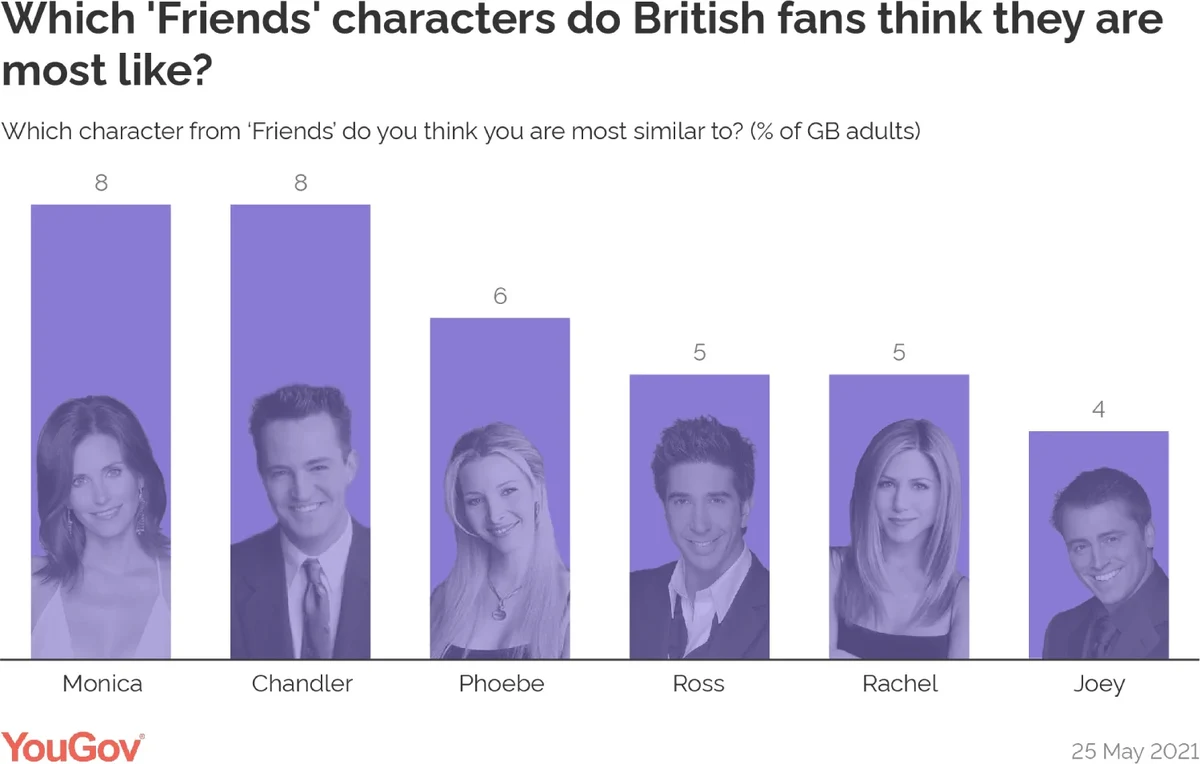 Among men, 13% think they are most like Chandler, 9% compare themselves with Ross and 6% think they are like Joey. As for women, 15% see themselves akin to Monica, 9% say Phoebe, and 8% say Rachel.
Fans of the show aged between 18 and 24 consider themselves more Monica (11%) whereas those aged between 25 and 49 think themselves as more of a Chandler type (15%).
Three in ten Brits are interested in the reunion episode
The much-awaited Friends reunion "The One Where They Get Back Together" is set to premiere on 27 April – but how many Britons are interested in watching the gang get back together?
Some 6% intend to tune in live when the episode streams. Another 25% of Brits say they will catch up on the episode later. Approaching six in ten (58%) are not intending on watching the special.
Viewership will be highest among 25-49-year olds, 9% of whom say they will watch live and another 39% intending on watching it some time after it airs. Overall, 37% of women say they will watch the episode either live or on catch up, compared to 25% of men.
See full results here