The reveal of the long running series antagonist is set for this weekend
Line of Duty has gone from strength to strength since its release, growing from an initial audience of four million adults to over 11 million tuning in for the current series' penultimate episode.
The series sees the officers of police anti-corruption unit AC-12 pitted against the mysterious antagonist known only as "H" or "the fourth man", who heads up an organised crime syndicate controlling events from the shadows and potentially from within AC-12 itself.
Now on its sixth series, seasoned viewers will be desperate to finally learn the identity of H in this weekend's season finale, but who do they think is behind the anonymous villain? With a long list of suspects, a new YouGov Direct survey helps narrow it down.
While there is no majority decision among viewers of the show, two characters stand out as clear suspects. Some 22% of show viewers think Chief Constable Philip Osborne, played by Owen Teale, could be H, while 19% put Anna Maxwell Martin's character Detective Chief Superintendent Patricia Carmichael in the frame.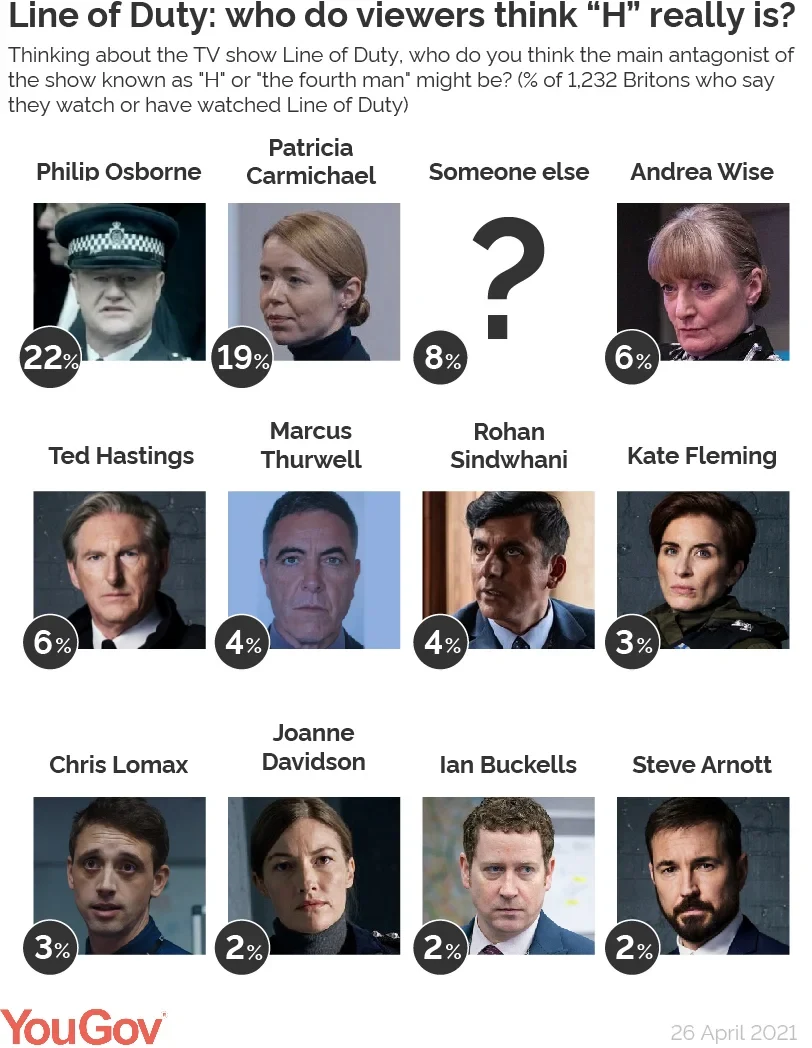 Elizabeth Rider, who plays Deputy Chief Constable Andrea Wise, is fingered as the culprit by 6% of Line of Duty viewers, while the same proportion think that commanding officer of AC-12 Superintendent Ted Hastings is "the fourth man" behind the series' events.
Some 4% of viewers think that newcomer Marcus Thurwell could be the criminal mastermind, and the same proportion think it could be the show's former Police and Crime Commissioner Rohan Sindwhani.
Fans are less convinced that the series' other lead AC-12 characters, Detective Inspectors Kate Fleming and Steve Arnott are behind the plot, at 3% and 2% respectively.
The show's writers and cast have done well to mask the identity of the villain despite H's central role in the show, meaning nearly one in five viewers (19%) have no clue about who they could be.
YouGov polled 1,232 Line of Duty viewers. The survey was conducted on 27 April, 2021 between 11:19 and 11:30. The survey was carried out through YouGov Direct. Data is weighted by age, gender, region, social grade, and level of education in United Kingdom.
Learn more about how you can run surveys with YouGov Direct here
See full results here