Some people say they can't stand the classics played every year, but which classic Christmas track tops the charts?
New YouGov research shows that there is a clear favourite for the best Christmas song; Fairytale of New York, first performed by The Pogues and Kristy MacColl.
The 1988 classic, although never hitting number one in the UK does top the YouGov billboard, receiving the backing of 17% of those who have a favourite song – a nine-percentage point lead on the second most popular song. Britons are fans of the original version, with 63% saying in another recent YouGov survey that BBC Radio 1 have made the wrong decision in deciding to play an edited version of song of Fairytale of New York this year.
All I Want For Christmas Is You, made famous by Mariah Carey comes in second place with 8% of the vote. However the track proves the most popular track with younger Britons, winning 24% of the vote among those aged 18-24.
Narrowly in third is Last Christmas, first released by George Michael and Wham! with 7%, with this track also seeing greater appreciation among those aged 18-24 (13%).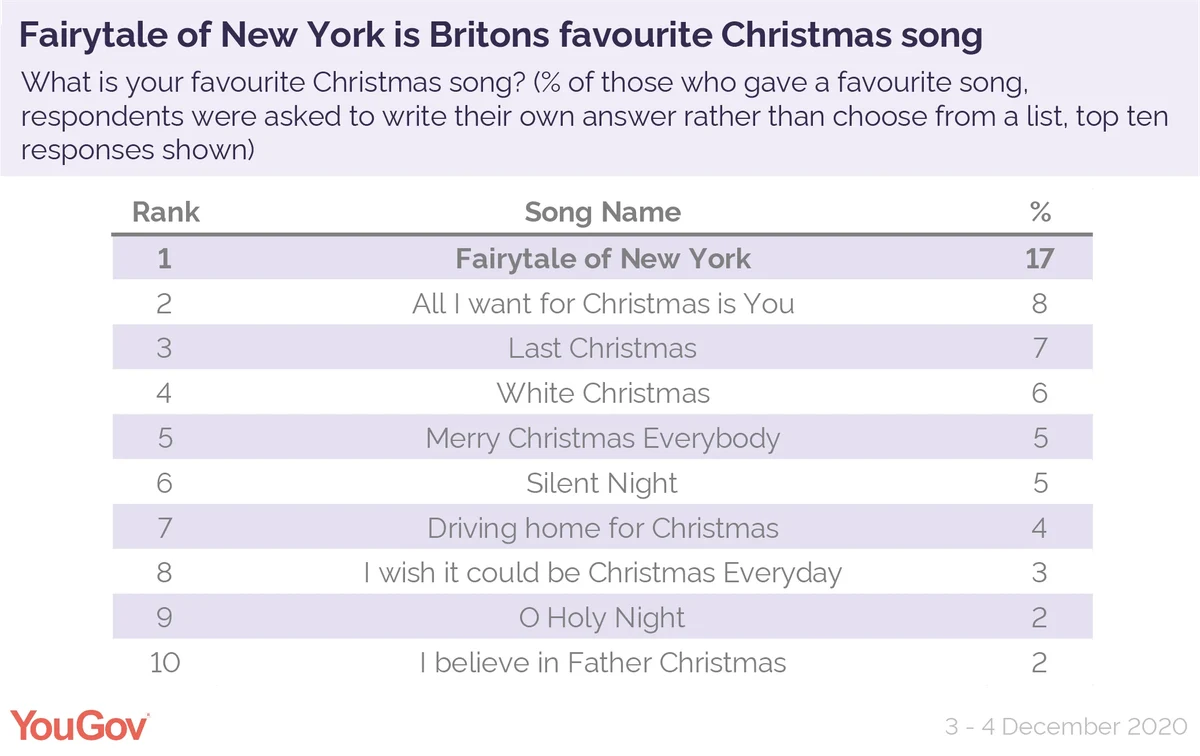 White Christmas at 6% of the vote comes in fourth place. Closely followed by Merry Christmas Everybody, originally by Slade, tied with Bing Crosby's Silent Night both on 5%.
In sixth is a song popularly covered by Michael Bublé but originally by Chris Rea; Driving home for Christmas which netted 4% of the vote.
I Wish It Could Be Christmas Everyday is the preferred festive tune for 3%, and 2% opt for O' Holy Night and I Believe in Father Christmas
Britons tastes in Christmas music are extensive however, with other respondents' answers including everything from Coldplay, to Elvis, and even the Fountains of Wayne.