The latest update to the YouGov Royal Favourability tracker sees Harry and Meghan's scores reach their lowest point to date
Despite "stepping back" from their roles within the Royal Family in January, seldom a day goes by where the media does not mention Meghan and Harry in one way or another.
Now the latest YouGov Royal Favourability tracker shows that public perception of the US-based duo continues to slide towards, or in Meghan's case further into, the red.
Other Royal Family members including the Queen, Prince William, and the Duchess of Cambridge have enjoyed sustained high scores throughout the COVID-19 pandemic.
Harry strongly divides public opinion; 48% of adults have a positive impression of the former prince and 47% have a negative view, leaving him with a net score of 1. This represents a 19-point drop from March this year.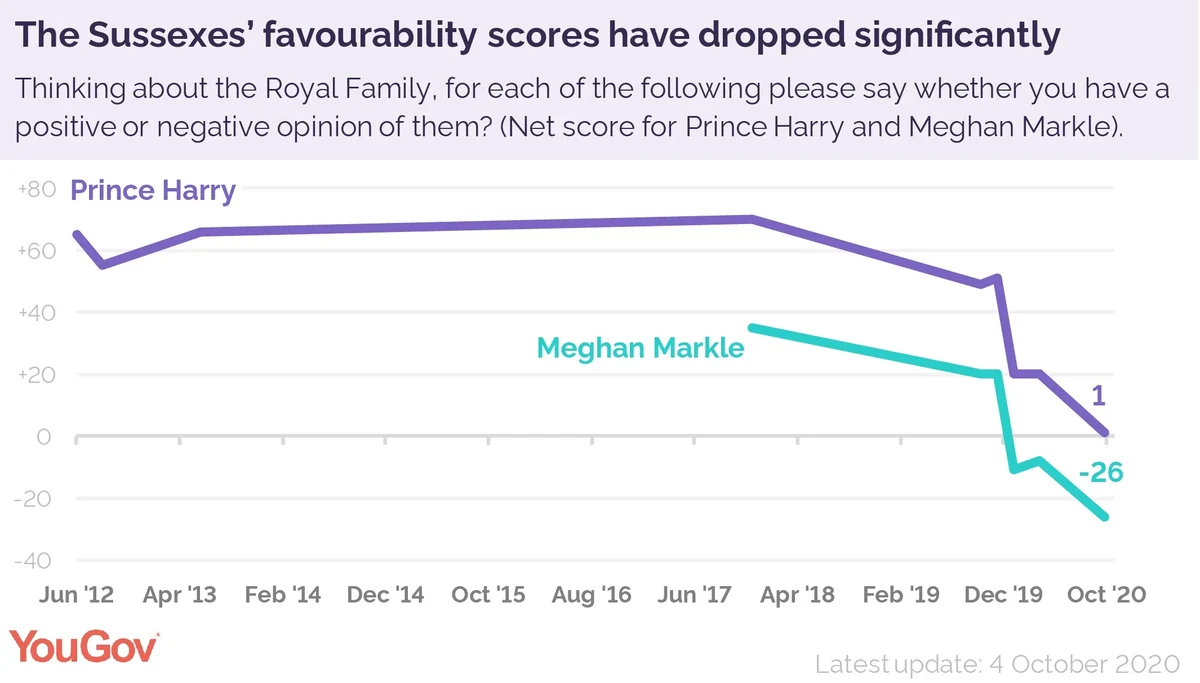 Meghan has seen her score drop even further. The Duchess of Sussex currently evokes a positive response among a third of UK adults (33%) but nearly six in ten (59%) have a negative opinion of her, creating a net favourability of -26. This is down 18 points since March and becomes the second lowest score among the entire Royal Family.
The Duke and Duchess of Sussex are popular among younger Britons however, with Harry and Meghan carrying net scores of 28 and 20 respectively among adults aged 18 to 24. Among adults aged over 65 Harry and Meghan have net scores of -45 and -66 respectively.
The Queen's popularity remains strong
The Queen gave a rare national address at the height of lockdown and has seen her net favourability score rise since March. Over eight in ten (83%) British adults hold a positive view of their monarch, with just 12% holding a negative view, for a net score of 71. This is up two points on March.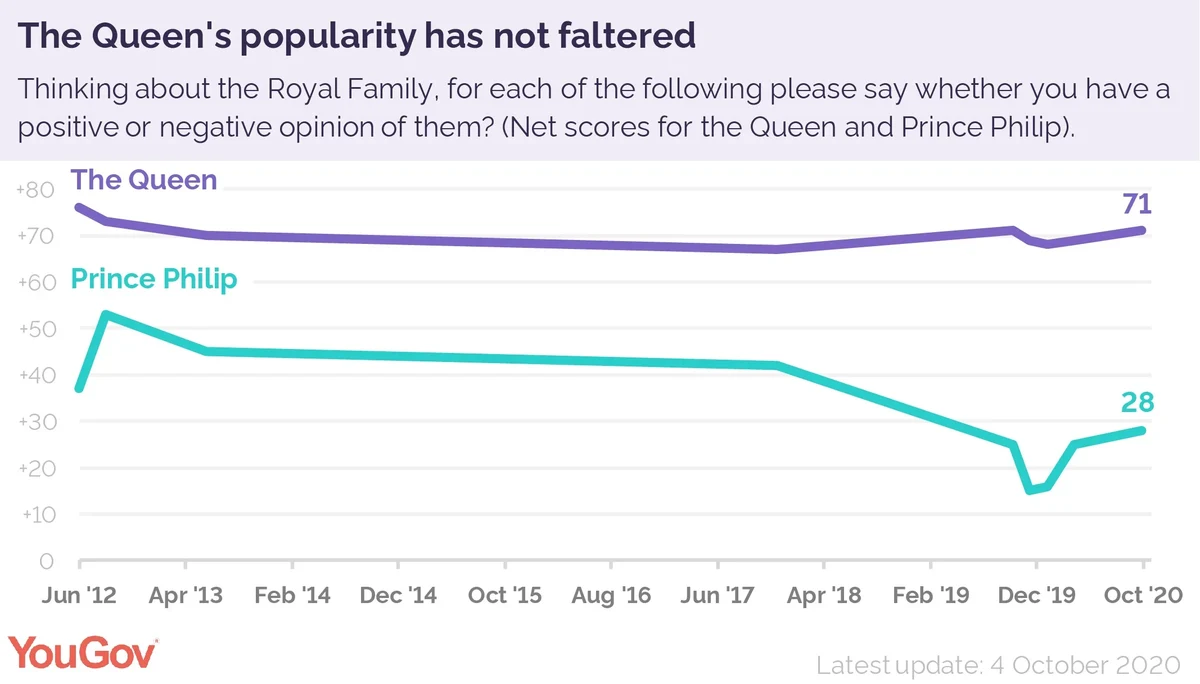 Perception of Prince Philip also continues to rise, with the Duke of Edinburgh's net score now up 3 points since March to 28.
Contrary to public opinion of Harry and Meghan, older Brits tend to carry a more positive opinion of the Queen and Prince Philip. Among Britons over 65, the Queen carries a net score of 88, compared to 45 among adults aged from 18 to 24.
The same pattern is revealed for Prince Philip, who holds a net favourability score of 52 among brits aged over 65, and just 15 among adults under 25.
Prince William and Kate see favourability scores remain steady
Unlike his brother, Prince William and his wife Kate Middleton continue to enjoy high net favourability scores. William's score has moved downwards only slightly, with 80% of Brits now having a positive opinion of him and 15% a negative view, pulling his net score from 69 in March to 65.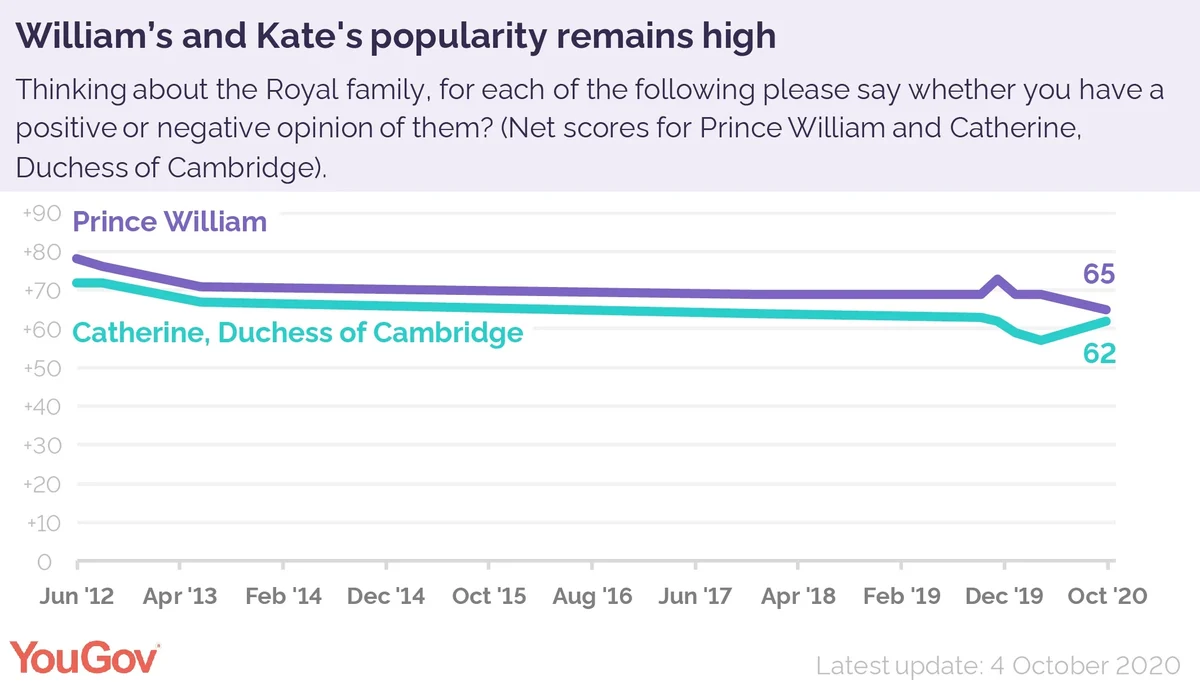 Favourability for Kate is also reasonably steady, but has risen slightly. Three quarters (76%) of adults say they hold a positive opinion of the Duchess, compared to 14% who have a negative opinion, resulting in a net score of 62, up from 57 in March.
Next in line
Prince Charles, next in line to the throne, has seen a decrease in net favourability. The future monarch's score has dropped 7 points from March to a score of 24, based on 59% of the population having a positive opinion of him and 35% a negative opinion.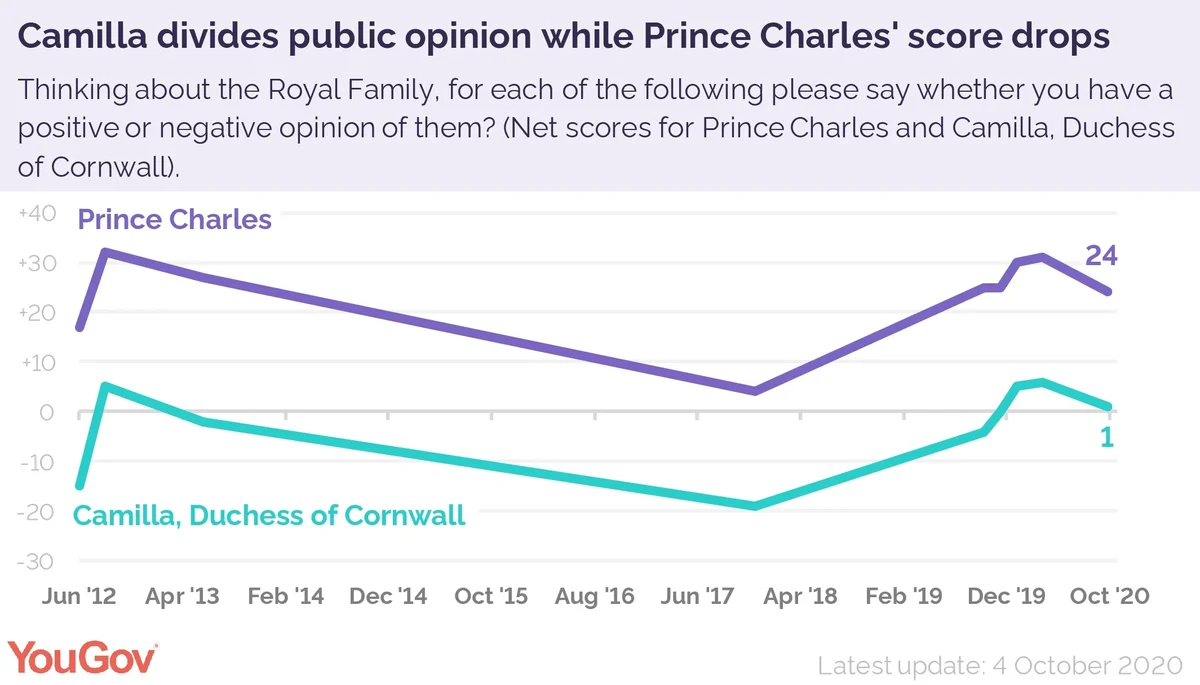 The Duchess of Cornwall, Camilla, has split public opinion in the latest round of YouGov Royal Favourability tracking, with 44% viewing her positively and 43% negatively, for a net score of 1.
Andrew remains the least popular royal
Despite being removed from public-facing roles and attempting to avoid the press, Prince Andrew's favourability remains firmly negative and continues to fall in the wake of the Jeffrey Epstein scandal.
The disgraced Prince holds a net score of -73, down two points from March this year.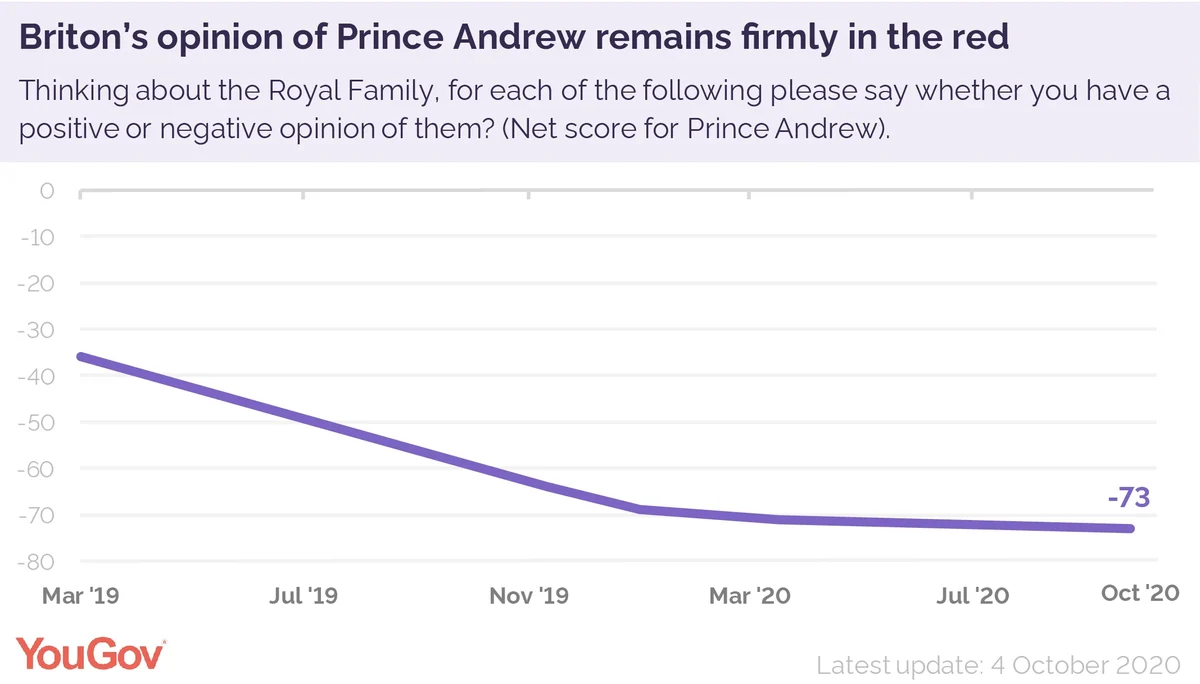 Despite the massively negative press coverage surrounding the Prince, 7% of Brits still hold a positive view of him, but 80% of the public have a negative opinion.