YouGov research finds that children mainly listen to music on their phone, and typically through platforms like Spotify and Youtube
A YouGov study of eight to 15-year-old children shows that most listen to music (84%), and on average they spend eight hours and 22 minutes doing so per week.
Most commonly children listen to music on their phone (63%), on the radio (36%) or on a tablet (29%).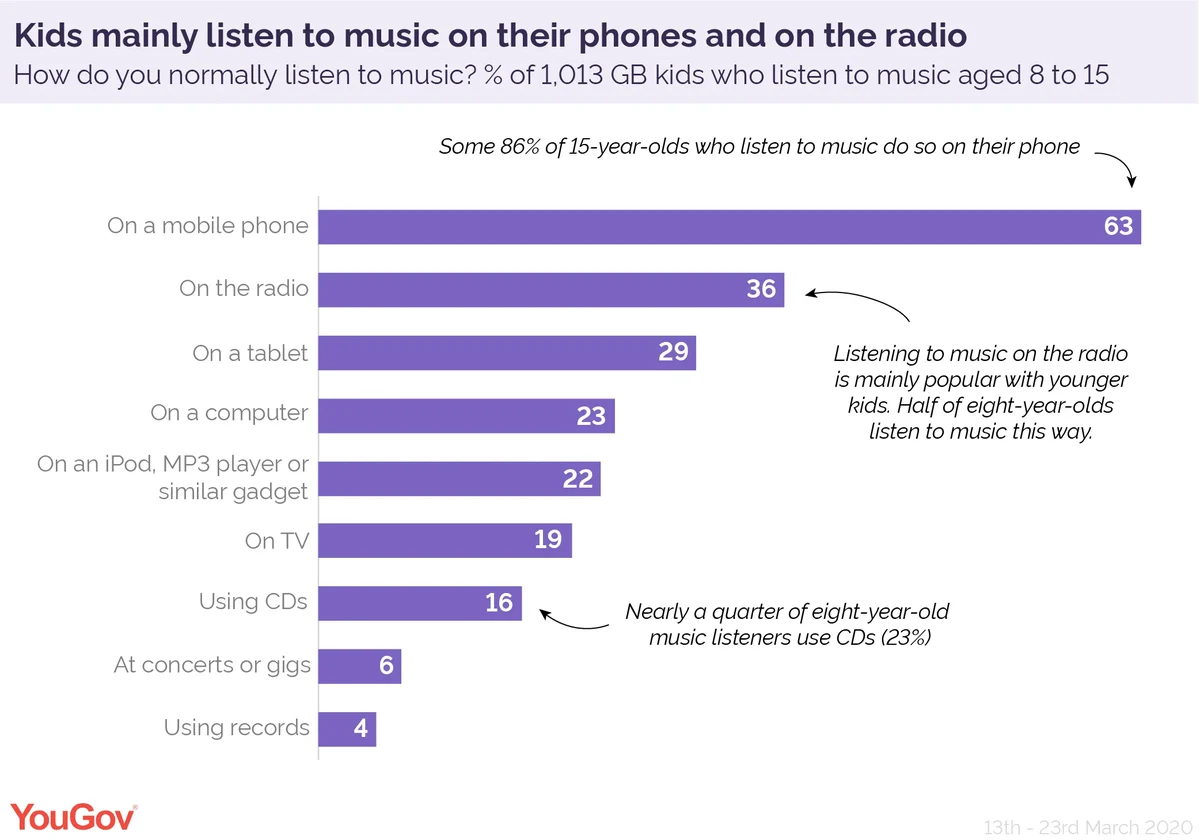 Physical formats are much less common – listening on vinyl is the rarest choice at 4%. It's perhaps more surprising that one in six kids still use CDs (16%).
Habits vary significantly between younger and older children. Among eight-year-olds, half say they listen to music on the radio, the highest of any age group in the survey.
The younger ones are the most likely to consume music via a tablet – this is true for 39% of eight- and nine-year-olds who listen to music.
Meanwhile, 15-year-olds mainly use their phones (89%) and computers (30%), however 17% listen to CDs and 8% play records.
Girls are more likely to listen to music than boys at 89% versus 80%. They also spend more time on it at nine hours and 15 minutes compared with seven hours and 25 minutes.
Large music companies have in recent years started showing more interest in younger audiences. Sony Music UK created their first dedicated kids' label to target 'an untapped market' last year.
And while the coroanvirus outbreak has resulted in cancelled shows and lost revenue, in the US streaming of children's music went up during the pandemic.
Streaming services and video platforms most popular online
Children who listen to music on computers, smartphones or tablets prefer music streaming services like Spotify and Apple Music (59%) and video platforms like YouTube and Vevo (56%).
The figures suggest that Spotify made a wise move by launching a standalone app for kids in February – a month before schools closing.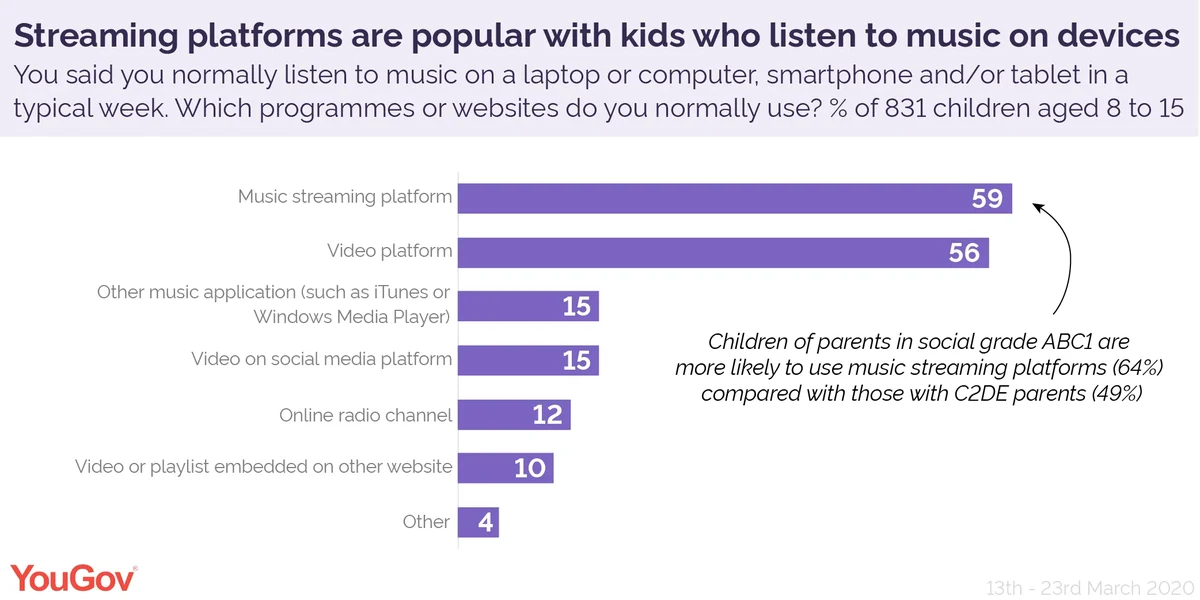 Streaming services are especially popular with older kids, with three quarter of 15-year-olds who consume music on a device (74%) using them.
Meanwhile, YouTube and similar video platforms are universally popular but 9-year-olds listening on devices report the highest use at 67%. In contrast, a YouGov tracker separately shows that among adults only a third say they consume music this way in a typical month.
Music libraries such as iTunes and Windows Media Player, which many millennials replaced CD collections with in the noughties, are today only used by 15% of kids who listen to music on devices.