Animal Crossing: New Horizons has been a huge hit for Nintendo and may have helped to keep their BrandIndex metrics above the competition during lockdown
Escaping the real world and building your own deserted island paradise is a tempting fantasy at the best of times, but for many Britons at home on lockdown that chance proved irresistible.
Animal Crossing: New Horizons is the long awaited next instalment in the Animal Crossing franchise – a series with gameplay centred on creative freedom to build and design your own home and town. Set on a deserted island the game has proved hugely popular, selling tens of millions of units since launch. Nintendo Switch's BrandIndex metrics reflect that success, as the game is exclusive to the system.
In June 2019, completely unaware of what was to come, Nintendo announced that the game would be delayed until March 20th 2020, coincidently the same week Britons were sent into Covid-19 lockdown. A strange twist of fate which may have helped bolster appetite for the virtual desert island escape.
Appetite for the game was intense even before the lockdown, however. A Nintendo Direct promotional event in mid-February is likely behind a significant peak in Consideration score for the brand, a month before the game launched.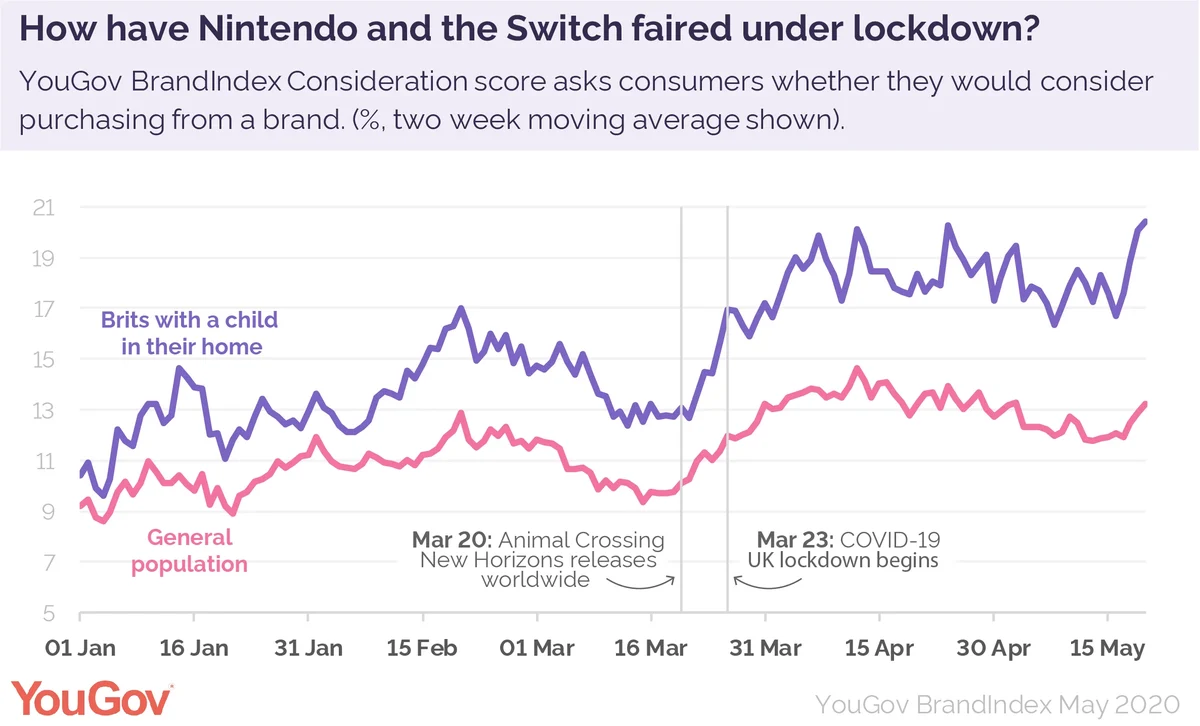 Since its release, Nintendo has seen its BrandIndex metrics soar, especially consideration, possibly as Brits seek to keep themselves and their kids entertained during lockdown. Among Britons with children in their home, consideration for the Nintendo Switch has risen to 20.4, an increase of 7.4 percentage points.
The game has captured the attention of Britons alike, not just parents, and Consideration score among the general public has also risen, an increase 4.5 percentage points led to a peak of score of 14.6 in the first two weeks following the games release.
New Horizons may have also helped keep Britons talking about the Nintendo Switch more than the competition, with Nintendo Switch's Buzz Score continually higher than that of Xbox and PlayStation since the Nintendo Direct event for the game was announced in early February.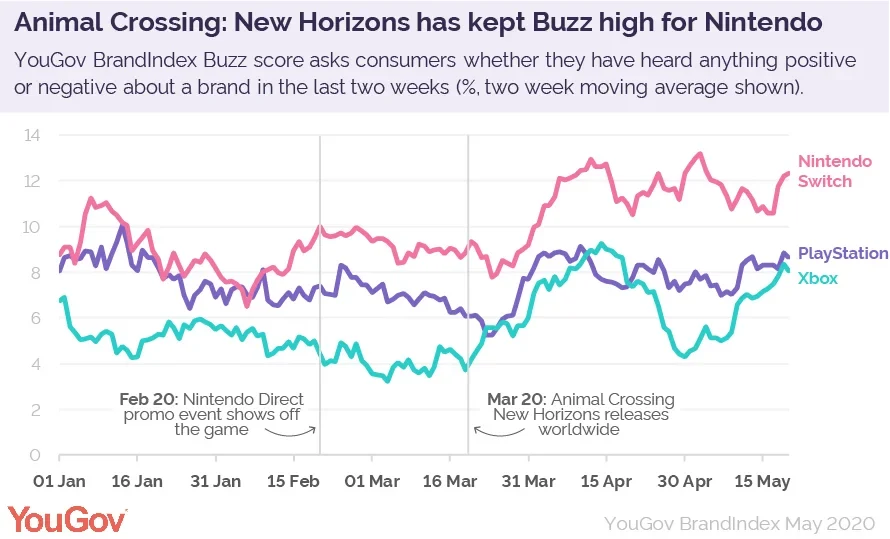 Xbox and PlayStation have also seen improvements in Buzz Score, possibly driven by Brits using the systems while on lockdown. However following the New Horizons release, Buzz for Nintendo Switch reached a peak of 13.2 in early May, a rise of 3.5 points compared to March 20th, and higher than either of its main competitor systems.
As well as having a better Buzz score than its competitors, the release of New Horizons may well be drawing users of other games systems over to the Nintendo Switch.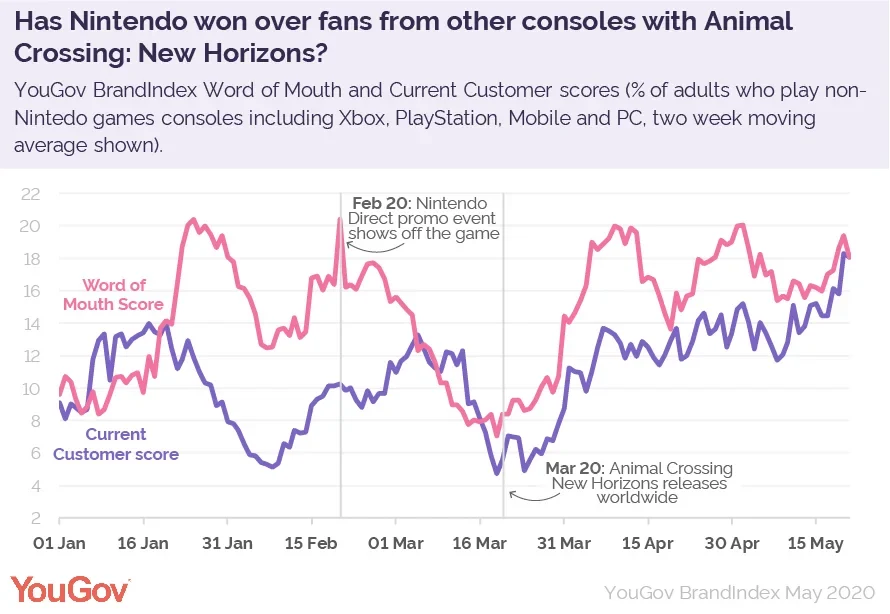 Among adults who play non-Nintendo games consoles (including mobile games, Xbox, PlayStation, and PC) interest in Nintendo has increased in line with the promotion and release of New Horizons. Not only has the game got other players talking - Word of Mouth score among this group rose by 12.5 points to 18.1 – but it is driving purchases with the Current Customer score for Nintendo Switch rising by 9.5 points to 18.1 since the games release.
Image: Nintendo