In Labs we're always seeking out new ways of conducting innovative, exciting and engaging research.
So when YouGov worked with the Grammy award-winning multi-instrumentalist and musical polymath, Imogen Heap, to conduct a unique piece of research on her behalf, we couldn't wait to see what the response from fans would be.
Imogen wanted to find out more about her fans by working with us to write a tailored survey. Through it, she hoped to discover how her fans first came into contact with her work, when, how and why they enjoy her music, and what it is about Heap fans as individuals that mean they connect with her sound.
And they were only too willing to oblige! 5,174 fans from all over the world, prompted by an open invitation advertised on Imogen's website, and Twitter and Facebook accounts, took part to answer her questions. An additional 707 of you gave your feedback through our UK MusicLab.
As any Heap-fan will tell you, Imogen is an experimental artist in her own right, and often ahead of the curve when it comes to getting her fans well-and-truly involved in her creative process. Suffice to say that these findings from her fan base will help inspire the next phase of her music…
a) First off, where and who are Heap fans?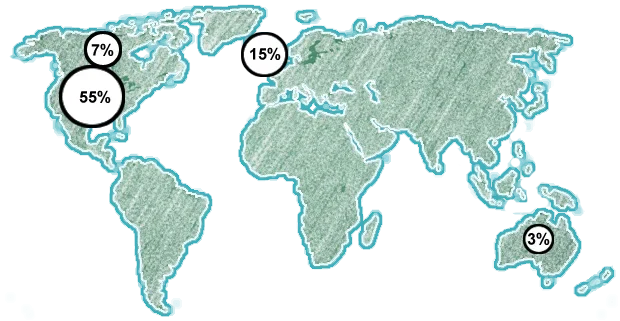 Imogen's music has won her a global fan base, and while 55% of those who responded live in the US,
15% were from the UK
7% were from Canada
3% were from Australia
Smaller proportions of fans live in Germany, Sweden, France, Denmark, Netherlands, India, Norway, New Zealand, Finland, Ireland, South Africa, Spain, Mexico and Switzerland
Scattered across the world as they are, a firm 76% of the fans we spoke to were born after 1975 (making them 37 years old and younger). 21% of the remaining respondents were born between 1955 and 1974, and 4% before 1954.
34% of our respondents were still in full-time education, and the majority of those remaining said they had finished their education at the age of 20+, indicating a broadly educated fan base.
But what about the ratio of men and women among the fans?
We discovered that 52% of those who took our survey were male and 48% female, a slightly higher men-to-women ratio than that indicated by global demographic estimates.
b) Heap fans' attitudes to Imogen's music
Imogen was keen to find out a lot more about how her fans came to be; how they had discovered her.
For 24% of all the fans we spoke to, it was a friend's recommendation that had got them listening.
The second and third most common ways through which they had become aware of Imogen's music was her collaboration with Frou Frou (16%) and by hearing it featured in the film 'Garden State' (11%).
For many of her older fans, it was her collaboration with Jeff Beck, the iconic English guitarist, that brought Imogen to their attention.
By comparison, the results of the UK MusicLab poll found that the second most common way through which these 707 UK-based fans had become acquainted with Imogen's music was by hearing it on the US TV show 'The OC' (16%).
The other results fell in line with those from the bigger FanBase poll of 5,174 people.
So which song from Imogen's extensive back catalogue were her fans' favourite?
A sturdy 43% said that it had to be 'Hide and Seek', followed by 'Let Go' (27%), 'Goodnight and Go' (26%) and 'Headlock' (26%).
On these, there was barely a flicker of variation between men and women, old and young, nor, indeed, between fans from different countries.
And UK-based fans in the UK MusicLab largely agreed, apart from on 'Speeding Cars', where 14% of them put it as their favourite song, bringing it for them into third place.
Our survey was then split into four sections, spanning Imogen's key interest areas. The FanBase sample of 5,174 fans was divided into randomly-chosen proportions, and directed through one of these four question sections…
1. Heap fans' familiarity with the music and the musician
Imogen isn't one to shy away from new technologies and social media – in 2010 she accepted her Grammy for the "Best Engineered" non-classical album wearing an interactive Twitter dress (left), specially-made to enable her to 'bring' her fans on stage with her.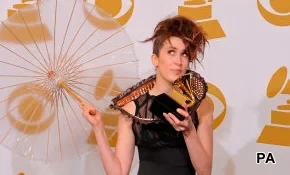 Recognizing the importance and functionality of social media as a vehicle for and measure of engagement, Imogen asked 1,256 FanBase respondents how familiar they were with her various projects.
Currently working on her fourth album, Imogen is adopting an innovative approach to writing, recording and releasing one song every three months for it; crowd-sourcing the material in a two-week song-composing flurry.
'Lifeline' and 'Propeller Seeds' were the first and second tracks created in this way for the still-developing album, and were the two songs from Imogen's repertoire that FanBase respondents were most familiar with (at 67% and 68% respectively).
For 'Propeller Seeds', Imogen invited fans to share their moments of 'clarity' with her – namely, the times in their lives when "everything seemed to click" – to inspire her interpretation of this moment in her music. The finished song was released in July 2011 in '3D sound' (and is best-heard with headphones on).
55% of the respondents familiar with 'Propeller Seeds' had followed it and 4% had taken part in its gestation online
Similarly with 'Lifeline', 57% of those who said they were familiar with the project had followed it, and 12% had contributed
With regards to her other work, 65% of the surveyed FanBase were also familiar with Imogen Heap 'V-Blogs' (wherein she keeps her fans up-to-date with posts on her latest project), and 63% were aware of 'The Story of Ellipse' (the DVD in which she documented the creation of her third album from start to finish) – the vast majority of which would recommend it to a friend.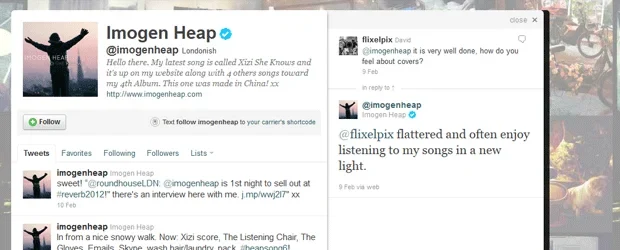 As is crucial for any artist, Imogen was interested to discover just how her fans kept in touch with her musical activity:
45% of the online fans we spoke to have used ImogenHeap.com (mainly for tour dates)
19% have used Facebook
12% have used Google searches
11% have used Wikipedia
11% Twitter (This method was highest in the UK, with 56% of respondents using Twitter to get their information on Imogen, compared with 49% in Europe, 40% in the US and 35% in Canada)
1% use MySpace to get information about Imogen
2. Music usage and listening habits
For its lovers, music forms part of the fabric of existence, and this was something Imogen wanted to tap into, in order to find out how her music features in the lives of her fans.
Around four-fifths of the FanBase respondents we spoke to here (80% and 78% respectively), said they owned Imogen's 'Speak for Yourself' and 'Ellipse' albums
While around half (52%) claim to own her first, 'iMegaphone'.
But when and why do they listen to Imogen's music?
38% of our FanBase respondents said that they listen to Imogen when they want inspiration
Others played her music in the background while working, cooking or reading (36%)
When relaxing (34%)
Or when feeling thoughtful (32%)
Clearly there is a reflective quality to Imogen's music that appeals to her fans.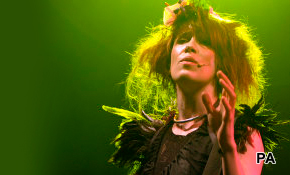 Imogen was also keen to hear not only which of her tracks her fans had heard first, but how they'd followed them up.
The answers given by our respondents to this question followed a similar pattern to that for their favourite Imogen Heap songs, which indicated that Heap fans had real affection for the song that had served as an introduction to her work.
25% said they'd first heard 'Hide and Seek', followed by 'Let Go' (as Frou Frou, 15%; as Frou Frou from the Garden State soundtrack, 10%).
Having heard Imogen for the first time, 78% of her online fans said they'd been moved to listen to the song again online
62% opted for YouTube, 9% went to Imogen's MySpace page, and a further 5% to Imogen's official website
As a result, 36% ended up buying either a physical copy of the song, or obtaining a digital version, for a fee, or for free
3. Heap fans and digital music
Given Imogen's clear love for the digital medium (and also given that this research was conducted online) it's perhaps not surprising that 84% of the 1,250 respondents to this section most often listen to music in its digital format (e.g. MP3 files, internet streaming, or music they've stored on their mobile phones).
52% said they bought up digital music on a monthly basis, compared with just a quarter of the Heap fans who instead buy music once a month in its physical format, i.e. as CDs and vinyl. At the other end of the spectrum, less than 1% of the fans we spoke to listen to their music on vinyl.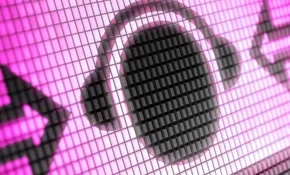 Imogen's fans appear to be a fairly musical bunch themselves, with 41% claiming to have recorded their own music in the past and almost three fifths (58%) saying they play a musical instrument
Of those, around half play the guitar or the piano (50% and 48% respectively) and 32% keyboards or synths
Tellingly, the fourth most popular 'instrument' among the Imogen FanBase was 'computer music software', suggesting many of Imogen's fans are as technologically-minded as she is
4. Heap fans and live music
While Imogen is a bit of a dab hand when it comes to harnessing the creative potential of the internet, her fans made sure to tell us her live performances were also something to shout about.
47% of the 1,312 FanBase respondents in this section had seen her play live; 99% of those who had would recommend her shows to a friend.
On the whole, our results found that this sample of Heap fans were fairly regular gig-goers – 52% attending at least once every few months, and a fifth at least once a month.
More UK and Europe-based fans had had the good fortune to see Imogen play (53% and 46% respectively), where only a third of our Canadian respondents had.
Continents apart, most of the fans we spoke to had heard of and bought their concert tickets online.
5. UK-based Imogen Heap fans vs. UK general public
Imogen was also interested in finding out more about her fans' own creative engagement and spirituality.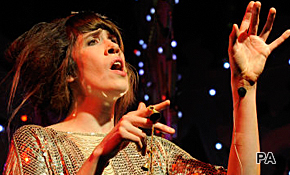 We asked them about their own musicality, the books (if any) they read, the extent to which they consider themselves religious; we even asked about their ability to get up in the morning.
To shed some light as to a possible profile of the Imogen Heap fan, we put these same questions to the UK general public to see how UK-based Heap fans compared. The differences are intriguing!
On books:
64% of the UK-based Heap fans said they "usually read before bed", compared with 57% of the UK public more generally
59% of these Heap fans said they preferred to read more fictional books, and 14% factual, compared with 45% of the Great British public who prefer reading fiction, and 21% who favour factual books.
As to whether Heap fans living in the UK held any religious faith:
56% said they were not at all religious and 19% that they are religious, compared with 40% of the Great British public who say they're not at all religious, and 26% who say that they are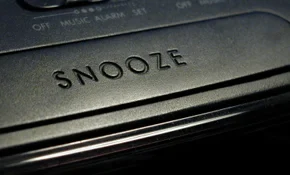 70% of the UK-based Heap fans would snooze on, and just 18% would spring out of bed, compared to 44% of the general British public who said they would hit snooze, and 26% who would 'spring'
And finally, when it came to fans' own musicality:
57% of UK-based Heap fans said they play a musical instrument, compared with just 21% of the general UK public who do so
49% of UK-based fans play the guitar; 46% the keyboards/synths; and 38% computer music software, compared with the general British public, of which 37% play guitar, 38% play the piano, 17% the keyboards/synths, and just 5% who use computer music software to create music
51% of UK-based Imogen Heap fans we surveyed have recorded their own music, in contrast with only 12% of the UK public who have
To find out more about the artist Imogen Heap and keep up-to-date with her latest music, visit her website, her page on Facebook or follow her on Twitter @imogenheap