MusicLab reviewers rate Broken Links as their favourite alternative rockers in this week's battle
Putting 'alternative' music to fans can be risky business, as often what makes music 'alternative' depends on the listener's core music taste.
Of this week's battling 'alt-rock' bands, The Cape Race ‒ from Manchester ‒ and the Southampton-based Broken Links, The Cape Race single was largely felt to be the more conventional of the two tracks put forward; appealing to many listeners with its big-hearted, big-voiced nod to stadium rock.
Yet it was the track from Broken Links, an unsigned three-piece, that when push came to shove, was ultimately considered edgier and fresher – fielding an 'unheard' sound – and altogether more 'alternative'.
A whopping 66% of this week's reviewers chose Broken Links as the winner.

Do you agree with our MusicLab participants this week? Scroll down to listen to the tracks and join the debate in the comment box below

So what were the tracks?
1. 'They're Young, They're In Love' by The Cape Race
A five-strong band with a sturdy following, The Cape Race was founded in 2010.
Taking their lead from artists such as Maximo Park, Biffy Clyro, Jimmy Eat World and Arcade Fire, strong reviews from the likes of Kerrang! magazine, and a live session on BBC Radio Manchester have served them well – the band is currently working on its second album.
2. 'The Best Laid Schemes' by Broken Links
This trio from Eastleigh in Hampshire is continuing to make a name for itself. In 2009, the group won the We Ignite Records battle of the bands, and since then has supported British Sea Power, The Boxer Rebellion and the Official Secrets Act, among other artists. If their most recent blog entry is anything to go by, Broken Link-ers can expect to see (and hear) more from the band any day now, as fans await a third EP. 
But why did Broken Links gain favour with our alternative rock reviewers rather than The Cape Race?
Here is the range of feedback participants gave: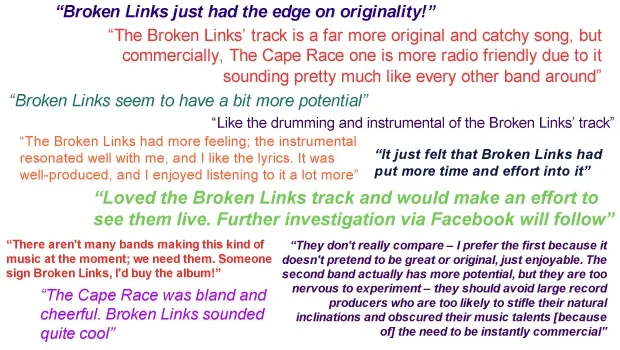 Here's how both tracks did, from their ratings out-of-ten for various musical elements, to reviews submitted by those of you who took part. If you didn't get a chance to review these tracks in the mini battle, why not listen to the tracks below and tell us who would have been your winner in our Disqus comments section?
1. THIS WEEK'S MUSICLAB MINI-BATTLE WINNER: 'The Best Laid Schemes' by Broken Links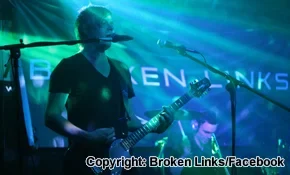 To hear more from Broken Links, click here to listen to other tracks on Soundcloud , or here to visit their official band page.
What did MusicLab music fans make of it?
"A bit cowardly – as typified by using the snare drum in the intro instead of side drum (there were reminders of the Meteors). The style of the vocal was too studied, as were other aspects of the arrangement; I kept feeling that certain passages suffered from thinking of the audience reaction rather than the band's real inclination, especially with the first 'abstract' instrumental section, which hinted at early King Crimson, but without the freedom of expression"
"This just misses the mark ‒ not by a lot, mind. There is a possibility that a good producer could make this track work. I like the layered effect but its highs are not quite high enough"
"The chorus is good, really adds something to the song"
"Enjoyed the music but found the vocals a bit drab and depressing"
"Enjoying the overall moody tone of the song, has potential to either go more shoe-gaze and get lost into itself, or go synth-pop style"
"Good beat, sounds a little bit '80s and chorus slightly repetitive, more Joy Division than Manic Street or Massive Attack"
"Good stuff. Wanted to hear it again. A band to watch out for. Could go far (think TDCC; their music is now everywhere!) Try and get a gig at The Waterfront Norwich. A springboard for many bands"
"Good vocals and brilliant instrumentals. This band has a very good sound and I would listen to more of their stuff"
"Great potential – possibly takes a bit too long to get started but great when it does"
"I can definitely hear a Depeche Mode influence, but the vocals are irritating in a robotic fashion – the singer appears to be gasping for air ... this song seems to plod along, the backing vocals don't fit at all and the singer's voice seems quite flat in places – or at least it would if it wasn't so over-produced"
"I can hear the influence of Nine Inch Nails. I like the song – probably not one that I would buy, but I would certainly not switch it off if I heard it. I like the way that you are going back to the sound of when indie/alt rock was good"
"I like the sound and some of the instrument parts were really good. I didn't really feel the chorus"
"I think the haunting bass certainly has potential. You can hear the electronic influences in both the instrumentals and the vocals. Quite original, a bit different. I quite like the production, I think it fits the style of music"
"Love this! Can hear the Depeche and Numan vibes throughout the track, well-produced, dark but uplifting somehow. Perfect track for the end of a movie as the good guys drive off into the sunset!"
"OK, music takes you on journey and goes somewhere, dragged down by the vocals and lyrics though. Shouty vocals rarely work"
"On first listen I have to admit that this reminds me somewhat of early Soundgarden, which is no bad thing. It's a big noise for a three piece band. And that snare drum doesn't half take a pounding. Would listen to more by this band. I like it. A solid 7/10 from me"
"Slight gothic undertones – lyrics tell an interesting story. Anthemic chorus. Brooding, quite muscular. Quite like it"
"Smooth beat, easy to listen to and great vocals"
"Sounded very U2 like at the start. Drums simple and a few different sounds make this quite original though. Very good stuff"
"Strong progressive vocals, continual build up to a strong entry vocal"
"Undemanding but enjoyable"
"Vocals flat, uninteresting. Droning vocals. Instrumental lead in too long. Tinny sound. Does get a bit better as track progresses"
"Wasn't a fan of the horrible gated snare sound. I was bored by the end of the introduction, but there are some nice guitar sounds"

2. 'They're Young, They're In Love' by The Cape Race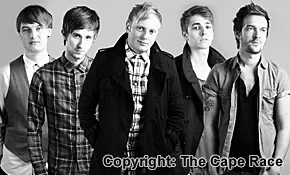 'They're Young, They're in Love' was the first track released from the band's debut album, 'Now, Voyager' on January 1st 2011. Visit the band's official website to watch the video for the single, and download The Cape Race's EP for free.
What did MusicLab music fans make of it?
"I really like it, very alt rock! Think if I listened to it a few times I'd be playing it non-stop"
"A bit derivative and reminded me more of Counting Crows in the vocals. Production okay; could hear keyboards in the mix as well as guitars. My main problem is this is a very Mid-Atlantic sound with no clue it is a Manchester band, so identity problems for me"
"Distinctive sound compared with other contemporary bands at the moment"
"A little bit unoriginal, and no hook for the chorus. Production sounds good"
"A little over-produced for my taste, but some nice elements. The vocals get on my nerves after a while... What's with the American accent?"
"All in, it's a good track. Not very original, but then what is nowadays. I would imagine this would be a live favourite, very catchy and bouncy. Good production, even sounds good on my terrible PC speakers. Would gladly listen to this track and more from the artist's repertoire. 8/10 from me :)"
"Doesn't have the emotional sensitivity of Jimmy Eat World, the call-to-arms of Arcade Fire, or even the teenage heartbreak angst of Taking Back Sunday. Very average and not very modern"
"Drums mixed too high. Can't hear backing vocals"
"Enjoyed the intro which drew me into the song but was not so keen on the chorus. Good beat and rhythm that kept me interested throughout the song and would encourage me to listen to other tracks"
"Feels very American for an English alternative band"
"Good melodic song, big chorus, but not keen on the high-pitched vocals"
"Half '90s pop punk especially with the chorus breakdown, with verses seeming to feel more Maximo Park-inspired, inoffensive. Can hear some Foo Fighters in here too. Really well-produced. Kind of thing that on the radio you just hum along with, not personally my thing, but it doesn't turn me off. Would like to hear more of this on general radio"
"The vocals have a very forced American accent on them, and sound quite like Fall Out Boy. The progression of the song does remind me a little bit of Biffy Clyro, if a little bit too much. There was a little bit of a hook at the beginning but the rest of the song just disappoints after that. I can't REALLY comment on the lyrics because I can't really make them out. But overall I would say if someone said 'listen to this song' without telling me who they were I would have thought it was Fall Out Boy"
"I thought it started off well, sounded interesting and original, hooked my interest and then... middle section/chorus from about 55 seconds onwards was dull and samey, as was rest of track"
"Impassioned – a bit too desperate sounding for me, but I could warm to this lot"
"Not too repetitive, good changes in vocals, lyrics, timing and tune. May need to add another vocalist"
"Would love to see them live"
"Really like them, they do sound a lot like Maximo Park, but that isn't a bad thing. Good things ahead for this band I think"
"Really like, reminds me of Fall Out Boy. Good sing-along song for the drive to work to brighten my day. Would look out for more from them in future"
"Strange echoes of 50s in this music – not sure why this is deemed 'alternative', as if I hadn't been told I'd have thought it was 60s mainstream (which may be why I enjoyed it so much); nice to know that not everything is banal in today's music. I'll consider investigating this group further. I particularly liked the intelligent lyric – and its clarity"
"Very distinctive voice"


Do you agree with our MusicLab participants this week? Scroll down to listen to the tracks and join the debate in the comment box below