'Snowmine' triumph over 'Class Actress' in the 'indie-pop' stakes as fans weigh in on MusicLab's first mini band-battle
The results are in.
Two bands from Brooklyn, New York; two very different takes on the indie-pop genre; and one simple challenge – to listen to one track from each artist, which serves as a snapshot of their work.
We asked you to consider each track's different elements, from vocal and lyrical quality, to instrument-playing and overall production; and then, to play the music journalist, by reviewing what you heard as self-confessed fans of the fantastically wide-ranging indie-pop genre.

Up next: Pop tracks 'Stars' by Sophie Madeleine and 'Sarah (Meet Me in the Sauna)' by TV Girl

First up, was Class Actress track 'Weekend'.
A Duran Duran-inspired electronic duo, Class Actress cites Oscar Wilde's fin-de-siècle views on decadence with a capital 'D', and '70s synth-playing, as among their creative influences. A name perhaps inspired by vocalist and lyricist Elizabeth Harper's time spent studying the dramatic arts – although Harper wants to make clear that "Class Actress is NOT Acting Class" –, the New York Press have given the band high praise in calling them "Brooklyn's very own Madonna".
Next came 'Let Me In' by five-piece Snowmine.
A softer-sounding band, both in name and music. When it comes to the influences informing their work, Snowmine's are starkly different, drawing on "acoustic soundscapes", and "classical orchestrations", while comparisons have been drawn with well-known group Fleet Foxes' otherworldly-folk vocals. Music review site PopWreckoning once said of Snowmine's music that "If Jurassic Park had a house band, it would sound like [this]."
Then came crunch time.
After much deliberation, the indie-pop brigade decided it just-preferred Snowmine's offering to that of Class Actress, with 59% giving the edge to the wintry-sounding ensemble. But just what were fans' reasons for doing so?
Here are some of the justifications our reviewers gave for championing Snowmine's track: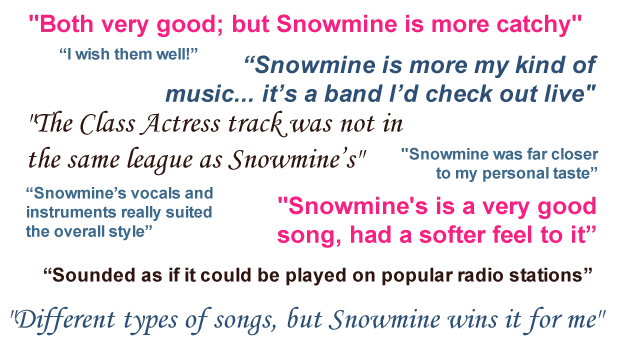 Below, we give the breakdown of both tracks: how they compared, the extent to which they were enjoyed, and the observations that MusicLab's collection of indie-pop-loving reviewers wished to impart. If you'd not taken part in last week's mini battle, why not scroll down to listen to last week's competing acts and tracks with a view to adding your own review?
1. THIS WEEK'S MUSICLAB MINI-BATTLE WINNER: 'Let Me In' by Snowmine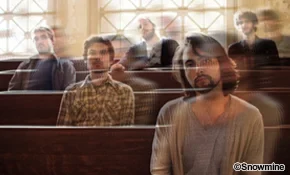 'Let Me In' is the fifth track on Snowmine's 'Laminate Pet Animal' album – mixed by Dave Trumfio, a producer who has also worked with My Morning Jacket –, released in May 2011. To purchase 'Laminate Pet Animal' and other tracks, visit Snowmine's page on Bandcamp. 
What did indie-pop fans make of it?
"Good song, nice production, different enough to make you want to listen again - nice one :)"
"Can't make out a lot of the lyrics but liked the voice. Reminded me a little of The Beach Boys vocally"
"Easy to listen to, however doesn't really stand out from any other band, too generic"
"Gentle and mellow"
"I really enjoyed this track with its ghost of Radiohead background!"
"I really like song and how dynamic it is ... not the same thing for 4 minutes straight. Maybe it's just the recording but I'd like the vocals to be a tiny bit louder than the backing tracks"
"It's ok, not strikingly original. Pleasant enough off-beat indie pop. Mining the melancholic vein satisfactorily"
"Lengthy intro.. but nice. A bit like Snow Patrol but nice ... vocals a little high-pitched Mika, probably need a few listens, but I would listen to this again. I could listen to this band live easily"
"I rather like the knocked-back vocals and the arpeggio-ey guitar. Not particularly original though and doesn't have a killer hook that would make me want to listen again"
"Quite dreamy feel, especially the vocal but couldn't make out lyrics so can't really say if I like them. Falsetto vocal not my thing at all. Not enough punch for me - this would be background music for me I'm afraid"
"Singer sounds like the Bombay Bicycle Club, as does the music to a certain extent. Doesn't appear to be too original. Sounds similar to quite a few US indie acts, especially on the percussion side. Okay, but nothing special"
"A bit depressing but it has a nice easy beat and the music is fab"
"Such a great track, would listen to this as a chill out, or walking to work. Great stuff and going to look up some other stuff from this band!"
"The end of the song is fantastic"
"This 'type' of song seems quite unoriginal, but that's okay as I'm a big fan of this style, and I think that the singer's voice is lovely. The instruments do, unfortunately, seem quite boring, yet still sound very nice"
"This is similar to quite a lot of music I listen to. It's quite simple which I like. The singer has a good voice. I would buy this and would probably check out the album as well"
"This is very much a case of heart on their sleeves. I feel I know what they've listened to, but that isn't a criticism because it's all to my taste and I intend to investigate them further"
2. 'Weekend' by Class Actress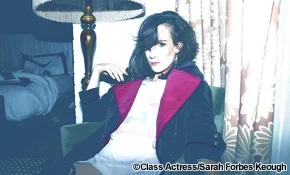 Weekend is the third track off Class Actress' latest record, entitled Rapprocher, French for "to get closer to," and inspired by Class Actress's time on tour. For music, merchandise and tour dates, see the Class Actress official website.
What did indie-pop fans make of it?
"Can hear the Depeche Mode and Human League synth sounds, a very clear influence as described. Also a bit like Little Boots. Will listen out for more stuff from the band"
"Could do with a modern feel"
"I do like the music but it lacks originality, and sounds like the majority of indie pop out at the moment. I think the song has potential, but the introduction needs livening up a little as this is what draws you into the song"
"Drum too prominent"
"Gives me a good nostalgic feeling"
"I like the 80s vibe. However this track is tonally colourless. There's no story. It's as if they found an interesting sound on their keyboard and then noodled about with it. It just drones on for 4 minutes without much variation. Don't You Want Me has nothing to fear from this"
"Good background track. Sounds classic but timeless"
"I like the instrumentals, I like the electro aspect, the lyrics could be better; the voice is generic"
"The sound of the song is likeable but it's not very original - it sounds very eighties. The singer has a good voice - a bit unusual"
"I really like the beginning of the song"
"I think the vocals should be much stronger, as I don't understand the lyrics very clearly"
"I was reminded of Blondie, Orchestral Manoeuvres in the Dark, then Lily Allen"
"Possibly commercially viable if remixed in a more dance-orientated style"
"It's very different to other songs out at the minute. It wouldn't appeal to everyone, but people with 'different' music tastes to the normal top 40 stuff would very much enjoy this song"
"The background track is too loud, I find it overpowering compared to the vox and lyrics. Plus the same level makes the song repetitive ... maybe try varying it in a few places to add more dynamics"
"I like the vocal but production a bit tinny"
"Vocals are haunting and the synth in the background is very appealing"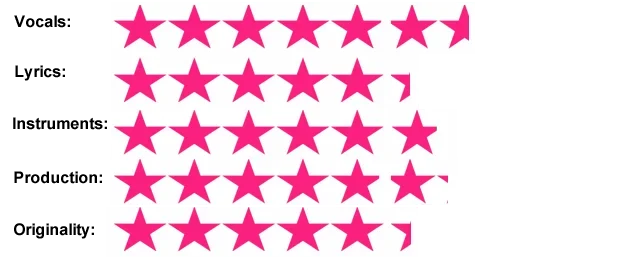 Up next: Pop tracks 'Stars' by Sophie Madeleine and 'Sarah (Meet Me in the Sauna)' by TV Girl