YouGov Profiles paints a picture of the audience for ITV's hit show
Viewers will discover which couple is crowned this series' Love Island winners tonight, but who exactly is a typical viewer? New data from YouGov Profiles reveals all.
We compared the characteristics of those who have watched Love Island in the last 30 days against the general population to draw a picture of the personalities of those tuning into the show. Out of the hundreds of thousands of factors in YouGov Profiles, each of the following was in the top 50 biggest differences between the two groups.
Demographics
Unsurprisingly age is the dominant factor, with the Love Island audience tending to be much younger. In fact, as many as 43% of those watching Love Island are under the age of 30, and another 25% are in their thirties.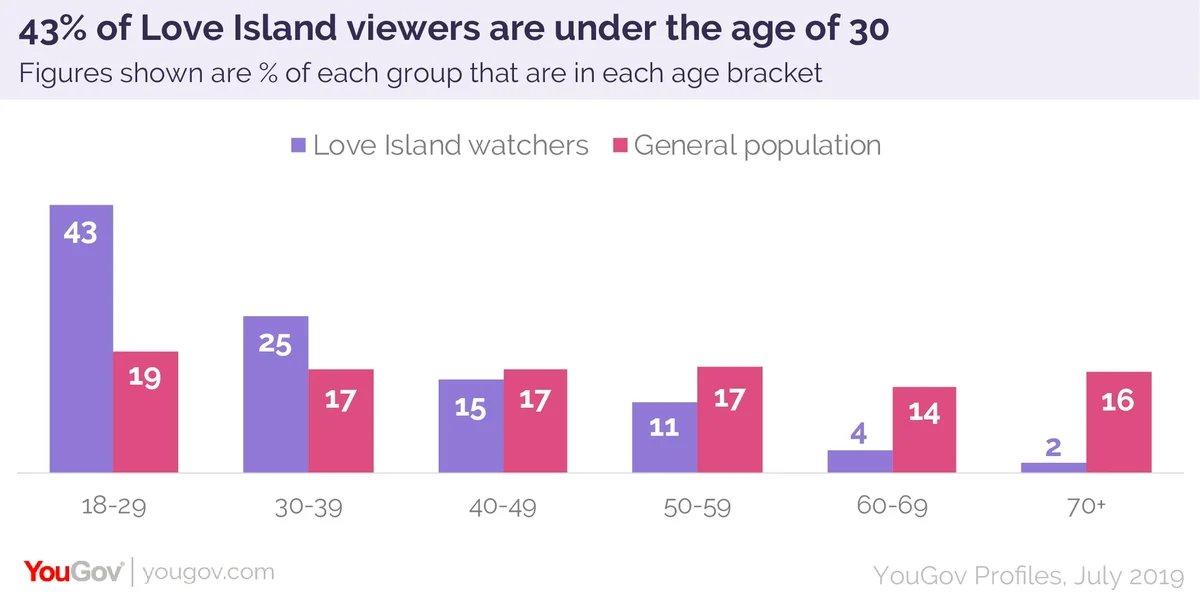 Attitudes
Physical appearance is much more important to Love Island viewers than the public at large. Full three quarters (75%) agree with the statement "it is important for me to look physically attractive", compared to half (52%) of all Britons. They are also much more likely to say "I use beauty products to make myself look better" at 69% vs 46%.
They are far more likely than the rest of the nation to say they are interested in the topics of 'people and celebrities' (54% vs 24%), 'beauty' (40% vs 18%), and 'sex and relationships' (42% vs 24%). They are also more than twice as likely to say they read celebrity/gossip magazines (48% vs 22%).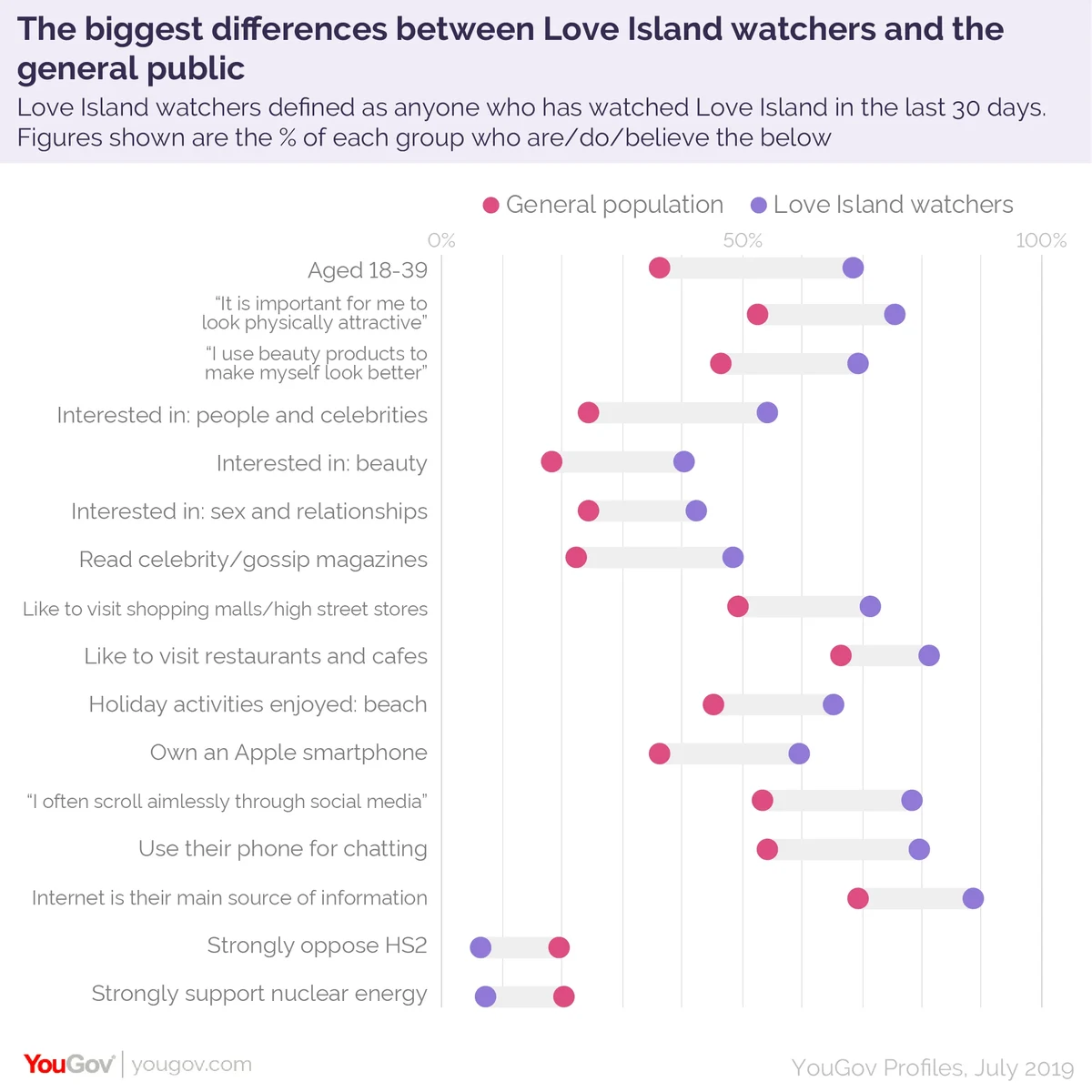 The vast majority of Love Island watchers say they enjoy spending their free time in shopping malls and high street stores (71%, compared to 49% of all Britons), as well as restaurants and cafes (81% vs 66%). In their free time on holiday almost two thirds of Love Island watchers say their favourite activity is relaxing on a beach (65% vs 45%).
Technology
Love Island watchers are substantially more likely to own an Apple smartphone, at 59% compared to 36% of the general population. This demonstrates the wisdom of rival Samsung's decision to partner with the show, part of which involves providing a handset to each islander. (You can read more about how sponsoring Love Island has boosted brands here)
While on their smartphones Love Island watchers are much more likely to say they will "often scroll aimlessly through social media" (78% vs 53%) and that they use their phone for chatting (79% vs 54%). They are also more likely to say that the internet is their main source of information (88% vs 69%).
Politics
Viewers are less bothered by the prospect of a new high speed railway line between London and Birmingham, with only 6% saying they strongly oppose HS2 compared to 19% of all Britons. Likewise, they are less enthused by Britain's use of nuclear energy, which only 7% strongly support compared to 20% of all Britons.
A degree from Oxbridge is still more prestigious than a star appearance on Love Island
Outside of the top 50 factors, a previous YouGov question asked Britons whether they'd prefer to appear on Love Island or study a degree of their choice at Oxford or Cambridge. Just 7% of Love Island watchers would want to find themselves on the show (compared to 3% of all Britons). Fully 65% said they'd rather attend one of the UK's most prestigious universities, about the same number as the general public (61%).
Photo: ITV