Welcome to MusicLab Unsigned, the newly-launched space where music lovers are invited to listen to a weekly selection of new-music tracks from a wealth of genres, according to their preferences. Folk, Jazz, Soul, Rock, Ambient, Classical, Funk – whatever – it's your pick.
In Unsigned, we're looking for fans to review tracks from artists that are evolving and emerging within their preferred music genres. What really makes the difference is that this feedback is well-informed: by a fan's specific musical appreciation and knowledge. This way, the fans are the experts, casting light on what works, what doesn't, and what has scope to improve.
In order to do this, we asked you to rate each track on the quality of the vocals and lyrics (if applicable), the track's instrumentals, the overall production, and (with all these things taken into consideration), the track's originality. This could then be followed by a short review.
Arguably it is this slippery entity, originality, on which each track's potential depends: and as with all exercises relating to matters of taste and culture, what may have sounded raw or cutting-edge to one person, sounded conventional or outmoded to another.
This week's reviews ranged from harsh at points to glowing in others, but there was constructive criticism – both good and bad – across the board, offering last week's artists some invaluable insights from their potential fan base.
Scroll down to read how each track fared in the eyes of the fans.
SKA: 'Don't Forget My Soul', by the Moonlight Ska Band
Any takers?
38 out of 158 people considered themselves fans of ska
Ska fans' ratings out of 10 for 'Don't Forget My Soul' elements:


Ska fans' reviews
"Love the old school feel to this tracks. Horn section is fantastic and the whole track skips along nicely to the "ska" skip! Even the breaks fit in well."
"This is a jazz/ska hybrid. It doesn't really go anywhere but the musicianship is good."
"Only criticism is it's easy to imagine this (especially the first third) as the backing track to an advert."
"Sounds like a cover. Very traditional old-fashioned ska instrumental. Nice sax about 2.18 minutes onwards – really adds to it and makes it more interesting. Sax player is the best part of it, shame he gets faded out. Track would be better if all of it was closer to the 2nd half."
"Certainly an unusual piece. Not sure if I could listen to it in my leisure time. It sounds like it should be a movie soundtrack. Certainly on the jazz side of the spectrum."
Point of interest
The Moonlight Ska Band hail from Île-de-France. The French region, most of which is encompassed by metropolitan Paris, is one of the wealthiest and most populated of all the 22 regions in the country, with more residents than Austria, Belgium, Greece, Portugal or Sweden.
FOLK: 'Amor Fati', by Joe Boswell

Any takers?
63 of 158 people were self-professed folk music fans
Folk fans' ratings out of 10 for 'Amor Fati' elements: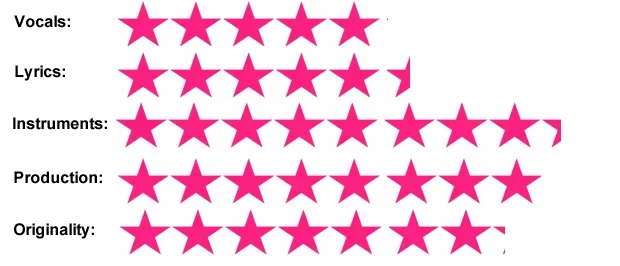 Folk fans' reviews
"Beautiful music, slightly unusual vocals that matches the traces of gothic-ness in the lyrics. Unexpected strange talky bit - very dark, oddly works over what sounds at first like a variation on Oasis' Half the World Away."
"I think this song struggles to have an identity. I expected the lyrics to be very much focused on either love or fate given the name of the song. However I was left feeling underwhelmed until the last 30 seconds or so with the guitar strumming. Why wasn't this more of a feature throughout?"
"Sounds a bit like Morrissey in his voice - might be a good thing for some people, but not for me."
"The vocals are pretty mixed up. I think Joe has numerous vocal influences and a few of them are coming through in this style. For this being a pre-release demo the production is pretty good!"
"More pop than folk, although the roughness/limitation of the voice may be called folky while the instrumentation smacks of new age. Lacks the traditional folkiness of the late Bert Jansch, the beauty of Nick Drake, or the political edginess of Roy Harper. I wouldn't play this on the folk section of my radio show."
Point of interest
"Once-upon-a-time", says Joe Boswell, "I wrote some cheesy songs for an equally cheesy E4 teen drama, called Nearly Famous."
ALTERNATIVE: 'Summer Nights (And Summer Days)' by Chalk and Numbers

Any takers?
There were 84 fans of alternative music among the 158 people who entered Unsigned this week
Alternative fans' ratings out of 10 for 'Summer Nights (And Summer Days)' elements: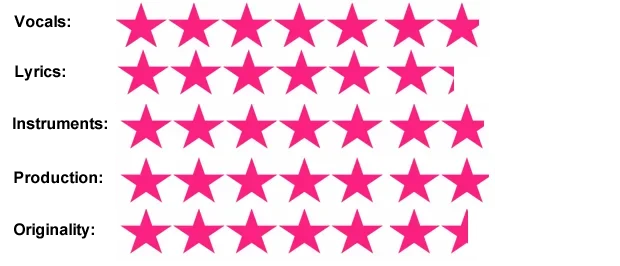 Alternative fans' reviews
"Excellent track, has a sixties style theme from the beginning with (what I think is) a nice beat from a double bass or bass guitar. Interesting voice, I think it works well."
"I am afraid this track sounds dated and I found myself losing interest after the first 90 seconds"
"I really love the sound of female vocalists! This is no exception. If this was available for me to buy I would. I really like this on the first listen. There is a lot of music like this around, so it's difficult to be that original, but it is produced very well and I love the simple keyboard sounds. Very impressed."
"The vocals seem a touch out of place and would prefer more instrumentals and less vocals but good stuff nonetheless."
"I really like the words and production of the song but I'm not sure about the way the vocals are sung and think they could be more upbeat."
Point of interest
The Brooklyn-based duo cites The Beach Boys as their greatest musical influence.
CLASSICAL: 'Moans' by Sandblast Productions

Any takers?
53 of the 158 fans of new music who took part liked classical music
Classical music fans' ratings out of 10 for 'Moans' elements:


Classical music fans' reviews
"I feel it lacked pace fitting with the overall tempo in some parts, but the violin section was excellent."
"It sounded as if it came from a pretty uninspiring film score. The synthetic orchestral transition from minor to major was unsubtle, especially the tubular bells … the playing left me unmoved and unengaged. I hope for something challenging in modern classical music but this was bland. I wouldn't want to hear it again."
"Very much in the neo-classical style with shades of Elgar and William Walton"
"My ears are telling me that these are not live instruments, especially the clarinet sound. Somewhat reminiscent of Bach? Pleasant to listen to, but after 3.30 reminded me of 'Rondo Veneziano'."
"Kind of switched off half-way through but picked up again near the end. Not a bad piece."
Point of interest
As the "resident music production company of New York's Broadway Sound", the Sandblast Productions team of musical writers, producers and multi-instrumentalists specialise in composing and producing music for TV, radio, film and theatre. They have produced music for True Blood, ESPN Classic, and La Dolce Vita, to name but a few. 
POP: 'Jane Bond' by Viktoria Modesta

Any takers?
101 out of 158 people considered themselves pop fans
Pop fans' ratings out of 10 for 'Jane Bond' elements: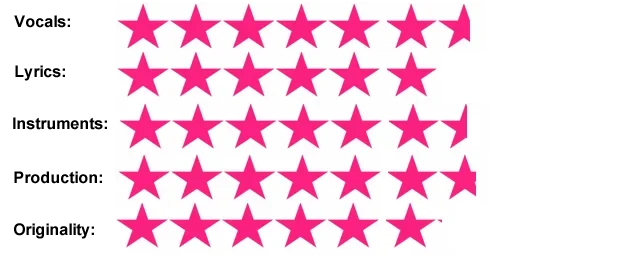 Pop fans' reviews
"'Jane Bond', could be a James Bond theme, if that was the intention then it's a great job."
"A bit too much like all other electronic pop songs around at the moment. Song and lyric had nothing to do with title."
"I felt the music was too loud over the lyrics and the lyrics were nothing special the chorus was quite catchy but not brilliant the music was also too electrically produced rather than actual instruments and I don't think it fit well. I wouldn't buy this song however I feel like it could potentially grow on you."
"Overall the track wasn't too bad but it became very repetitive and uninteresting. The production on the track was reasonable but the vocals were slightly unintelligible at times and could have done with being a little higher in the mix, especially as the vocalist has potential."
"The track has a bit of punch and attitude, which I liked. Doesn't really progress anywhere though."
Point of interest
Latvian-born Viktoria Modesta made her name previously as a cover girl and model. Recognised by Evo Music Rooms as an up-and-coming musical talent, Viktoria has performed on Channel 4 along Fenech Soler, Groove Armada and Marina & The Diamonds. 
DRUM & BASS: 'Reach' by Tantrum Desire

Any takers?
41 out of 158 people chose to listen to this drum & bass track as fans of the genre
Drum & Bass fans' ratings out of 10 for 'Reach' elements: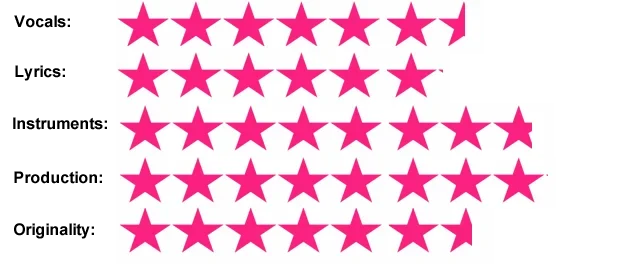 Drum & Bass fans' reviews
"Although it's not particularly original, and the lyrics are not exactly Wordsworth, I could DEFINITELY dance to this."
"Good track, has a feel of jungle tracks circa 1996. Nice use of sound effects after what I thought was a poor start."
"Sounds like it's straight from a broadcast/mix with the idents mixed in. Standard poppy D&B ingredients, but does something good with them. Far too short for a standalone track but works as a link piece in a mix."
"Catchy hook, danceable beat, crazy woops. I'd let it take me."
Point of interest
'Tantrum Desire' was born in 2004 after the south-east London twosome bonded over a shared love of drum & bass at a pirate radio station. Their list of supporters includes Zane Lowe, Grooverider, Jumping Jack Frost, Hype and Ray Keith.
JAZZ: 'In A Sentimental Mood' by Double Life

Any takers?
40 out of 158 people who took part in last week's Unsigned area chose jazz on the basis of their own genre preferences
Jazz fans' ratings out of 10 for 'In A Sentimental Mood' elements: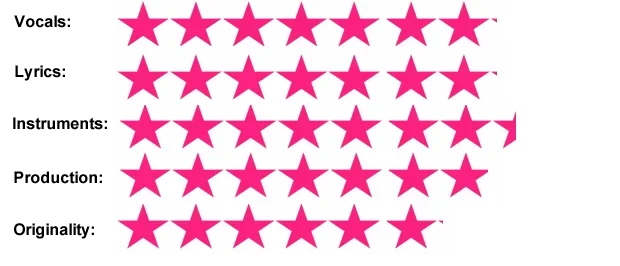 Jazz fans' reviews
"Did not like the voice over at the end, i.e. the man talking. It distracted from the music."
"Now this I would play on the jazz section of my radio show. It has a fusion of old fashioned saxophone (pre-Parker) with the far more recent beats put out by the drummer. I've heard a lot better in the last few years. The vocals - some hesitant spoken lines - don't add to the mix. As jazz, the purist would reject it so instead this seems aimed at the jazz dance floor. Mediocre and forgettable. For recent UK releases that beat this hollow, for jazz saxophone try Sam Crockatt's Flood Tide album, for nu.jazz with beats/sampled voice go for Soweto Kinch."
"I thought the background 'crackle' was unnecessary, much like taking a photo with an iPhone and making it look like you used a Polaroid ... Otherwise, the backing beat compliments nicely with the stunning sax."
"I like the change of pace once the drums start. A beautifully uplifting song. Wasn't too keen on the vocals. Sounds like someone rambling."
Point of interest
Double Life is the alias of this jazz musician from Orange County, United States. Speaking about his work on SoundCloud, Double Life says: "What I do is express, that's what I do!"
AMBIENT: 'Sorrow' by Collecting Pool

Any takers?
45 out of 158 people who took part in last week's Unsigned counted ambient music among their preferred genres
Ambient fans' ratings out of 10 for 'Sorrow' elements:


Ambient fans' reviews
"A bit 'beefier' than many ambient tracks, this has some good sound washes."
"It is nice, good ambient music, but it is not original at all."
"Some nice drifty ambient. While a lot like other works of its kind, good to just lay there and relax to. Personally prefer stuff a little more cold, haunting and empty, but certainly nothing wrong with it."
"Sounds like a lot of post-/ambient-dubstep being played on TV shows currently, until about 0.52. A superb piece of ambient, a nice repeating percussion overlaid by ethereal synths. Bliss to listen to this."
"Nice sounding string section. I can imagine this being played at sunrise in Ibiza … very uplifting."
Point of interest
The artist lists precisely 18 different influences for their music: "Life. You. Family. Friends. The Universe. The millions on SoundCloud. Radiohead, Thom Yorke, Peter Gabriel, Tool, Rush, Led Zeppelin, Blue Oyster Cult (Early), Primus, Les ClayPool, Filter, Pearl Jam, Soundgarden, Audioslave." 
FUNK: 'Too Hot' by Mr Confuse

Any takers?
There were 32 funk fans among the 158 people who took part in Unsigned's first week
Funk fans' ratings out of 10 for 'Too Hot' elements: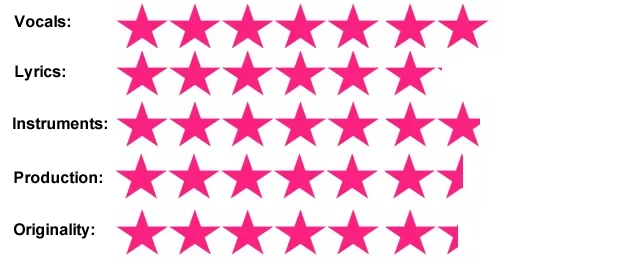 Funk fans' reviews
"Drum kit is far too loud in the mix - it masks everything else when the kick drum sounds. In general, the production element of this track needs a great deal more TLC. The lyrics were reasonably stylistic and work in relation to the feel of the track. Overall, I quite like the track. However, I would strongly suggest spending more time balancing in the mix stage and warn the writers not to try too hard to be overly 'stylistic' as at time it sounds like some instruments are just there because a book said the style included the instrument. For example, the keyboard solo at the start."
"Doesn't really stand out much despite interesting male/female dynamic. Over-produced."
"Stomping groove with a funky organ stabbing through to great effect."
"Funky to the core. Just what the doctor ordered."
Point of interest
Mr. Confuse is a producer & DJ from Hanover/Germany. If it's web info on the artist you're after, there's plenty to choose from: Mr. Confuse has 9 different websites.