This month, Santander achieved the highest uplift in Ad Awareness of any brand in the UK – a +7.9 change in score.
The advert sees Santander face off an unexpected sector competition from a new player, Antandec, an imitation brand created by TV personalities Ant and Dec. The duo talk about their brand values in mockumentary style, and confess that their TV careers were just filling in until they could achieve their real passions, opening a bank.
YouGov data shows that Santander's Ad Awareness scores (whether someone has seen or heard an advert broadcast by a company in the past two weeks) have improved by 21 percentage points – up from 11% to 32%.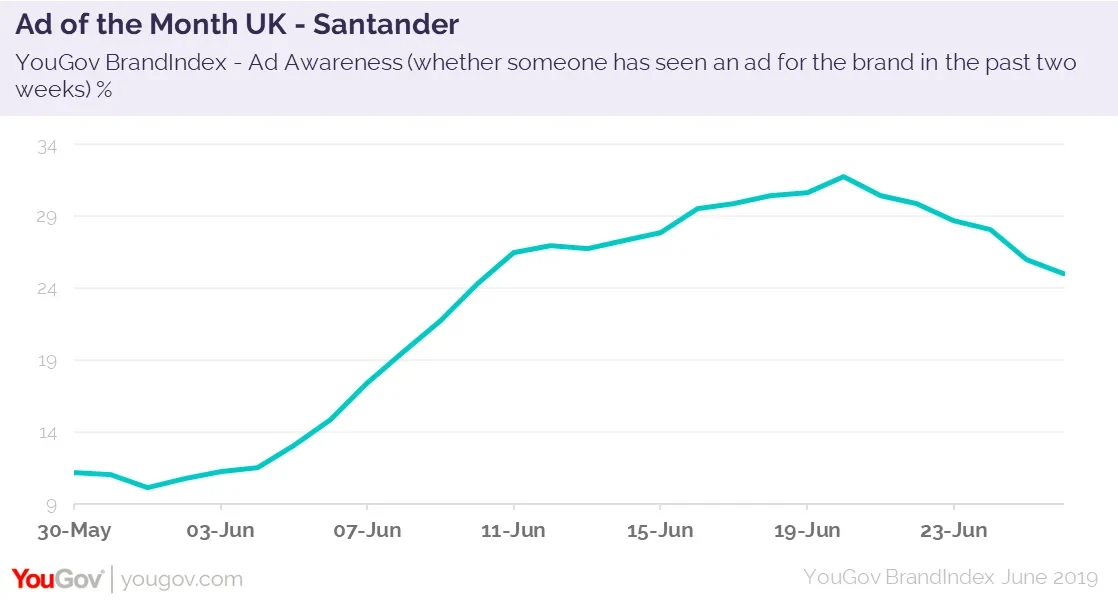 However, some of Santander's metrics have not performed as well as others in the same period. Reputation scores (whether someone is proud of embarrassed to work for a brand) decreased by 4.6 points from +12.1 to +7.5 after the advert's release and Impression scores (whether someone has a positive or negative impression of a brand) also dropped by 9 points from +13 to +4. This could potentially be linked to some backlash on social media over the partnership with Ant and Dec, after Ant McPartlin pleaded guilty to drink driving charges in April. However, it is worth nothing that these metrics have now all recovered to pre-advert levels or higher and other factors could be at play.
This article previously appeared in W.A.R.C