One of the most derided men in Hollywood is nevertheless liked by close to half of the British public
To many movie critics Adam Sandler is synonymous with the worst that Hollywood has to offer. Critic Nathan Rabin once said of Sandler's career: "It's almost as if Sandler and his Happy Maddison production company are baiting viewers, engaging them in a sadistic, decades-long thought experiment to see how many repellent films he can make before they turn on him".
Sandler has won 5 Golden Raspberries or 'Razzies' ­– awarded each year for the worst performances – and a Vox study put Sandler second from top in its ranking of actors who appear in the worst films (behind only Rob Schneider).
Nevertheless, 45% of Britons say that they like Adam Sandler, a figure which puts him 218th overall in our list of 614 contemporary actors.
Now using YouGov Ratings we have found that nine actors who have won Academy Awards, considered to be the most prestigious acting accolade, are liked by fewer members of the British public than the man whose performances the New York Times once said "will make your children stupid".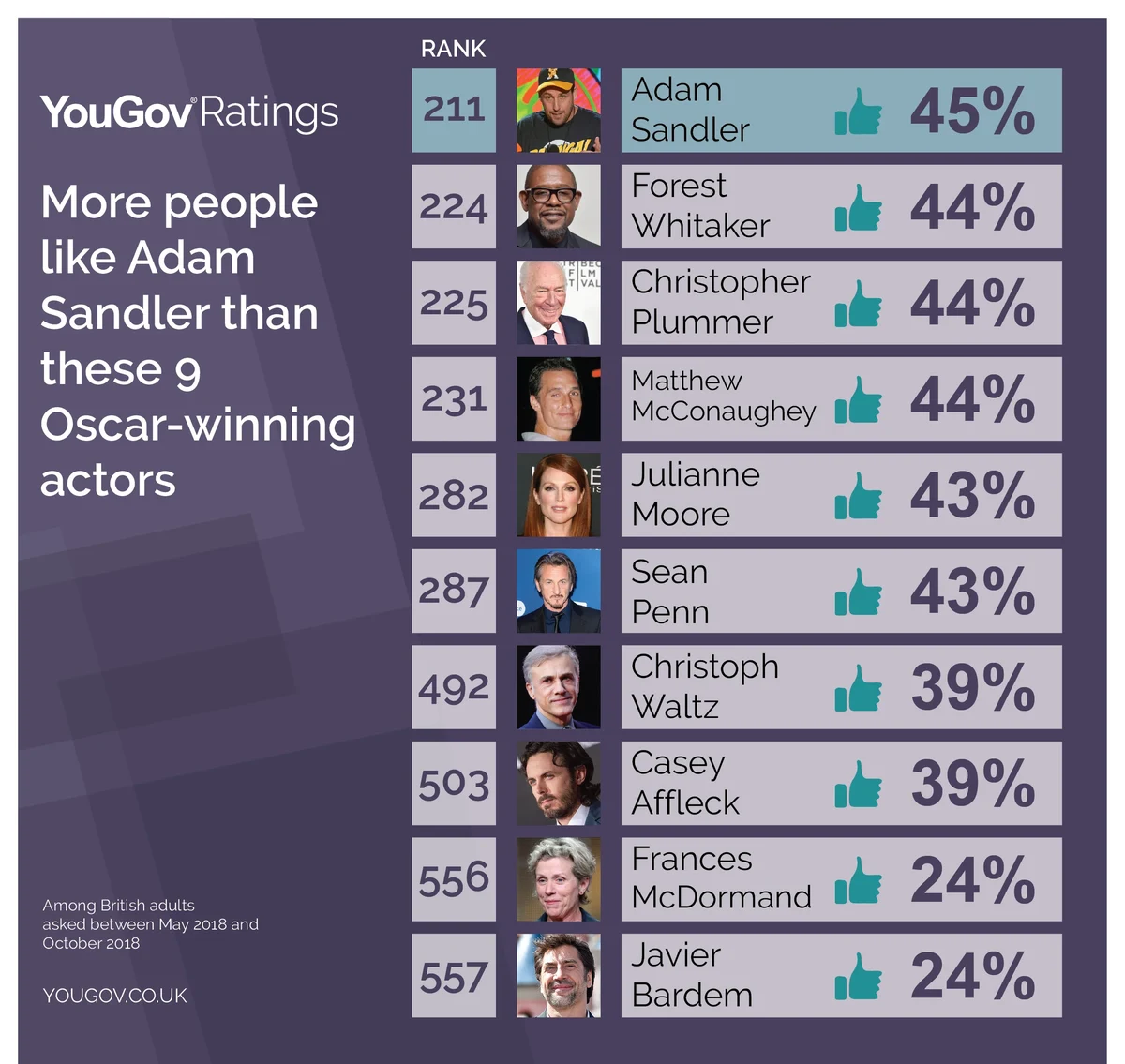 224. Forest Whitaker (44% like)
Known for his dedication to research for the characters he portrays, Whitaker gained 50lb and learned to play the accordion in order to play Ugandan dictator Idi Amin in the 2006 film The Last King of Scotland – the role that would win him the Oscar for Best Actor.
225. Christopher Plummer (44% like)
By far the longest serving actor on this list, Christopher Plummer's career spans six decades and he even starred in classic 60s film The Sound of Music as Captain von Trapp. Plummer's Oscar win is far more recent, having been the oldest person to be awarded a competitive Academy Award in 2011, as Best Supporting Actor in the movie Beginners.
231. Matthew McConaughey (43% like)
Only one rung on the ladder below Sandler, McConaughey might once have been mentioned in the same tones as Sandler due to his exclusively cheesy portfolio. Following the so-called 'McConaissance' of 2011-2014, however, the actor has pulled off much weightier roles and was awarded the Oscar for best actor in 2013 for his role in Dallas Buyers Club.
282. Julianne Moore (39% like)
Particularly well known for her portrayals of emotionally troubled women, Julianne Moore has received five Oscar nominations and in 2014 was awarded Best Actress for her role in Still Alice.
287. Sean Penn (39% like)
Making the headlines as much for his outspoken (and often controversial) political views as his acting, Sean Penn received his first Academy Award in 2003 for his role in Mystic River before scooping up the same gong again in 2008 for his portrayal of gay activist Harvey Milk in 'Milk'.
492. Christoph Waltz (24% like)
Waltz shot to prominence with his chilling depiction of SS officer Hans Landa in Quentin Tarantino's Inglourious Basterds. For his efforts he was awarded with the 2009 Academy Award for Best Supporting Actor, an accolade he would also receive in 2012 for Django Unchained.
503. Casey Affleck (24% like)
The younger, less well known, brother of Ben Affleck, Casey has nevertheless also had a successful Hollywood career. Casey was nominated for Best Supporting Actor in 2007 for The Assassination of Jesse James by the coward Robert Ford, and in 2016 won Best Actor for Manchester by the Sea. (Big brother Ben has never been nominated for his acting, although he does sport Oscars for his writing and directing).
556. Frances McDormand (19% like)
The most recent recipient of the Best Actress award – for her role in Three Billboards Outside Ebbing, Missouri ­– McDormand also won a Best Supporting Actress award in 1996 for her appearance in Coen brothers movie Fargo.
557. Javier Bardem (19% like)
Already sporting a distinguished career in Spanish-language movies, Javier Bardem came to the attention of wider audiences for his role as the antagonist in the Coen brothers' No Country for Old Men – a performance which netted him 2007's Best Supporting Actor. Bardem would also go on to play the main villain in 2012's James Bond movie Skyfall.
Photo: Getty
Play the YouGov Ratings Game
Or explore YouGov Ratings