We look at which beefing celebrities the public respects more
Entertainment reporters love nothing better than a good juicy celebrity feud – they're like a soap opera, but with people you've heard of, and the wealth and means available to the participants means that they can take all sorts of creative forms (see diss tracks).
As with so many good gossip stories, they contain a strong element of judgement with onlookers able to judge the actions and character of those who is in the right and who is in the wrong. Now we at YouGov have taken a look the popularity of various feuding celebrities using our YouGov Ratings data to see which participants the public prefers.
Lady Gaga vs Madonna
The old and new queens of pop started to feud after Madonna accused Lady Gaga's 2011 track Born This Way of being a rip-off of her 1989 track Express Yourself. Whatever the truth of the matter, the elder stateswoman is held in marginally higher esteem than the young contender for the crown, 50% of people liking Madonna compared to 48% Lady Gaga.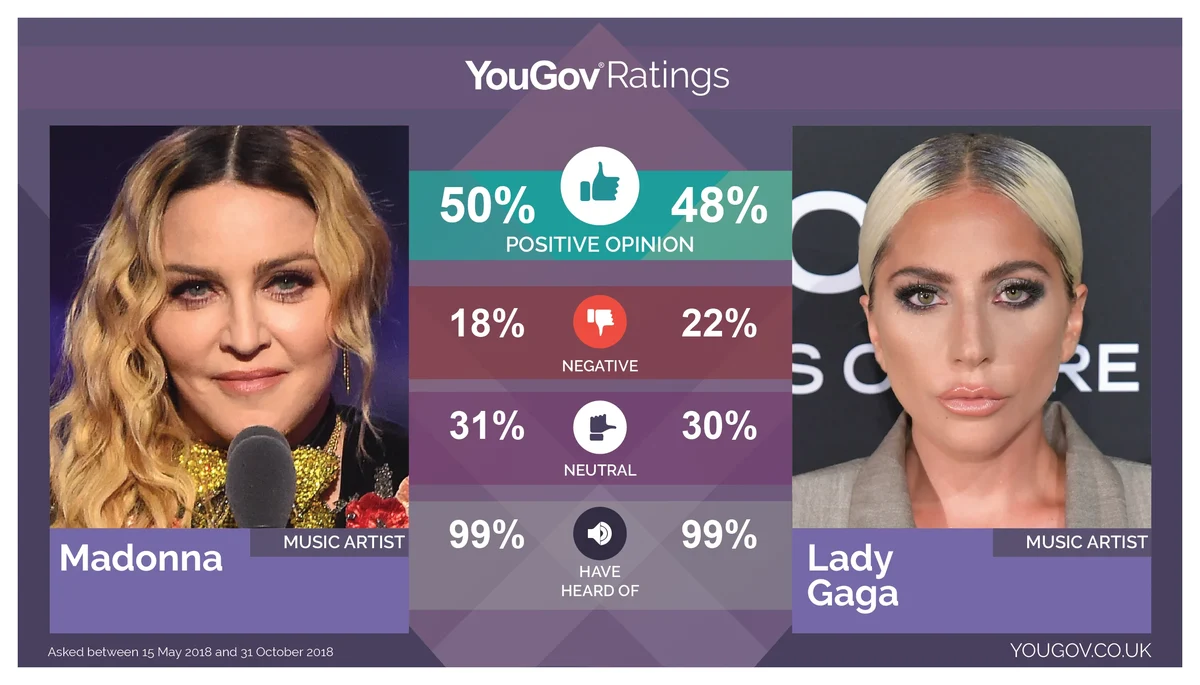 Noel Gallagher vs Liam Gallagher
Famously fraught fraternal fellows, there is no love lost between the former Oasis frontmen. Upon leaving the band in 2009, Noel described Liam as "rude, arrogant, intimidating and lazy". It will doubtless annoy the pair that they are held in equal esteem by the British public: 37% of Brits say they like Noel while 35% like Liam. Liam is the more divisive of the pair, however. The 35% that like him are matched by 36% who don't. Positive opinions of Noel outnumber negative ones, by contrast, with 33% saying they dislike the older brother.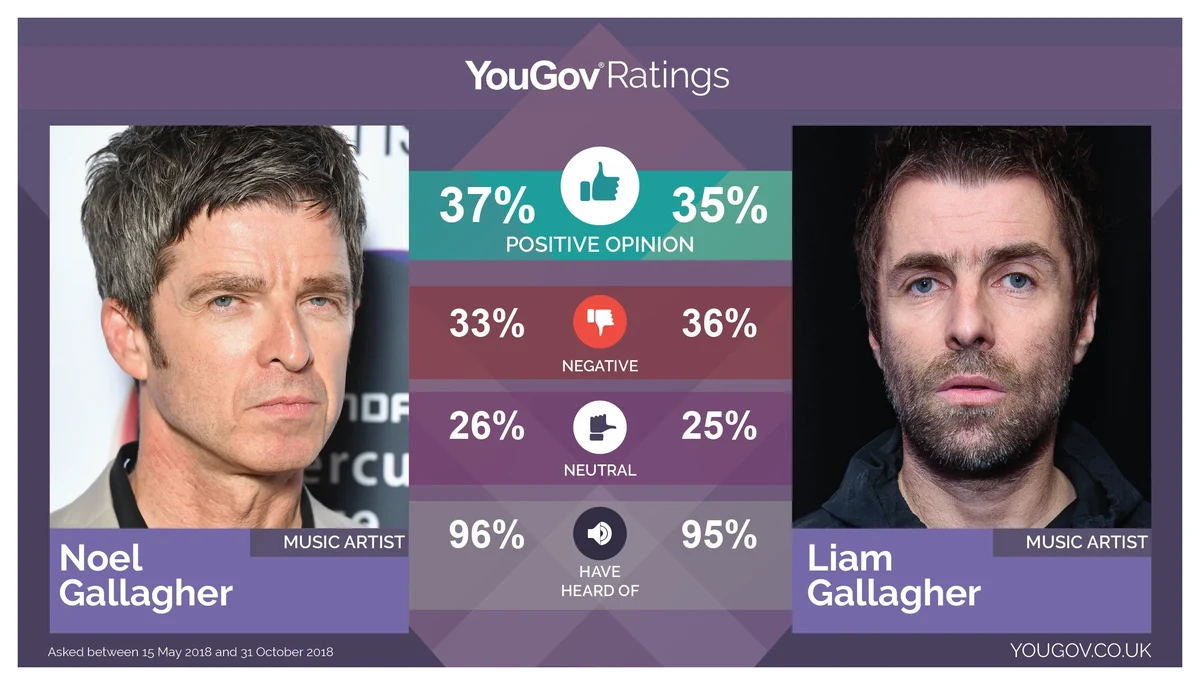 Kanye West vs Taylor Swift
Taylor Swift was understandably annoyed with Kanye West interrupting her acceptance speech for MTV's video of the year to say that he thought Beyoncé should have won instead. The public has Tay-Tay's back however – 41% say they like Taylor Swift compared to only 19% for Kanye West. In fact, West is one of the most unpopular people in the YouGov Ratings system, with 54% having a negative view of the man (only 21% feel the same way about Swift).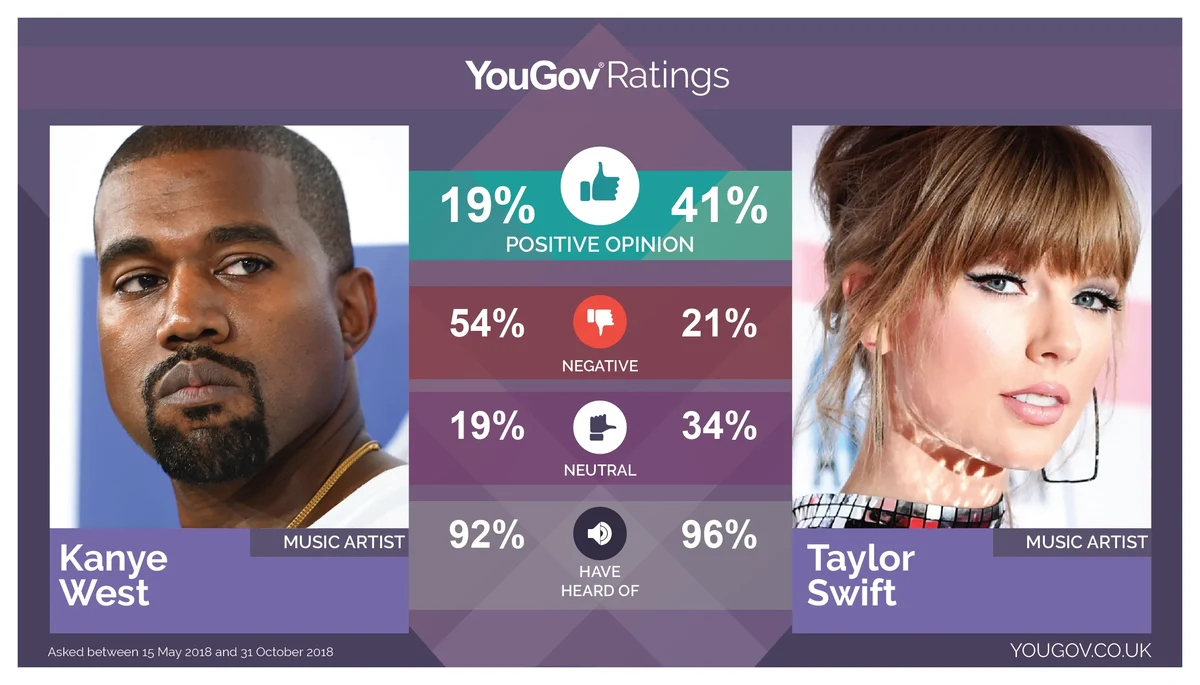 Zayn Malik vs Naughty Boy
Following his departure from One Direction in 2015, Zayn Malik worked on new material with Naughty Boy acting as producer. The relationship turned sour, and Malik tweeted "Naughty Boy you fat joke stop pretending we're friends no one knows you".
It is certainly true that far fewer people know who Naughty Boy is than Zayn. While 76% of Brits have heard of the 1D star, only 42% have heard of Naughty Boy. That extra recognition hasn't brought Zayn greater respect, however, with the proportion of Brits saying they like him barely any higher than the proportion who like Naughty Boy – 15% compared to 14%.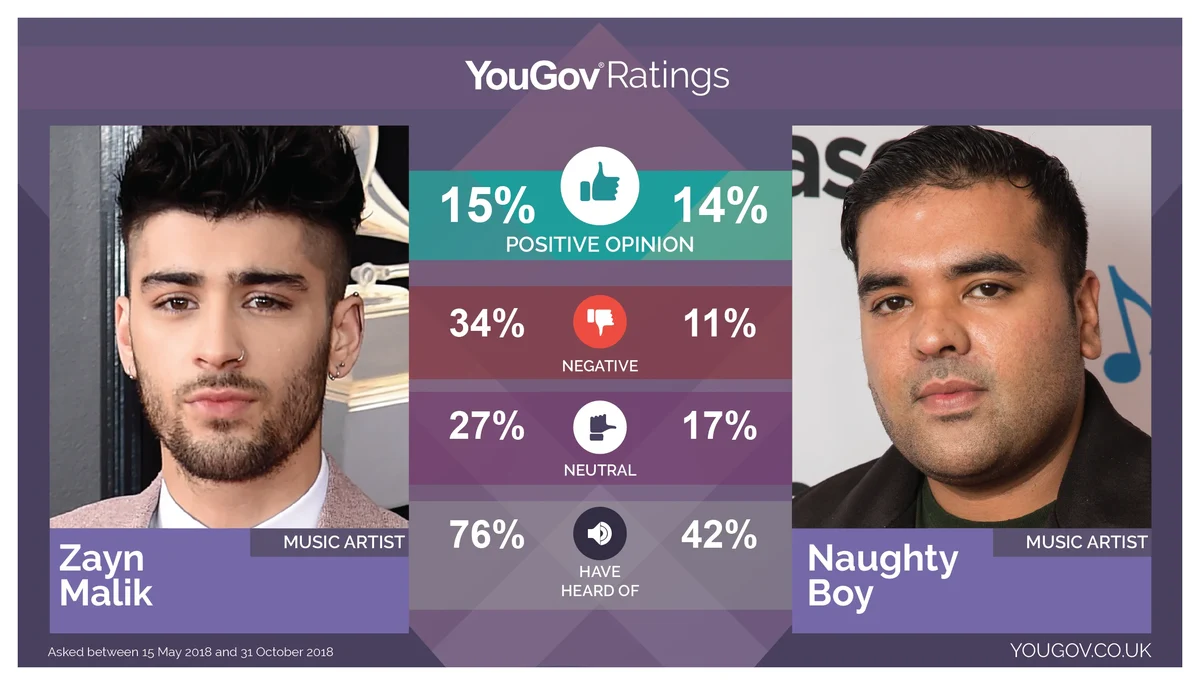 Lord Sugar vs Tulisa
Not one to keep his views to himself on social media, Lord Sugar tweeted Simon Cowell saying of X-Factor contestant Tulisa that she "knows nothing and talks rubbish". She in turn branded the reality TV boss an "ugly hobbit" and a "miserable old man". Nevertheless, Sugar is more popular than Tulisa, with 39% saying they like the Labour peer compared to only 15% for the singer.
Sharon Osbourne vs Dannii Minogue
Those casting their minds back to the 2007 series of the X Factor will recall the simmering dispute between Sharon Osbourne and Dannii Minogue. Osbourne said of Minogue "she wasn't so much a dim bulb as a bulb in a power cut". She finds herself on the wrong side of public opinion, however, with Dannii liked by 42% of Brits to Sharon's 38%.
The wife of heavy metal star Ozzy Osbourne has also put far more Brits' backs up – while only 14% have a negative view of the younger Minogue sister more than twice as many do for Osbourne (31%).
Nicki Minaj vs Mariah Carey
Both singers quit American Idol after just one series following animosity on set, with Minaj at one point allegedly threatening violence against Carey after becoming sick of her diva-ish manner. Despite of (or perhaps because of) Mariah Carey's diva status, she is more popular among the British public than Nicki Minaj, with 37% liking the former and only 26% the latter. The Anaconda star cannot use her lower profile as an excuse – despite the fact that only 75% of people have heard of her compared to Carey's 97%, she has annoyed just as many Brits, with 25% disliking her compared to 27% for Mariah.
Katie Price vs Kelly Brook
Katie Price caused outrage after saying Kelly Brook looked like a heifer after seeing her in a bikini photoshoot. Price would do well to avoid criticising others, however, due to her status as one of the most disliked Britons in the whole of the YouGov Ratings system. Fully 62% of people say they dislike the pin-up model formerly known as Jordan. Only 13% hold a positive view of her, compared to 35% for Brook.
Cheryl Cole vs Lily Allen
Lily Allen fired the first shots in this feud, slamming Cole in a 2006 song "Cheryl Tweedy". Cole would later hit back by brandishing Allen "a chick with a dick". Allen wouldn't be the only person wanting to criticise Cole, however, with 39% of Brits having a negative view of her (compared to 26% for Allen). These figures are reversed when it comes to whether or not people like the stars – 40% have a favourable view of Lily, compared to only 28% for Cheryl.
Denise van Outen vs Johnny Vaughan
Former Big Breakfast hosts Denise and Johnny fell out after she joined his radio station before quickly quitting. Despite their previously good TV relationship, Denise said their time together on the radio was strained, criticising her co-host's behaviour. She has the backing of the British public, with 40% of people saying they like her, compared to 30% for Vaughan.
Cher Lloyd vs Cheryl Cole
X Factor star Cher Lloyd was unimpressed by Cole – who had been mentoring her on the show –dropping contact with her after the series ended. Lloyd said that the only way she would duet with her former friend was if she didn't use autotune, which understandably irritated the former Girls Aloud star. Cole comes off better in this feud, with the 28% of people who like her being much higher than the 18% who like Lloyd. As mentioned before, while people are more likely to dislike than like Cheryl Cole by 39% to 28%, this split is even worse for Cher Lloyd, who is unpopular with 33% of Brits.
Kelly Osbourne vs Christina Aguilera
Prompted by Christina Aguilera calling her fat for years, once Kelly Osbourne had slimmed down she levelled the same criticism at her old accuser. Nevertheless, the British public take a much more dim view of the daughter of Ozzy and Kelly Osbourne, with almost as many people saying they like her (24%) as saying they dislike her (28%). By contrast, Christina Aguilera is far more popular, with close to half of Brits saying they like her (47%) compared to only 17% who do not.
Mariah Carey vs Eminem
This feud started as a result of Eminem claiming the pair had previously been in a sexual relationship – a claim which Carey denied. Both would go on to criticise one another in their songs. Eminem proves the more popular of the two, with 42% saying they like him compared to 37% for Carey.
Chris Brown vs Drake
Singers Chris Brown and Drake reportedly came to blows in a nightclub over fellow artist Rihanna, who they had both dated. Unsurprisingly, given his convictions for domestic violence, Chris Brown is the least popular of the two, with only 18% of people saying they like him and 32% saying they dislike him. By contrast, Drake is liked by 22% of Brits and disliked by 21%.
Photo: Getty
Play the YouGov Ratings Game
Or explore YouGov Ratings