New YouGov popularity tracker reveals Britain's most liked public figures
Beloved naturalist and television presenter Sir David Attenborough has topped the list of Britain's favourite people, compiled by our newly launched popularity tracking tool YouGov Ratings.
YouGov Ratings measures the popularity and fame of anything and everything, from presenters to politicians, chocolate bars to football clubs, and is based on millions of responses from the British public.
Sir David Attenborough earns top spot in our list having presented nature documentaries for the BBC across seven decades and has an approval rating of 87%.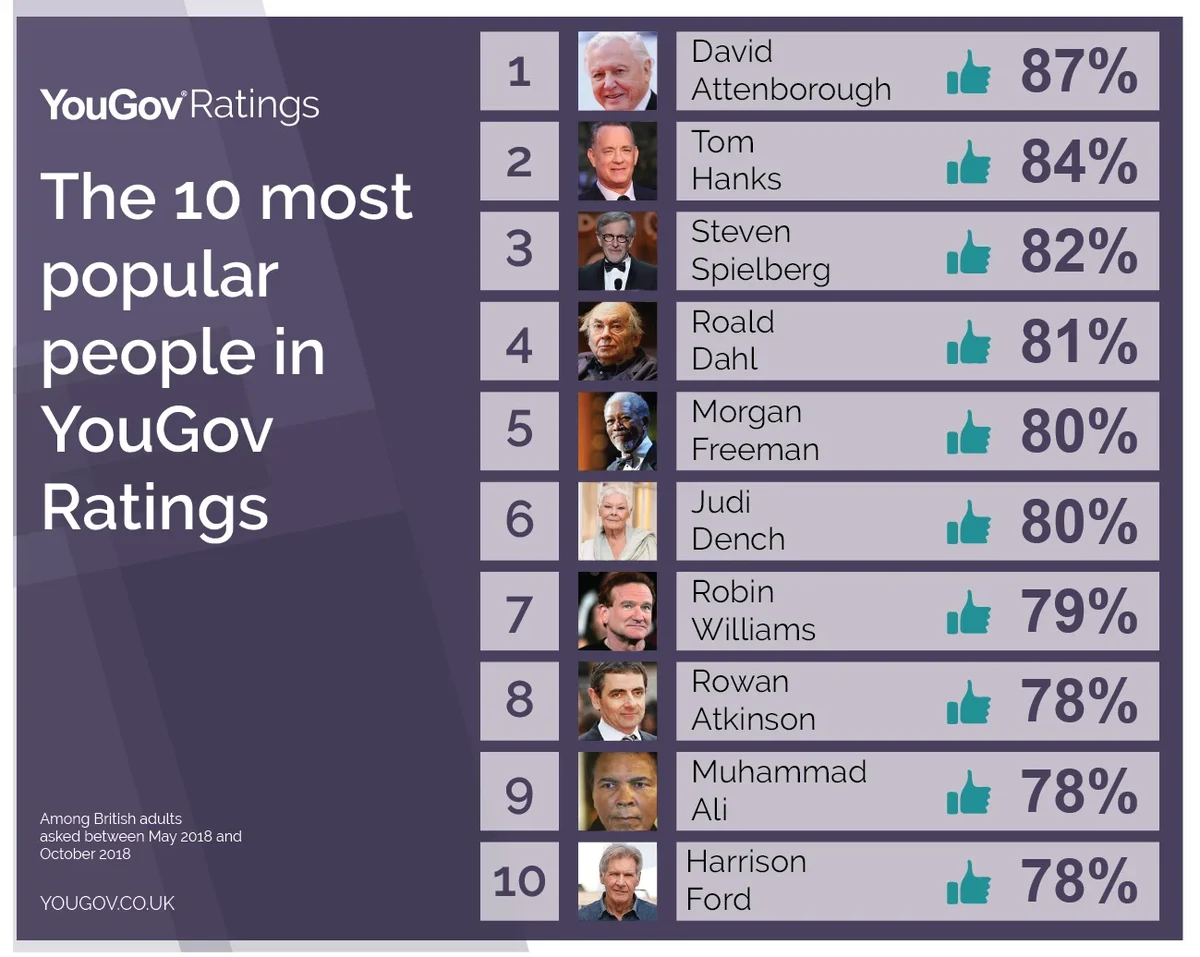 YouGov Ratings also reveals Britain's insatiable appetite for Sir David's nature documentaries, which span a staggering seven decades. Half of the ten most popular television programmes of all time are nature documentaries voiced by the national treasure, including Planet Earth (76% popular), Blue Planet II (75%), Blue Planet (73%), Planet Earth II (68%), and Frozen Planet (64%).
Below Sir David, showbiz stars dominate the list of most popular figures, with 21 of the top 25 coming from the entertainment industry. Taking second spot is notoriously likeable actor Tom Hanks (approval 84%), followed by star director Steven Spielberg (approval 82%). Beloved children's' author Roald Dahl is in fourth place (81%).
Among the other revelations in the data is that Prince Harry is more popular than his grandmother. The freshly-minted Duke of Sussex is in 13th position with 77% popularity rating, compared to the Queen in 24th spot with a score of 74%. No other member of the royal family makes it into the top 25.
Top 25 most popular people in Britain, ranked by YouGov Ratings
David Attenborough (87% positive opinion)
Tom Hanks (84%)
Steven Spielberg (82%)
Roald Dahl (81%)
Morgan Freeman (80%)
Judi Dench (80%)
Robin Williams (79%)
Rowan Atkinson (78%)
Muhammad Ali (78%)
Harrison Ford (78%)
Helen Mirren (78%)
Michael Caine (77%)
Prince Harry (77%)
Usain Bolt (77%)
Anthony Hopkins (76%)
Julie Walters (76%)
Colin Firth (76%)
Freddie Mercury (76%)
David Jason (75%)
Sean Connery (75%)
Denzel Washington (75%)
Charles Dickens (75%)
Robert De Niro (75%)
Queen Elizabeth II (74%)
Clint Eastwood (74%)
Photo: Getty
Play the YouGov Ratings Game
Or explore YouGov Ratings