New YouGov research examines Britons attitudes to equal representation of social groups
Last week a viewer of TV comedy talk show The Last Leg tweeted the show complaining that only white men featured in that episode. Adam Hills, the show's host, responded saying that it was because a female guest had pulled out, but a perhaps inevitable backlash against the viewer took place from fans of the show.
There is indeed a diversity problem with TV comedy panel shows. One source puts the gender divide for comedy panel shows at 69% to 31% in favour of men as of December 2017.
As a result of the issues raised, YouGov has decided to examine the public's attitudes towards social representation on similar types of shows.
First of all we asked the public which social groups they thought it was important to see represented on TV.
Women top the list, with 73% of Brits saying that it is important they be represented on such shows. Following shortly behind are people with disabilities (70%) and older people (70%). A similar proportion think it is important that younger people are represented (68%), while almost two thirds (64%) say the same about people from ethnic minorities.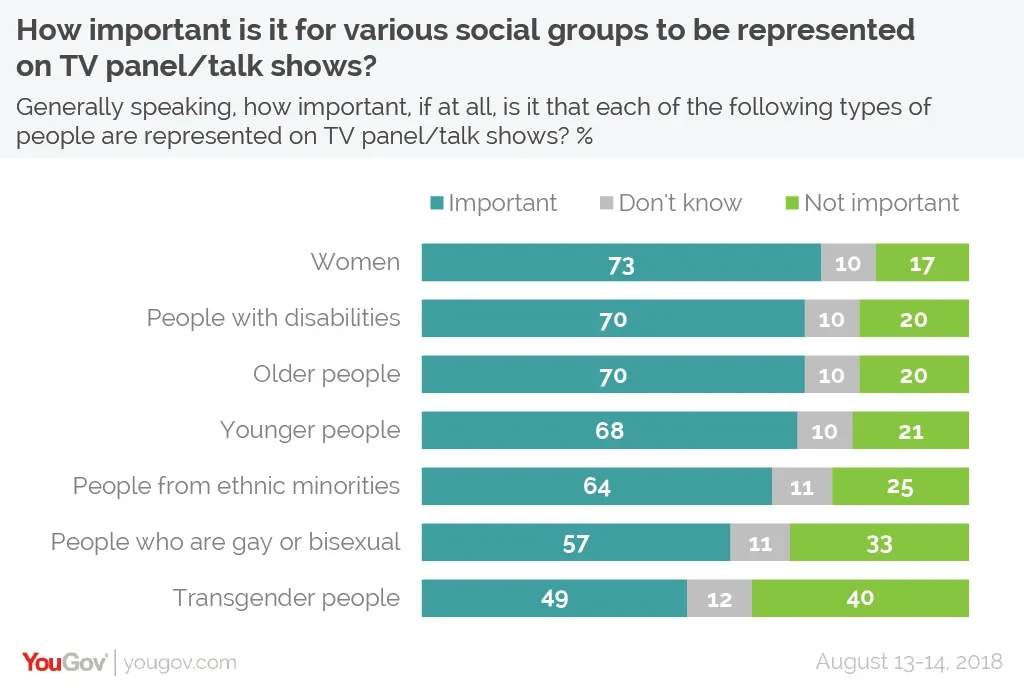 A majority of people (57%) think it is important to see people who are gay or bisexual represented. The only group for whom there isn't a clear majority is transgender people, although the 49% of people who think it is important to see them represented on TV panel/talk shows is higher than the 40% who do not.
How should equality be achieved?
While it is clear that the public is supportive of such groups being represented, what is not clear is how that equality of representation should be achieved.
Many TV panel/talk shows can only accommodate a very small number of guests in each issue, meaning it would be difficult to provide equal representation of all social groups in a single episode. Indeed, when asked what they thought the best way to provide equal representation, only 10% of Brits believe that there should be equal representation in every episode of a show.
By contrast, the most popular option (at 34%) is ensuring equal representation of groups on a show over the course of a series. Also more popular (at 28%) is making sure there is equal representation across a channel's programming – so some shows like Loose Women that heavily feature one gender could balance out or be balanced out by other shows.
A further 14% said that none of the above options came close to their view of what should happen (many of these will not think that equal representation is important in the first place – for instance, 47% of people who said it is not important that women be represented on TV shows chose this option). The remaining 13% answered "don't know".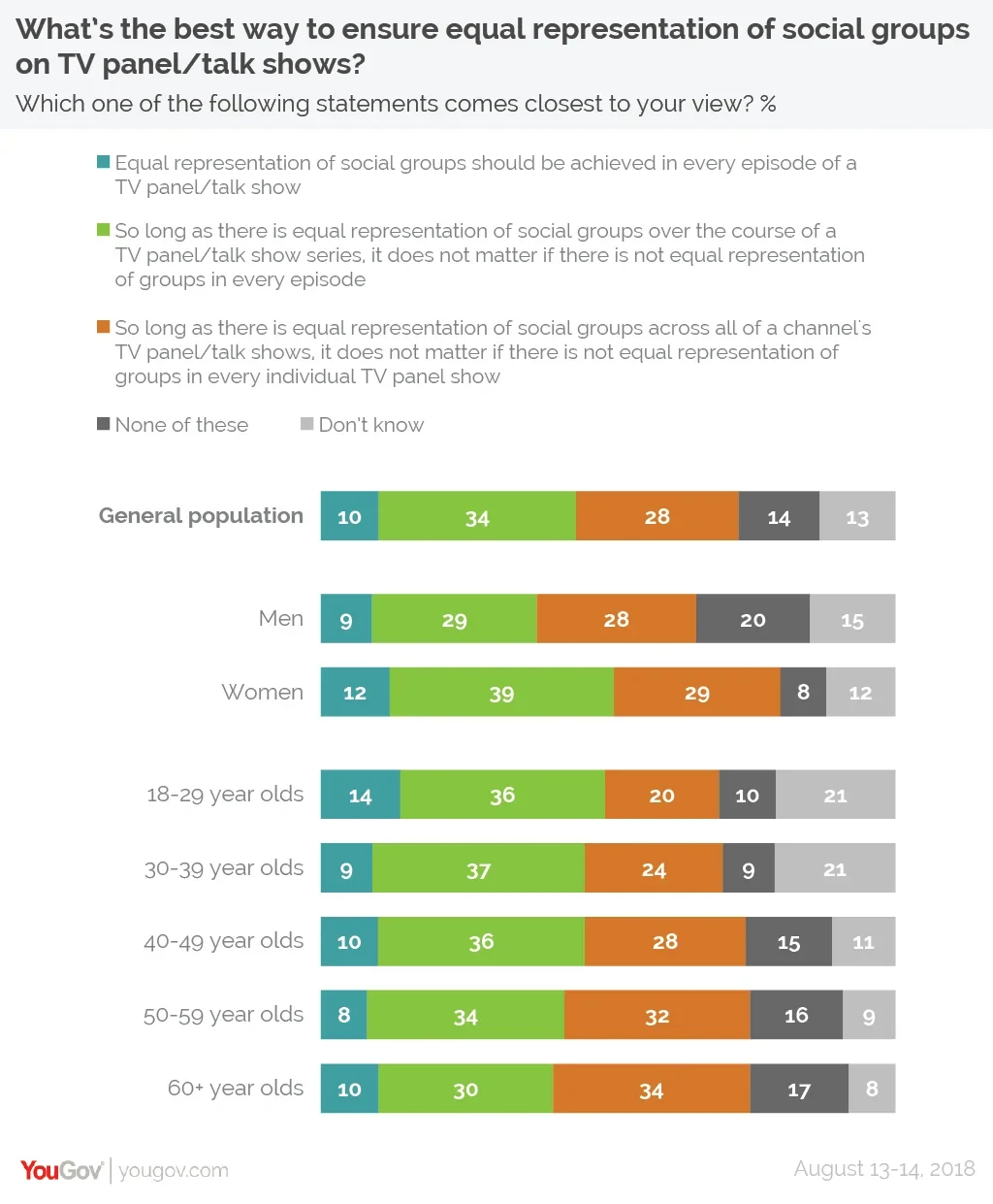 Is a last minute drop out a good enough reason for a show to not be socially representative?
Finally, we come to the issue of whether the excuse of "someone dropped out" – as used by Hills – is seen as an acceptable reason for an episode to not be fully socially representative.
Two thirds (66%) of Britons say it is generally acceptable for a TV panel/talk show to have guests that don't represent an equal representation of social groups because they had to find a replacement for a guest who dropped out at the last minute. Only 12% consider it generally unacceptable, while the remaining 22% answered "don't know".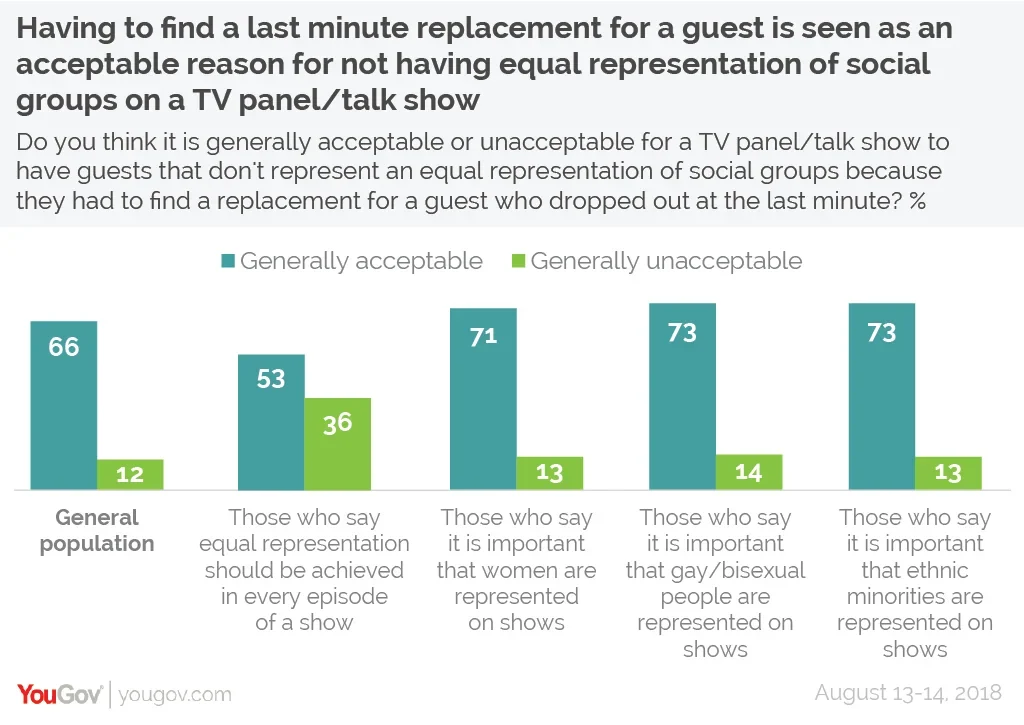 Given that most people don't think that every episode of a show should have to be socially representative such a result is hardly surprising. But even among those who do think that equality must be achieved in every episode of a show, half (53%) say that under such circumstances an unbalanced set of guests would generally be acceptable. Around a third (36%) disagree.
Photo: Channel 4