People are split between 5% and 10% pay increases
With inflation shooting up over the course of 2022 – reaching as high as 11.1% in October – many Britons are feeling the pinch in their pay packets. So too will businesses, as cost of living pay increases will need to be higher in order to prevent employees receiving a real-terms pay cut.
Strikes taking place this winter have rejected pay increase offers of 2% (junior doctors), 4% (nurses), and 8% (railway workers).
But what do Britons think an appropriate cost of living pay increase looks like? A YouGov study conducted at the beginning of December asked Britons whether a series of pay increases from 1% to 12% sounded too small, too high or about right to them.
There are two peaks in the data. The first is at the 5% pay rise mark, which 34% of Britons say sounds about right. After this, opinion declines into the twenties for each of the subsequent pay increases, before rising again to a second peak at the 10% pay rise mark, which 34% of people also say sounds about right.
The key factor in whether a person is more likely to think the 5% or 10% pay increase sounds fairest is whether or not they voted Conservative or Labour at the last general election.
Tory voters are most likely to say that a 5% pay increase is about right, at 41%, while Labour voters are most likely to say a 10% pay increase, at 43%. Both groups do, however, have mini-bumps at the 5% (Labour) and 10% (Conservative) pay marks.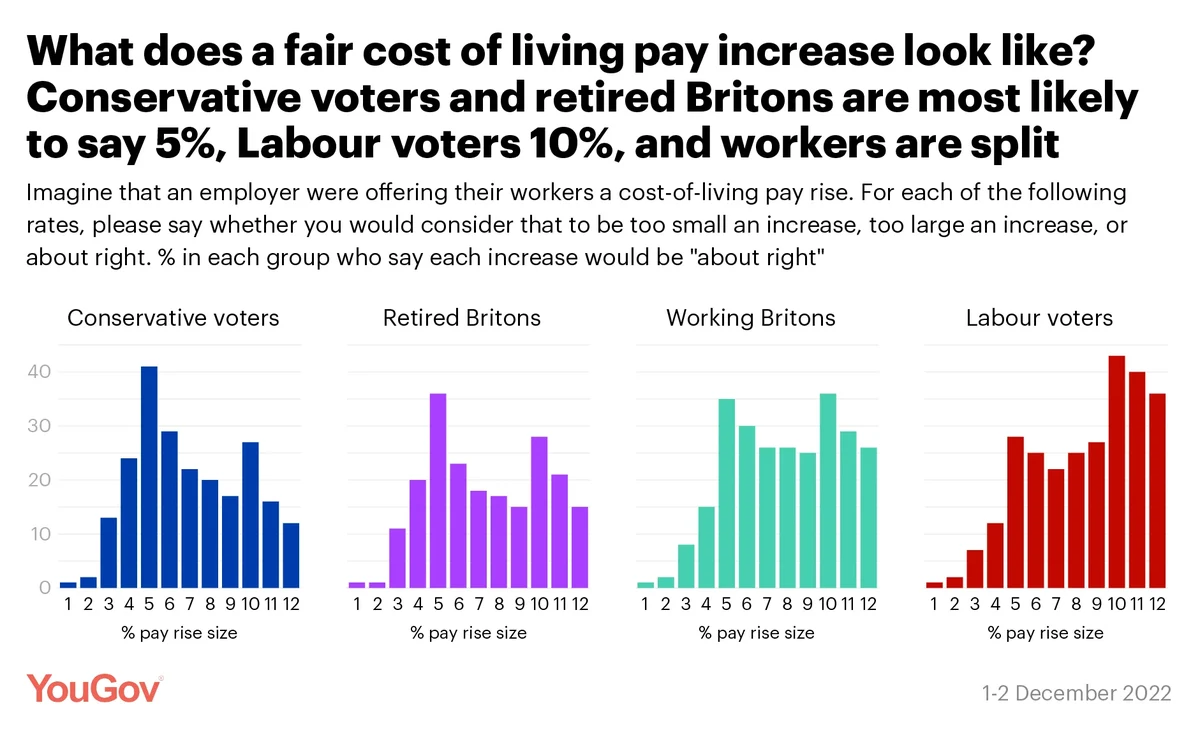 Given that Conservative voters tend to be older, it is not surprising to see that the attitudes of retired Britons and the over 65s largely mirror those of Tory voters.
The results among working Britons – a group which encompasses the vast majority of the population aged 20-65 – therefore unsurprisingly mirrors the general population results, with notable spikes for the 5% and 10% pay increases, both of which are similarly popular (35% and 36%, respectively).
Photo: Getty