Consumer confidence hits 113.6, the highest level since April 2016
Outlook on job security highest on record at 118.9
Sentiment on house prices continues to improve, with retrospective measure at four-year peak
Confidence among households about personal finances at record high, with measure improving by 2.7 in past month and expectations up by 1.5 points
Outlook for business activity continues to improve, increasing by 3.8 points
Despite concerns about a potential third wave of COVID-19 threatening the government's end of lockdown roadmap, consumer confidence is at its highest level in five years, according to the latest analysis from YouGov and the Centre for Economics and Business Research (Cebr).
Britain's consumer confidence index improved by 3.1 points to 113.6 in May, as travel resumed and pubs, restaurants and galleries welcomed guests indoors. Any score above 100 means more consumers are confident than not. Optimism about job security and house prices are the biggest factors in the positive uptick.
YouGov collects consumer confidence data every day, conducting over 6,000 interviews a month. Respondents answer questions about household finances, property prices, job security and business activity, both over the past 30 days and looking ahead to the next 12 months.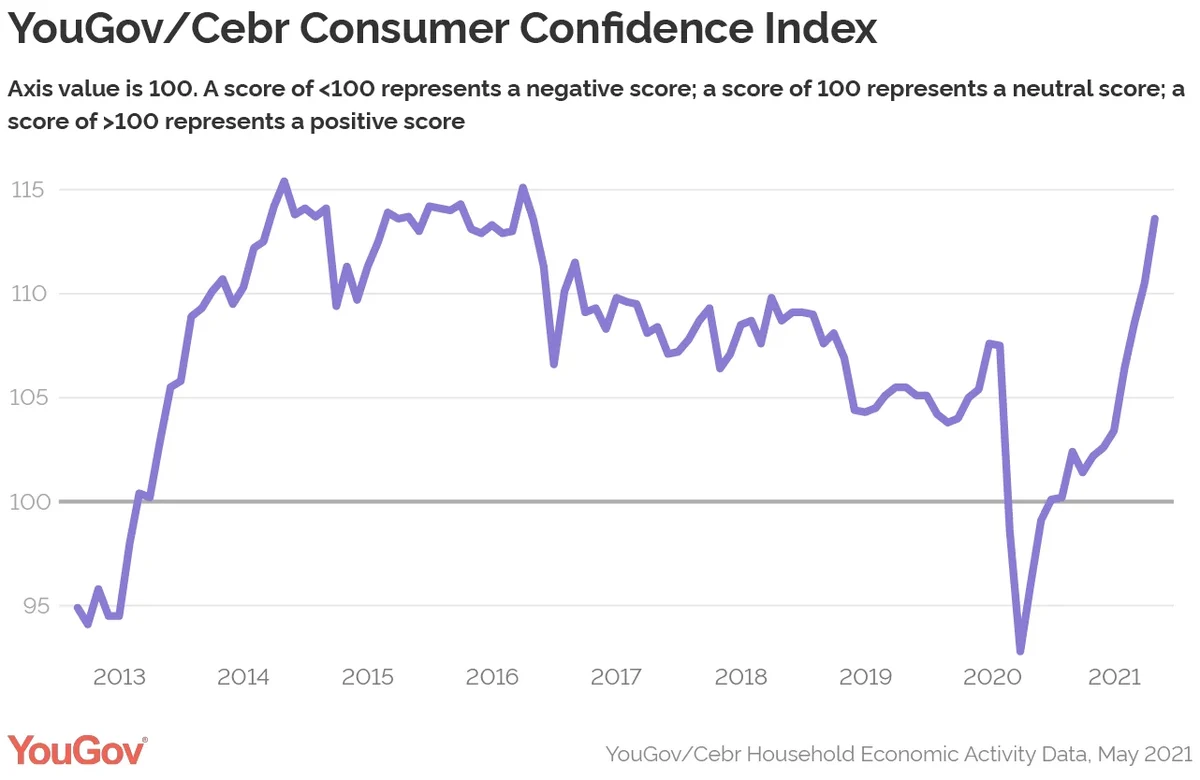 The outlook among workers for how secure their employment will be in the coming 12 months saw the largest boost in confidence, rising by 5.1 points to an all-time high of 118.9. The positive development comes as many businesses across the UK are forced to increase wages and offer bonuses to combat labour shortages.
The number of workers feeling their job became more secure in the past month also increased in May, with the metric improving by 2.9 points. While at 93.9 the score remains negative, the retrospective job security index has only ever reached the same level in April 2019 and never surpassed it.
Confidence among homeowners that property prices will keep climbing up also continues to rise. One can't fault the optimism: despite the UK economy's performance in 2020 being the worst in over 300 years, the growth in house prices is at a seven-year high.
The number of homeowners believing their property increased in value in the past 30 days was even higher in May than in April, with the index rising by 4.3 points to 123. Similarly, expectations for house prices in the next year continue to improve, with the metric reaching 129.7 in May (+4.0).
Confidence among Britons about their personal finances is the highest on record – both when looking back on the past month and in terms of expectations for the coming year. The number of households saying their finances improved increased from April to May, bringing the metric to 98.7 (+2.7). Meanwhile, expectations among households for their financial situation in the next 12 months improved by 1.5 points and are now at 106.9.
Workers are also feeling more optimistic that activity at their workplace will increase over the next year, with the metric rising by 3.8 points to 127.0, bringing it to a five-year high. There was little change in activity over the past month with an increase of only 0.2. But at 110.3, the measure is positive, showing that more workers than not are reporting an increase. Separate reports show that demand for UK goods and services is surging.
Darren Yaxley, Director of Reputation Research at YouGov, said:
"YouGov/Cebr's May index paints another picture of growing confidence in the post-COVID recovery, with the index increasing to its highest level since May 2016. The growth is yet again driven by confidence in house value as property prices climb to a seven year high, but is also supplemented by huge increases in optimism for job security over the coming twelve months likely due to labour shortages.
"With not a single metric decreasing this month, business activity for the past 30 days and outlook for household finances over the next 12 months are the only metrics to show little change. Despite this the metrics are still firmly in the positive showing more Britons are feeling confident than not."
Kay Neufeld, Head of Forecasting and Thought Leadership at the Centre for Economics and Business Research, said:
"The YouGov/Cebr Consumer Confidence Index points to another strong increase in sentiment in May as Brits flocked to pubs and restaurants following the lifting of some restrictions on indoor socialising. Undeterred by the unusually wet weather last month, UK consumers have clearly made the most of their newfound freedoms and spent freely in shops and the hospitality sector. As the economic recovery gathers pace, labour shortages have come into focus as evidenced by further strong increases in both the backward and forward-looking job security measures. While overwhelmingly positive, the latest consumer confidence figures show that business activity in the workplace has edged up only marginally compared to the previous reading, suggesting that firms could be struggling to ramp up production in line with surging consumer demand."